– As of May 2018, there were roughly 3,059,800 employed Registered Nurses.
– More than 1,713,120 Registered Nurses were employed in General Medical and Surgical Hospitals.
– The state of California has the highest level of employed RNs at 302,770.
There are over 3 million employed nurses in the country. Nurses are a highly valued and respected part of the medical field. There is always a high demand for nurses and that demand continues to grow. The employment of Registered Nurses is projected to grow by 12% by 2028, which is faster than average job growth.
Nurses provide care to patients while observing, assessing, and recording their symptoms, reactions, and progress; all of these recordings help provide the basis for care planning and intervention for that patient.
If you want to become a nurse, you're probably wondering about the job requirements as well as how much a nurse makes.
What are the Responsibilities of a Nurse?
Nurses are very important when it comes to the healthcare field. They work in a variety of areas and depending on which department or specialty you work in, your job duties can vary.
Nurses are not limited to only working in hospitals. They can also work in schools, clinics, assisted living facilities or homes, and more. Nurses can also specialize in different areas such as family practice, cardiac care, emergency nursing, and labor and delivery.
No matter what are or specialty you work in as a nurse, there are a few daily responsibilities that are consistent.
Monitor and record patient progress
Monitor and record patient vital signs
Create care plans for patients
Assist with procedures
Administer medications and treatment
Administer and monitor IV medication
Perform wound and skincare
Draw blood and collect lab work
Educate patients and answer their questions
To be successful as a nurse, there are several skills that you'll need to have:
Professionalism
Attention to detail
Compassion
Critical thinking
Time management
Excellent communication skills
Nurse Work Environment
Many nurses work in hospitals, home health, public health, as well as in schools and community centers, and many other facilities. About 60% of nurses work for a state, local, or private hospital.
Your work environment will vary depending on where you work. Nonetheless, you'll be on your feet walking and standing for a good part of your day. You will also spend a lot of time bending and stretching.
You'll also be in close contact with people who may have infectious diseases so it's important for nurses to follow strict guidelines to protect themselves.
Many nurses work rotating shifts so you must be flexible in your schedule and able to work irregular schedules such as on weekends and holidays.
How to Become a Nurse
If you've decided to become a nurse, there are three different educational paths that can be taken.
Diploma from an approved nursing program
Associate's degree in Nursing
Bachelor's degree in Nursing
While there are three types of education programs, having a bachelor's degree can land you a job much easier and can broaden your employment prospects.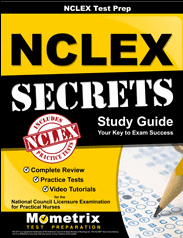 Once you've graduated with your nursing degree, you'll be required to take and pass the NCLEX exam. Passing the NCLEX exam is the most important part of becoming a nurse; it's required for any prospective nurse.
The NCLEX exam determines if you're ready and if it's safe, for you to begin practicing as an entry-level nurse. The NCLEX exam tests the knowledge you learned in school and you will be tested on how you use critical thinking skills to make nursing judgments.
How Much Does a Nurse Make?
According to BLS.gov, as of 2019, nurses made an average of $73,300 per year or $35.24 per hour. The lowest 10% of nurses make less than $52,080 while the highest 10% earned more than $111,220. The top-paying industry for a nurse is within Business Support Services, which can be anything including administrative and support services with annual earnings of $92,200.
What is the Job Growth for a Nurse?
According to BLS.gov, the job growth for a nurse is 12% through 2028 which is much faster than average.
Nursing Pay – Nurse Employment and Wages
The total employment for nurses across the United States is 3,059,800. The average hourly wage is $35.24 and the average annual wage is $73,300 per year.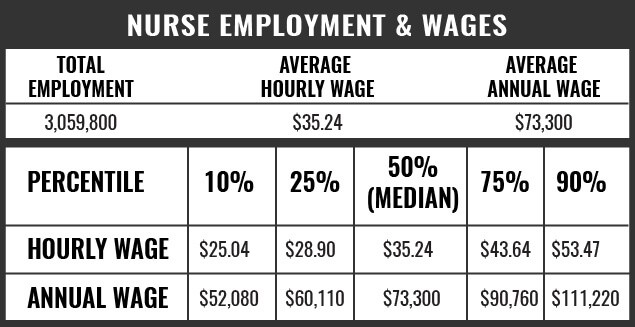 Bottom 10%:
Average Hourly Wage: $25.04
Average Annual Wage: $52,080
25%:
Average Hourly Wage: $28.90
Average Annual Wage: $60,110
50%:
Average Hourly Wage: $ 35.24
Average Annual Wage: $ 73,300
75%:
Average Hourly Wage: $ 43.64
Average Annual Wage: $ 90,760
Top 90%:
Average Hourly Wage: $ 53.47
Average Annual Wage: $ 111,220
Industries With the Highest Levels of Nursing Employment

General Medical and Surgical Hospitals
1,713,120 total nurses employed with 30.69% of employment in the industry
Average annual wage of $79,460 with an average hourly wage of $38.20
Offices of Physicians
197,890 total nurses employed with 7.47% of employment in the industry
Average annual wage of $69,570 with an average hourly wage of $33.45
Home Health Care Services
177,790 total nurses employed with 11.86% of employment in the industry
Average annual wage of $73,660 with an average hourly wage of $35.41
Nursing Care Facilities (Skilled Nursing Facilities)
151,300 total nurses employed with 9.43% of employment in the industry
Average annual wage of $69,740 with an average hourly wage of $33.53
Outpatient Care Centers
147,550 total nurses employed with 15.47% of employment in the industry
Average annual wage of $84,720 with an average hourly wage of 40.73
Areas With Highest Concentration of Nurse Employment
General Medical and Surgical Hospitals
1,713,120 total nurses employed with 30.69% of employment in the industry
Average annual wage of $79,460 with an average hourly wage of $38.20
Specialty (except Psychiatric and Substance Abuse) Hospitals
62,670 total nurses employed 23.63% of employment in the industry
Average annual wage of $79,460 with an average hourly wage of $38.86
Psychiatric and Substance Abuse Hospitals
40,390 total nurses employed 16.35% of employment in the industry
Average annual wage of $74,610 with an average hourly wage of $35.87
Outpatient Care Centers
147,550 total nurses employed 15.47% of employment in the industry
Average annual wage of $84,720 with an average hourly wage of $40.73
Home Health Care Services
177,790 total nurses employed with 11.86% of employment in the industry
Average annual wage of $73,660 with an average hourly wage of $35.41
Top Paying Areas for Nurses

Business Support Services
650 / 0.07% total employment
Average annual wage of $92,200 with a $44.33 hourly wage
Federal Executive Branch
83,210 / 4.14% total employment
Average annual wage of $90,340 with a $43.43 hourly wage
Pharmaceutical and Medicine Manufacturing
260 / 0.09% total employment
Average annual wage of $86,400 with a $41.54 hourly wage
Aerospace Product and Parts Manufacturing
120 / 0.02% total employment
Average annual wage of $85,430 with a $41.07 hourly wage
Traveler Accommodation
50 total employment
Average annual wage of $85,120 with a $40.92 hourly wage
States with Highest Nurse Employment

California
302,770 / 17.42% total employment
Average annual wage $113,240/ $54.44 hourly wage
Texas
218,090 / 17.54% total employment
Average annual wage $74,540/ $35.84 hourly wage
Florida
181,670/ 20.66% total employment
Average annual wage $67,610/ $32.50 hourly wage
New York
178,320/ 18.73% total employment
Average annual wage $87,840/ $42.23 hourly wage
Pennsylvania
148,040/ 25.08% total employment
Average annual wage $71,410/ $34.33 hourly wage