NCLEX Review
Welcome to the Mometrix Academy NCSBN NCLEX review page. If you're here, odds are that you're getting ready to take the NCLEX exam in the very near future, and you're looking for NCLEX test prep help. Or maybe you're still in nursing school, and won't be taking the test for a while, but you're the kind of person who likes to plan ahead and find out what the test is all about long before you actually have to sit down and take it. Either way, you've come to the right website. If you already have most of the facts about the NCSBN NCLEX review and you're looking for NCLEX prep videos, clicking on the links below will lead you to an abundance of videos to help you get ready for the most important test you'll ever take. If you're looking for more information about the NCLEX or free NCLEX practice test questions, just keep reading for the important NCLEX exam information you need to know.
NCLEX Questions
Use the NCLEX practice test questions below to get a better understanding of the NCLEX exam. Take advantage of these valuable free practice NCLEX questions to pinpoint your strengths and weaknesses.
NCLEX RN Questions
NCLEX PN Questions
NCLEX Test Plan
Use the NCLEX test plans below to get a greater awareness of the NCLEX exam breakdown. These infographics will help you stay focused on the most important sections of the NCLEX exam.
NCLEX Exam Lectures
Health Promotion and Maintenance
Physiological Integrity
Safe and Effective Care Environment
NCLEX Mnemonics
NCLEX Study Guide
Mometrix Academy is a completely free resource provided by Mometrix Test Preparation. If you find benefit from our efforts here, check out our premium quality NCLEX study guide to take your studying to the next level. Just click the NCLEX Secrets Study Guide link below. Your purchase also helps us make even more great, free content for test-takers.
What is the NCLEX?
NCLEX stands for National Council Licensure Examination, and it is the official test that all prospective nurses must take before being allowed to practice in the 50 states, the District of Columbia, or United States territories. It is owned and developed by the National Council of State Boards of Nursing, or NCSBN. There are two NCLEX exams: the NCLEX-RN for registered nurses, and the NCLEX-PN for practical or vocational nurses. The purpose of the test is to enhance public health and safety by making sure that only people who are qualified to act as nurses are actually allowed to do so. Passing the NCLEX demonstrates that the prospective nurse has the knowledge, abilities, and skills that are required of a professional nurse.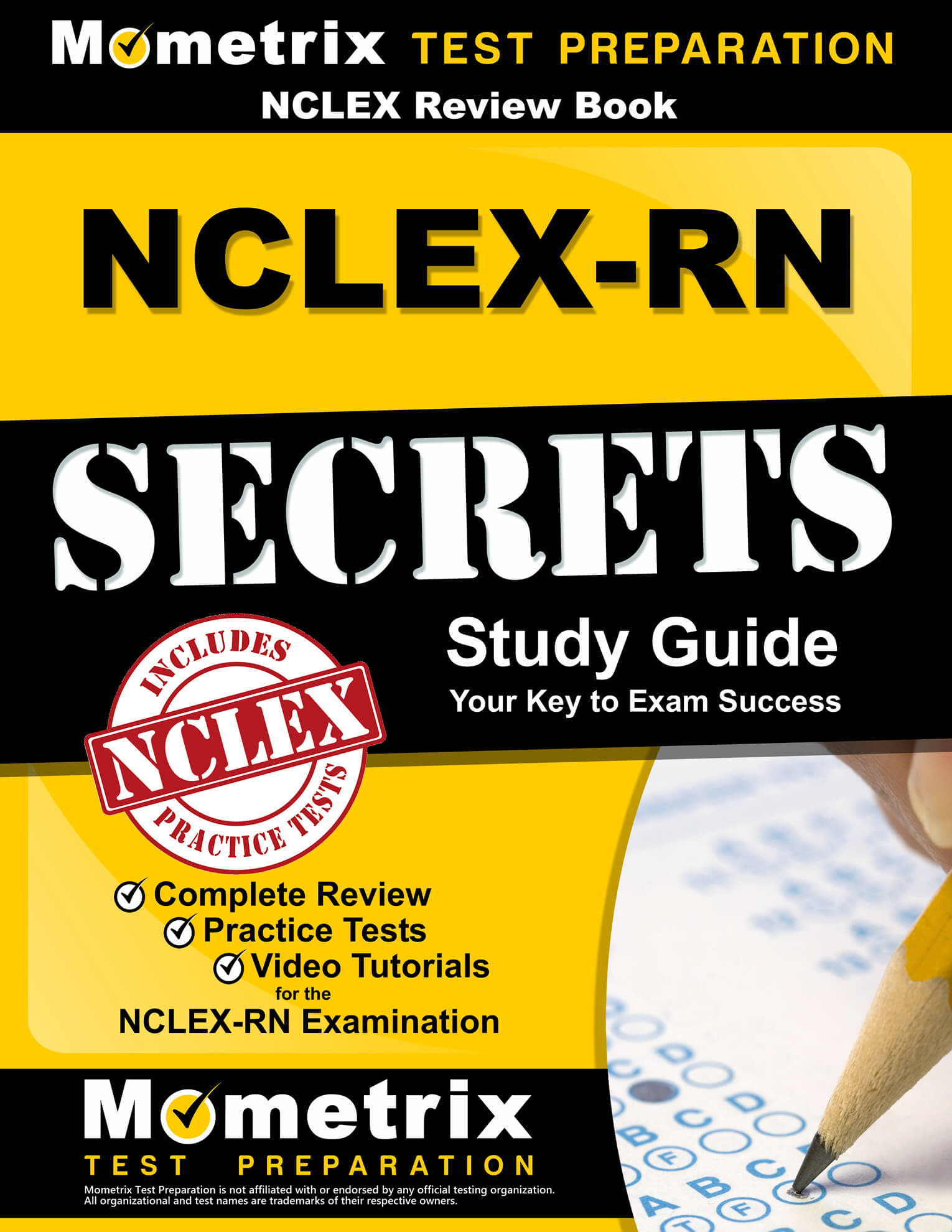 All NCLEX exams are given on a computer; the days when there was an option to take it with pencil and paper are long gone. The NCLEX is given at Pearson VUE testing centers, which has hundreds of locations across the country. Most questions are multiple-choice, but not all of them are. Also, it's very important to know that the NCLEX is a computer adaptive test, or CAT. This means that the computer adapts to the test taker – that is, it decides which question to give a person next based on their response to the last question. Essentially, if you answer a question incorrectly, you'll be given easier and easier questions until you answer one correctly. When you answer a question correctly, you'll be given harder and harder questions until you get one wrong. That process goes on continuously throughout the exam. Every test taker is given a first question of low difficulty, and the adaptation process begins from there.
What's on the NCLEX?
Because of the nature of computer adaptive tests, the number of questions test takers will face can vary dramatically. On the NCLEX PN exam, the number of questions can range from 85 to 205. On the NCLEX RN exam, questions can be as few as 75 or as many as 265. Also, the computer software is constantly analyzing a person's total performance, not just the answer to the most recent question. Once it has determined with 95% confidence that the test taker is either skilled enough to pass, or is not skilled enough to pass, the computer will end the exam and assign a determination of either passed or failed, even if the six hour time limit (five hours for NCLEX-PN) hasn't been reached. By the way, you shouldn't panic if the computer ends your test long before the maximum number of questions has been reached. This doesn't mean you have failed. It's possible for a person to either pass or fail after answering only the minimum number of questions.
NCLEX Results
There are no numerical scores on the NCLEX test. Test takers will be notified that they either passed or failed. You will receive your official results from your state Board of Nursing about six weeks after taking the NCLEX. However, in nearly all states, you can choose to pay an extra fee and receive your unofficial results 48 business hours after taking the exam. As of this writing, the fee to access your unofficial results is approximately $8.
NCLEX Pass Rate
As mentioned above, the NCSBN does not give test takers a numerical score on the NCLEX; the only results possible are Pass or Fail. That's great if a person passes, but if they fail, they're left in the dark as to how badly they performed on the exam. A test taker doesn't know if they were very close to passing, or if they missed it by a long shot. That can be important information to know, because pass rates on the NCLEX are very different for repeat takers compared to first time takers. In 2014, for example, 55,489 people who received their nursing education in the United States took the NCLEX for the first time. Of that numbers, a little over 81% passed. In that same year, 8,309 people with US nursing educations took the NCLEX who had already taken it one or more times. Of that number, a little over 46% passed. Those numbers don't change much through the years, either – people who have failed the NCLEX one or more times generally have a very difficult time passing it when they try again. It's best to be completely prepared when you arrive at the testing center for your first attempt at the NCLEX. If you prepared well, it will also be your only attempt.
Retaking the NCLEX
If you don't pass the NCLEX, it's nice to know that you do have the option to take it again. You'll need to wait 45 days to retest, and you'll need to register and pay the fee all over again. A person may take the NCLEX up to eight times a year, but no more than once every 45 days. Of course, if a person has failed the NCLEX twice, it's probably a good idea for them to take some time and really evaluate if it's worth taking it a third time. It's true that some people do pass the NCLEX on their third or fourth attempts, and some even manage to finally pass on their eighth. However, as you can see from the NCLEX pass rates above, it's also true that many people do not pass it after several attempts. If you do fail the NCLEX twice, it's strongly recommended that you take several months to review and build a solid foundation for achieving a passing score before attempting it again.
NCLEX Practice Questions
The NCLEX is one of the most difficult tests in existence. For the average person taking the exam, it is by far the most difficult test they will take in their entire life. Regular, extensive, and in depth preparation is necessary to achieve a passing score. Anyone who puts off their NCLEX review until the last few weeks and then tries to cram for it is almost certainly going to be very disappointed when they get their NCLEX results. There are no shortcuts to passing this challenging exam. It takes discipline and hard work. However, there are many resources an aspiring nurse can take advantage of in order to be as thoroughly prepared as possible. NCLEX practice questions are extremely useful in helping test takers prep for the exam. Making use of these NCLEX review questions, and doing so on a regular basis well before your test date is one of the best steps you can take in order to maximize your chances of passing the NCLEX on your first attempt. If you're in doubt about the need for practice questions, you can find several sites offering a few NCLEX sample questions. They should help demonstrate how helpful NCLEX practice questions can be to improving your chances of success.
NCLEX Dates
Unlike many standardized tests such as the ACT and the SAT, there are no specific dates on which the NCLEX is offered nationwide. Instead, candidates for nursing licensure must first contact their Board of Nursing or other regulatory board (BON/RB) and request permission to take the NCLEX. They will verify that the applicant is eligible for licensing as a nurse. Eligibility requirements vary state by state, but generally speaking, applicants who have graduated or will soon graduate from an accredited nursing education program meet NCLEX requirements, and are eligible to apply for licensing. If you have any questions about your eligibility, you should contact your BON/RB.
Once your BON/RB has verified that you are eligible to take the NCLEX, they will send you an Authorization to Test (ATT). Once you have this, you will need to schedule an appointment to take the NCLEX at a Pearson VUE testing center (locations are nationwide). Your ATT will have an expiration date, which is usually around 90 days from when it's sent, but can be shorter or much longer. You must take the NCLEX during the window before the expiration date on the ATT, or you will have to start the process all over. The expiration date will not be extended under any circumstances. Because tens of thousands of people take the NCLEX every year, you should contact Pearson VUE and schedule a test date as soon as you receive your Authorization to Test. If you wait, dates may fill up and you could lose your eligibility.
In closing, it can't be overstressed how important it is to schedule your NCLEX early in order to make sure your Authorization to Test doesn't expire, and that you can arrange a testing date that suits your schedule. In addition, it's also impossible to overstate the need for thorough preparation when taking the NCLEX. Nearly one out of five people fail the NCLEX the first time they take it. This can be a tremendous financial, psychological, and emotional setback, and you should do everything you can to avoid it. Regular and systematic NCLEX test prep is the main key to success. Take advantage of the many free NCLEX review videos at the top of this page to help ensure your success come test day.
Why taking the NCLEX Matters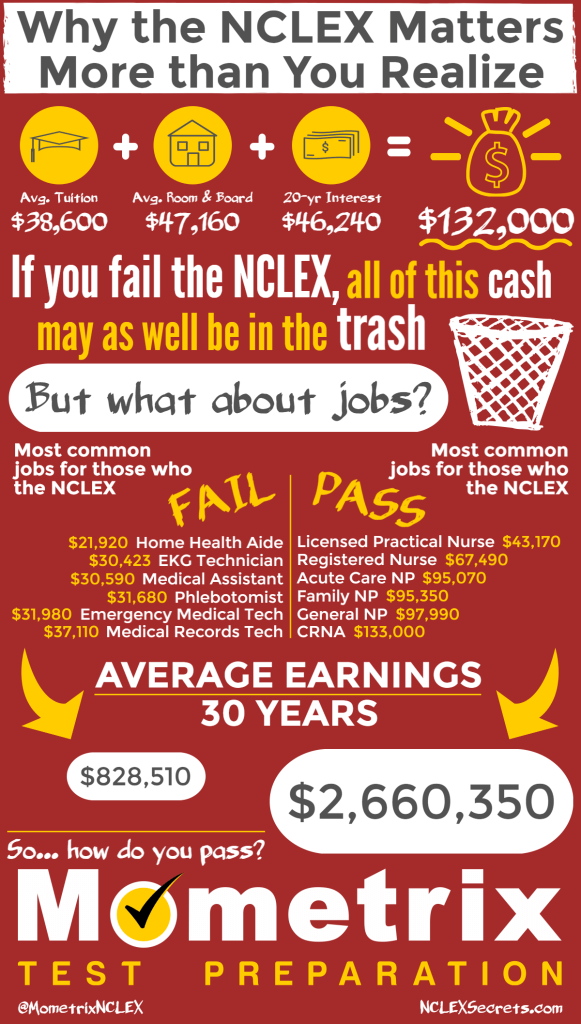 Want to Learn More About the NCLEX Test? Visit Exampedia!
Provided by:
Mometrix Test Preparation
Last updated: 04/11/2018
Find us on Twitter: Follow @Mometrix