NCLEX RN Practice Test
An important step in the process of becoming a nurse, the National Council Licensure Exam for Registered Nurses (NCLEX-RN) measures a candidate's minimum competency required to provide safe and effective nursing care to their patients. It's required for all candidates hoping to become licensed to practice nursing.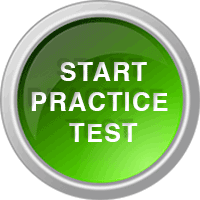 When Can I Register for the NCLEX-RN Exam?
In order to register for the test, you first need to receive an authorization to test. This is given by the Board of Nursing or other regulatory body where you wish to practice nursing. They will determine whether or not you meet their eligibility criteria to become a licensed nurse.
If you meet the criteria and are given the authorization to test, you can schedule your test at the nearest Pearson VUE testing center. You will have to pay an exam fee of $200 and you will have to choose a date and time within the test-taking window listed on your authorization to test letter.
Which Subjects Are Covered on the Exam?
There will be somewhere between 75 and 265 questions on the exam. To understand why there is such a large range, see the explanation of how the exam is scored below. No matter how many questions you answer, the percentage breakdown of questions by content area will be more or less as follows:
Management of Care – 23% of questions
Safety and Infection Control – 15% of questions
Health Promotion and Maintenance – 12% of questions
Psychosocial Integrity –12% of questions
Basic Care and Comfort – 12% of questions
Pharmacological and Parenteral Therapies – 18% of questions
Reduction of Risk Potential – 15% of questions
Physiological Adaptation – 17% of questions
You will have up to six hours to complete the entire exam. That time includes two short breaks which you are free to skip if you want to. The actual time will depend on the number of questions you need to answer.
It's important to note that you are not able to skip questions and return to them. You have to answer a question in order to move on to the next one. This means you need to use some of your study time to work on strategies for finding the best possible answer even when you aren't really sure about the question.
NCLEX RN Practice Questions
NCLEX-RN Review | FREE Practice Questions
How Is the NCLEX-RN Exam Scored?
The NCLEX-RN is scored using a rather unique system. Rather than receiving a point value that reflects either the number of correct answers or the average difficulty level of questions you answered, the score here will be measured in "logits."
The logit is a unit of measurement that tells you the relative difference between your estimated ability level (based on your level of education, training, and experience) and your ability level (based on how you performed on the test). The board establishes a revised passing standard every three years. At the moment, you will need a logit of 0.00 or better.
This "logit" is being continuously adjusted based on each question you answer which is why there is such a wide range in the number of questions you'll have to answer on the test. If you reach the minimum 75 questions and the computer program is able to determine with 95% accuracy that you have either passed or failed, the test will end there.
If it is not 95% certain of your results, you will continue to see questions until it is certain or until you reach the maximum of 265 questions. If you reach the maximum, it will do a final assessment to determine whether or not you have met the passing standard.
This might all sound a little complicated but, basically: the better you do, the fewer questions you have to answer. But even if you end up having to answer 265 questions, you might still pass the exam.
If you have met the passing standard, you will simply be informed that you passed the exam. You will only see a detailed report of how you performed on each section of the test if you failed.
Overview of the NCLEX RN (2018)
Overview of the NCLEX RN (2018)
How Much Should I Study for the Test?
You should spend at least a couple of weeks reviewing all the material as well as working on your ability to recall facts quickly. To do that, pick up the Mometrix Study Guide which provides a thorough breakdown of each content area, including all the important terms and concepts you will need to know.
To improve your ability to remember all that material, get a set of Mometrix Flashcards. Repetition is one of the best ways to memorize a lot of information. Unfortunately, repetition can get, well, repetitive. With flashcards, you can make repetitive learning more engaging and interesting by turning your review sessions into games or pop quizzes.
NCLEX RN Study Guide
Mometrix Academy is a completely free resource provided by Mometrix Test Preparation. If you find benefit from our efforts here, check out our premium quality NCLEX RN study guide to take your studying to the next level. Just click the NCLEX RN study guide link below. Your purchase also helps us make even more great, free content for test-takers.
NCLEX-RN Study Guide Customer Success Stories
Our customers love the tutorial videos from Mometrix Academy that we have incorporated into our NCLEX-RN study guide. The NCLEX-RN study guide reviews below are examples of customer experiences.
I'm very impressed that it's very concise yet full of great knowledge to learn and easy to remember. It's a big help in preparing for NCLEX exam.
NCLEX-RN Secrets Study Guide – Chrisel
As a teacher, it is hard to find a book that can explain concepts simply to students. Really appreciate this one.
NCLEX-RN Secrets Study Guide – Customer
I like that it's broken down into sections and each section is short and straight to the point. Long paragraphs make it easy to lose focus so I like that it's just the most important information included but still covers so many topics. I also really like that there are optional review video's included. I think the videos will really benefit me as I learn by both visual and auditory methods. Listening to a video explanation is a really nice way to refresh the material, as well as help you better understand a topic you may have struggled with understanding simply from reading an explanation.
NCLEX-RN Secrets Study Guide – Alexis
Awesome guide which is Straight to the point, clear and relevant. It is full of useful tips and prepares you so that you are confident and not overwhelmed with too much information. It gives you a complete review with practice tests, answers at the back and question strategies.
NCLEX-RN Secrets Study Guide – Sukasha
Best ever NCLEX Guide!!!! This is a no-nonsense approach to what you need to know to pass NCLEX. Not by a 200 questions, more like 75 questions! The book is laid out like the requirements as stated by the NCSBN. The Q&A have awesome rationals. I can see myself purchasing additional products as I gain readiness for certifications, for example in the ED, L&D, Hospice, and the ACCRN.. Thank you Mometrix for offering a great product, for even a greater value!
NCLEX-RN Secrets Study Guide – Linda
The material is great because it is concise and direct which benefits someone who does not have a lot of time to study. One must remember that it is only a guide to what should be studied as opposed to the only thing to study.
NCLEX-RN Secrets Study Guide – Romeo
I find your product the best in summarizing the main topics of the exam. It is very easy to read and comprehend. I recommended this book to my friend
NCLEX-RN Secrets Study Guide – Alena
I like how the book is broken down into sections just like the NCLEX test plan. This will be my 3rd time taking the test and I have high hopes that this book will help me.
NCLEX-RN Secrets Study Guide – Traci
Very easy to read and follow, and well organized. I am a repeat test taker and waiting to retest, hopefully this material will finally allow me to pass. Test taking strategy is not one of my weakness and was looking for more quick content review. So far I am liking it!
NCLEX-RN Secrets Study Guide – Christine
This review guide is in depth and cover most everything you need to know to take your test for NCLEX Review for the RN license test I am very well pleased with this study guide and all of the materials that it covers. It is a must have before you take your big test.Would I recommend this product to other people? Yes I would including friends and family..I absolutely think this is great product.
NCLEX-RN Secrets Study Guide – Marion
Learn more about the Mometrix NCLEX-RN Secrets Study Guide.

Learn more about the Mometrix NCLEX-RN Flashcards.