NCLEX PN Practice Test
The National Council Licensure Examination for Practical Nurses (NCLEX-PN) is an exam designed for entry-level practical nurses and vocational nurses (LPN or VN). The NCLEX-PN is used by state and territorial members of the National Council of State Boards of Nursing (NCSBN) as a means of ensuring entry-level practical nurses meet set requirements for nursing licensure, including competencies related to safe and effective nursing practices. In order to determine eligibility to sit for the NCLEX-PN, you must first contact your state's nursing board.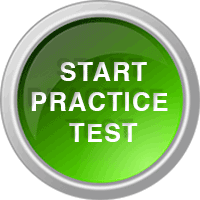 What does the NCLEX-PN cover? How many questions are on the NCLEX-PN?
The NCLEX-PN is a computer-adaptive test (CAT), which means each question you answer correctly determines the difficulty of the next question, as well as the overall number of questions you will answer. For this reason, there are anywhere between 85 and 205 questions on the NCLEX-PN. There are 25 pretest questions embedded in the total number of questions. Pretest questions are used to determine the usefulness of such items in future iterations of the exam, which means they are not scored. However, you will not be able to tell the difference between scored questions and unscored pretest questions, so do the best you can on each consecutive question. Questions will cease once it is determined with 95 percent accuracy that you have answered enough questions correctly or incorrectly to fall above or below the standard for passing the exam. The standard for passing the NCLEX-PN is variable and changes every three years. You must perform above the passing standard on the test in order to pass.
In terms of content and structure, the NCLEX-PN covers several content areas, each with specific weights. Below are the content areas, potential topics, and specific weight ranges per section (which are dependent on the number of questions you end up completing).
Effective, safe care environment

Coordinated care: 18-24%
Including, but not limited to: advance directives, advocacy, clients' rights, assignments, referrals, etc.
Infection control and safety: 10-16%
Including, but not limited to: accident and injury prevention, hazardous/infectious materials, safety, etc.
Health promotion and maintenance: 6-12%
Including, but not limited to: aging, data collection, developmental stages, self-care, etc.
Integrity, psychosocial: 9-15%
Including, but not limited to: abuse, neglect, coping mechanisms, support systems, etc.
Integrity, physiological
Basic care, comfort: 7-13%
Including, but not limited to: assistive devices, mobility, nutrition, hygiene, etc.
Pharmacological therapies: 10-16%
Including, but not limited to: adverse effects, contraindications, dosing, pain management, etc.
Risk potential reduction: 9-15%
Including, but not limited to: vital signs, diagnostic tests, laboratory tests and values, therapeutic procedures, etc.
Physiological adaptation: 7-13%
Including, but not limited to: body systems changes, medical emergencies, fluids, electrolyte imbalances, etc.
NCLEX PN Review
Test Preparation
At this point, you should have a better understanding of the content and structure of the NCLEX-PN. You are undoubtedly ready to begin the process of preparing for the exam. You can help yourself on exam day by getting enough rest, eating properly, and managing your stress. But, the best way to ensure you do well on the NCLEX-PN is to thoroughly prepare. Mometrix Test Preparation has the test preparation materials you need in the NCLEX Secrets study guide. In the NCLEX Secrets study guide, you get real NCLEX-PN content, including expert tips aimed at helping you reduce stress, recall information, and ensure high performance on the NCLEX-PN. In addition to the NCLEX Secrets study guide, Mometrix Test Preparation also offers a comprehensive NCLEX-PN Practice Test, as well as NCLEX Flashcards. Read the NCLEX Secrets study guide, assess your knowledge and skills using the NCLEX Practice Test and NCLEX Flashcards, and take the next step toward becoming a licensed practical or vocational nurse.
NCLEX PN Study Guide
Mometrix Academy is a completely free resource provided by Mometrix Test Preparation. If you find benefit from our efforts here, check out our premium quality NCLEX PN study guide to take your studying to the next level. Just click the NCLEX PN study guide link below. Your purchase also helps us make even more great, free content for test-takers.
NCLEX PN Study Guide Customer Success Stories
Our customers love the tutorial videos from Mometrix Academy that we have incorporated into our NCLEX PN study guide. The NCLEX PN study guide reviews below are examples of customer experiences.
This product is broken in section which make it easy to study and the explanation is easy to follow and understand. I highly recommend this book for anyone who is looking for an NCLEX review book.
NCLEX PN Secrets Study Guide – Lena
This is a far better NCLEX review book than I've been working with. I teach nursing and love to use these books to fill in time and prepare my students for their state boards.
NCLEX PN Secrets Study Guide – Kristie
I am very well pleased with this study guide and all of the materials that it covers. It is a must have before you take your big test. Would I recommend this product to other people? Yes I would including friends and family..I absolutely think this is great product.
NCLEX PN Secrets Study Guide – Marion
It is comprehensive, well written and easy to understand. It really spells out everything that you need to know. This book is a must-have if you're studying to take the NCLEX.
NCLEX PN Secrets Study Guide – Brooke
This is a great way to study or review for the NCLEX-PN Exam! This book has so many great features.
NCLEX PN Secrets Study Guide – Aysha
I used this book to review as a friend of mine referred me to this product and I felt prepared and ready to take the exam. And guess what I did very well! I would recommend this NCLEX Review Book to anyone getting for the exam!!
NCLEX PN Secrets Study Guide – Saluki
Amazing book! I love how it hits the highlights of nursing school without having to memorize an entire book! So excited I purchased this book! My confidence is up way higher now going into take boards than the first time!
NCLEX PN Secrets Study Guide – Jamee
This study book is so easy to understand! It made studying a lot less stressful.
NCLEX PN Secrets Study Guide – Customer
Learn more about the Mometrix NCLEX PN Secrets Study Guide.