The National Council Licensure Examination for Practical Nurses (NCLEX-PN) is an exam designed for entry-level practical nurses and vocational nurses (LPN or VN).
Click the "Start Test" button above to take a free NCLEX-PN practice test!
About the NCLEX-PN Exam
The NCLEX-PN is a computer-adaptive test (CAT), which means each question you answer correctly determines the difficulty of the next question, as well as the overall number of questions you will answer. For this reason, there are anywhere between 85 and 150 questions on the NCLEX-PN. There are 15 pretest questions embedded in the total number of questions.
Pretest questions are used to determine the usefulness of such items in future iterations of the exam, which means they are not scored. However, you will not be able to tell the difference between scored questions and unscored pretest questions, so do the best you can on each consecutive question.
Questions will cease once it is determined with 95 percent accuracy that you have answered enough questions correctly or incorrectly to fall above or below the standard for passing the exam. The standard for passing the NCLEX-PN is variable and changes every three years. You must perform above the passing standard on the test in order to pass.
NCLEX-PN Exam Outline
In terms of content and structure, the NCLEX-PN covers several content areas, each with specific weights. Below are the content areas, potential topics, and specific weight ranges per section (which are dependent on the number of questions you end up completing).
Coordinated Care: 18%-24%
Safety and Infection Control: 10%-16%
Health Promotion and Maintenance: 6%-12%
Psychosocial Integrity: 9%-15%
Basic Care and Comfort: 7%-13%
Pharmacological Therapies: 10%-16%
Reduction of Risk Potential: 9%-15%
Physiological Adaptation: 7%-13%
Check Out Mometrix's NCLEX-PN Study Guide
Get practice questions, video tutorials, and detailed study lessons
Get Your Study Guide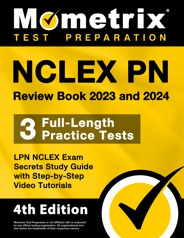 How the NCLEX-PN is Scored
The NCLEX-PN is scored using a rather unique system. Rather than receiving a point value that reflects either the number of correct answers or the average difficulty level of questions you answered, the score here will be measured in "logits."
Because the NCLEX-PN exam is computer-adaptive, NCSBN uses a logit🛈 A logit is a unit of measurement that NCSBN uses to report relative differences between test-taker ability estimates and item difficulties. scoring system to determine whether a test-taker passes or fails. In essence, if you receive a logit score of -0.18 or higher, you have answered enough questions correctly and have passed the exam. If you receive a logit score that is lower than -0.18, you have not answered enough questions correctly and have failed the exam.
This logit is being continuously adjusted based on each question you answer which is why there is such a wide range in the number of questions you'll have to answer on the test. If you reach the minimum 75 questions and the computer program is able to determine with 95% accuracy that you have either passed or failed, the test will end there.
If it is not 95% certain of your results, you will continue to see questions until it is certain or until you reach the maximum of 145 questions. If you reach the maximum, it will do a final assessment to determine if you have met the passing standard.
This might all sound a little complicated but, basically: the better you do, the fewer questions you have to answer. But even if you end up having to answer 145 questions, you might still pass the exam.
If you have met the passing standard, you will simply be informed that you passed the exam. You will only see a detailed report of how you performed on each section of the test if you failed.
Computer-Adaptive Testing
The NCLEX-PN is computer-adaptive, meaning that the test monitors your responses and adapts the questions to match your abilities. Here's a look at how it works:
Essentially, if you answer a question correctly, you get a more difficult question, but if you are incorrect, you are given an easier question to answer.
How to Study for the NCLEX-PN Exam
How to Study Effectively
Your success on NCLEX test day depends not only on how many hours you put into preparing but also on whether you prepared the right way. It's good to check along the way to see whether your studying is paying off. One of the most effective ways to do this is by taking NCLEX-PN practice tests to evaluate your progress. Practice tests are useful because they show exactly where you need to improve. Every time you take a free NCLEX-PN exam practice test, pay special attention to these three groups of questions:
The questions you got wrong
The ones you had to guess on, even if you guessed right
The ones you found difficult or slow to work through
This will show you exactly what your weak areas are and where you need to devote more study time. Ask yourself why each of these questions gave you trouble. Was it because you didn't understand the material? Was it because you didn't remember the vocabulary? Do you need more repetitions on this type of question to build speed and confidence? Dig into those questions and figure out how you can strengthen your weak areas as you go back to review the material.
Answer Explanations
Additionally, many NCLEX-PN practice tests have a section explaining the answer choices. It can be tempting to read the explanation and think that you now have a good understanding of the concept. However, an explanation likely only covers part of the question's broader context. Even if the explanation makes sense, go back and investigate every concept related to the question until you're positive you have a thorough understanding.
Comprehend Each Topic
As you go along, keep in mind that the NCLEX-PN practice test is just that: practice. Memorizing these questions and answers will not be very helpful on the actual test because it is unlikely to have any of the same exact questions. If you only know the right answers to the sample questions, you won't be prepared for the real thing. Study the concepts until you understand them fully, and then you'll be able to answer any question that shows up on the test.
Strategy for NCLEX-PN Practice
When you're ready to start taking practice tests, follow this strategy:
Remove Limitations. Take the first test with no time constraints and with your notes and NCLEX-PN study guide handy. Take your time and focus on applying the strategies you've learned.
Time Yourself. Take the second practice test "open book" as well, but set a timer and practice pacing yourself to finish in time.
Simulate Test Day. Take any other practice tests as if it were test day. Set a timer and put away your study materials. Sit at a table or desk in a quiet room, imagine yourself at the testing center, and answer questions as quickly and accurately as possible.
Keep Practicing. Keep taking practice tests on a regular basis until you run out of practice tests or it's time for the actual test. Your mind will be ready for the schedule and stress of test day, and you'll be able to focus on recalling the material you've learned.
Check Out Mometrix's NCLEX-PN Flashcards
Get complex subjects broken down into easily understandable concepts
Get Your Flashcards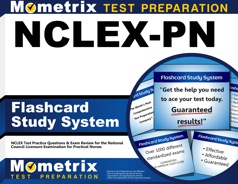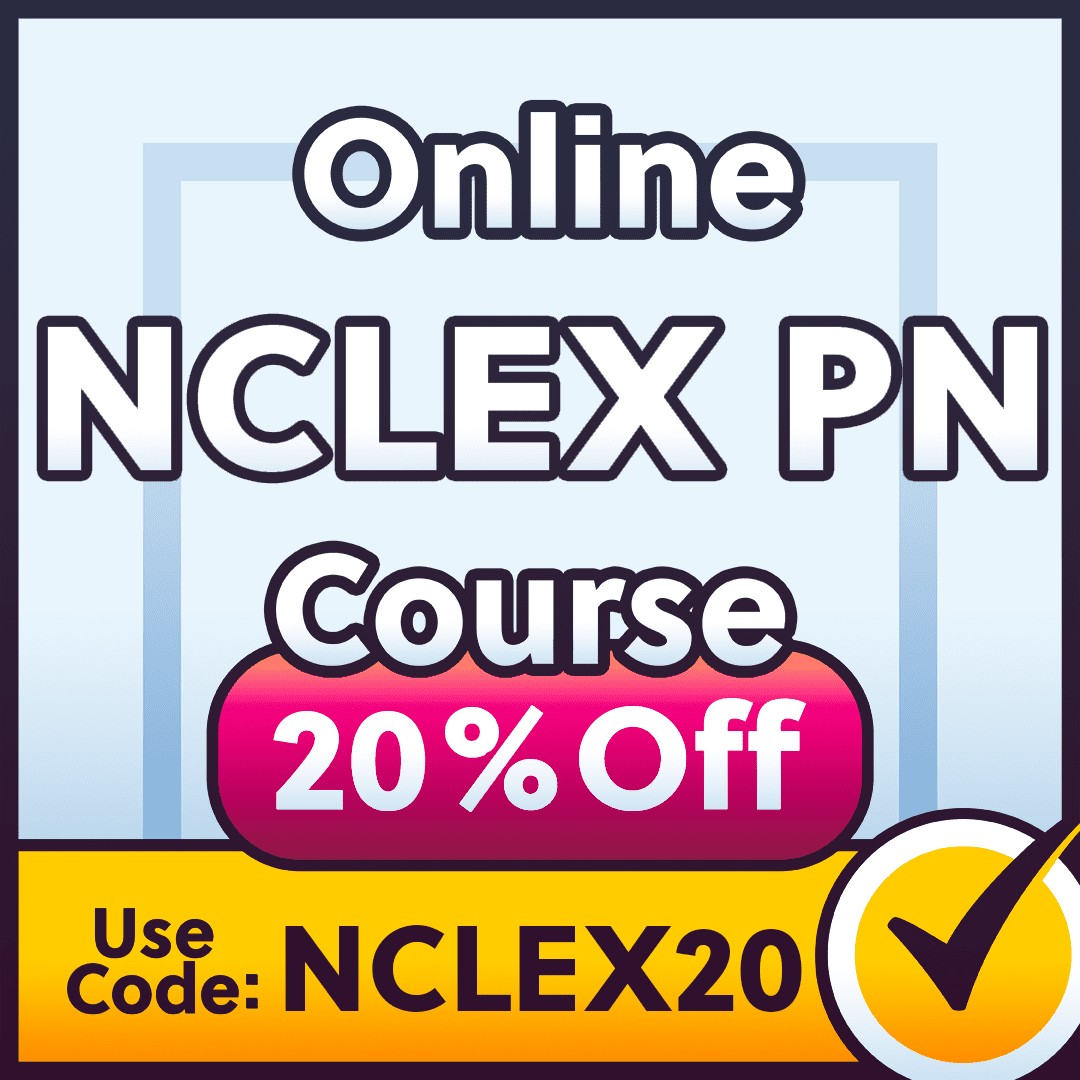 NCLEX-PN Online Prep Course
If you are wanting to be fully prepared, Mometrix offers an online NCLEX prep course. The course is designed to provide you with any and every resource you might want while studying. The NCLEX-PN course includes:
118 Lessons Covering Every Topic
Over 1,150 NCLEX Practice Questions
80+ Video Tutorials
More Than 600 Electronic Flashcards
Money-back Guarantee
and More!
The NCLEX online prep course is designed to help any learner get everything they need to prepare for their NCLEX exam. Click below to check it out!
How to Pass the NCLEX-PN
At this point, you should have a better understanding of the content and structure of the NCLEX-PN. You are undoubtedly ready to begin the process of preparing for the exam. You can help yourself on exam day by getting enough rest, eating properly, and managing your stress. But, the best way to ensure you do well on the NCLEX-PN is to thoroughly prepare.
Mometrix Test Preparation has the test preparation materials you need in the NCLEX Secrets study guide, which gives you real NCLEX-PN content, including expert tips aimed at helping you reduce stress, recall information, and ensure high performance.
In addition to the NCLEX Secrets study guide, Mometrix Test Preparation also offers a comprehensive NCLEX-RN Practice Test, NCLEX Flashcards, and an online NCLEX-PN course!
FAQs
Q
What is the NCLEX-PN?
A
The NCLEX-PN exam is used by members of the National Council of State Boards of Nursing (NCSBN) to ensure that entry-level practical nurses meet set requirements for nursing licensure.
Q
What is a good score on the NCLEX-PN?
A
The NCLEX-PN is a pass/fail exam. You must achieve a logit score of at least -0.18 to pass the exam. What is a logit score?
Q
How do you pass the NCLEX-PN?
Q
How many questions are on the NCLEX-PN?
A
The NCLEX-PN exam contains anywhere from 85 to 150 questions.
Q
When will I receive my test scores?
A
You will receive your NCLEX-PN test scores six weeks after completing the exam.
Affiliate disclosure: As an Amazon Associate, we may earn commissions from qualifying purchases from Amazon.com.