AEPA Professional Knowledge – Early Childhood Test
After years of arduous studying, your teacher's certification training is drawing to a close. Congratulations on all of your progress! You're about to embark upon a challenging, but altogether rewarding career: enriching the mind of some of the youngest students of today's generation.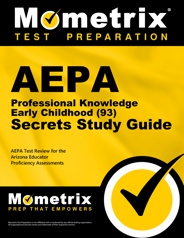 There's no denying the sheer importance of early childhood education. While brief, this stage of a child's academic career and development can make or break their future success. The early years are when children begin picking up some of their earliest and most vital skills which, in turn, will lay the founding bricks on their path toward solid learning. There's a lot you need to know to specialize in this subject.
The state of Arizona understands this fact, which is why all incoming teachers in the state are required to take and earn a passing score on the AEPA, also known as the Arizona Educator Proficiency Assessments. In your case, you will have to contend with the AEPA Professional Knowledge—Early Childhood exam.
This exam will be thorough to the core, as it is designed to evaluate how much you've learned throughout your certification training and whether you're prepared to teach professionally. It features a total of 103 questions, three of which require essay responses, while the rest are multiple choice (or "selected-response.") The exam's questions will adhere to such important subjects as Family and Community Relationships (18 percent); Foundations of Early Childhood Education (28 percent); Child Guidance and Inclusive Learning Communities (18 percent); and Promoting Child Development and Learning (36 percent). You will be expected to complete the entire exam within a time span of three and a half hours.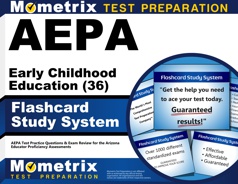 If you want to score well on this important exam, you'll need only the best study tools. The Mometrix Test Preparation team is here to help with our AEPA Professional Knowledge—Early Childhood practice test! We have designed this practice test with your needs in mind, all to ensure you're able to study as thoroughly as possible. We've striven to make our practice test faithfully accurate to the real thing.
If you'd like extra help as you study for this exam, feel free to turn to our AEPA Professional Knowledge—Early Childhood study guide, also featured on this page. Good luck!
AEPA Professional Knowledge – Early Childhood Practice Test
Mometrix Academy is a completely free resource provided by Mometrix Test Preparation. If you find benefit from our efforts here, check out our premium quality AEPA Professional Knowledge – Early Childhood study guide to take your studying to the next level. Just click the AEPA Professional Knowledge – Early Childhood study guide link below. Your purchase also helps us make even more great, free content for test-takers.