OAE Special Education Exam
The Ohio Assessments for Educators (OAE) Special Education exam is intended for candidates seeking to become licensed special education teachers in the state of Ohio. It measures your understanding of all the core practices, principles, and regulations surrounding special education in Ohio.
How Much Does the OAE Special Education Exam Cost?
The fee for the exam is $105 and must be paid at the time of registration. Only after registration and payment are complete will you be allowed to schedule you actual appointment. If you are a veteran, you may be able to get a refund through the U.S. Department of Veterans Affairs. They offer a reimbursement program for educational expenses which may include the cost of taking this exam.
Check Out Mometrix's OAE Special Education Study Guide
Get practice questions, video tutorials, and detailed study lessons
Get Your Study Guide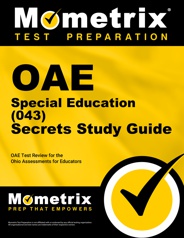 What Will Test Day Be Like?
In order to make sure everything goes smoothly on test day, you should familiarize with the test center procedure and make sure you have everything you need with you:
Leave personal items at home or in the car. They will not be allowed in the exam room.
You will need two forms of ID, including at least one valid, government-issued photo ID (passport, state ID, driver's license, military ID).
You will also be asked to provide a digital signature and take a photograph as part of the check in process. You may also be asked to scan your palm vein pattern as part of this process.
You will be provided with notepaper and writing utensils for use during the test but you cannot take these with you and won't be able to leave the testing center until you have returned them.
You will have three hours to answer all 150 multiple choice questions on the test.
If you need to take a break during the exam, quietly raise your hand and wait for a test administrator to come to you. They will escort you out of the room and back into it after your break. You cannot leave on your own.
If you finish the exam before the time is up, quietly raise your hand and wait for a test administrator to escort you out of the room.
What Topics Will the OAE Special Education Exam Include?
The 150 multiple choice questions on this exam are divided into four domains of knowledge and practice. Below is a brief outline of the material you will be tested on:
Students with Disabilities – 30 Questions

The characteristics of students with disabilities.
Factors that affect development, learning, and daily living in students with disabilities.
Assessment and Program Planning – 30 Questions

Procedures for selecting, adapting, modifying, designing, and using various types of formal and informal assessments.
Strategies and procedures for developing, implementing, and monitoring individualized programs.
Foundations and Professional Practice – 30 Questions

The historical, legal, and ethical foundations of the field of special education.
The professional roles and responsibilities of the special education teacher.
Learning Environments and Instructional Practices – 60 Questions

Strategies and procedures for planning, managing, and modifying the learning environment for students with disabilities.
Effective instructional practices for promoting students' success in the general curriculum.
Strategies for developing students' communication and social skills and for providing effective behavioral interventions for students with disabilities.
Strategies for teaching functional living skills and promoting successful transitions for students with disabilities.
When Will I Find Out My Results?
You will receive your score report between two and six weeks after taking the exam. The exact date will depend on when you take the exam. As soon as you schedule you're appointment, you'll be able to find out exactly which day your score report will be available.
The exam is given a scaled score ranging from 100 to 300. You need to achieve at least a 220 in order to pass the exam and qualify for certification. If you do not receive a passing score, you can retake it after 30 days have passed from your previous appointment.
What Do I Need to Study for the OAE Special Education Exam?
The material for this exam is based on specific Ohio standards and guidelines so the best way to prepare for it is to make sure you spend plenty of time reviewing and understanding those standards and guidelines.
To save yourself the time, energy, and frustration of digging through piles and piles of reference books and legal texts, you should pick up the Mometrix Study Guide and Mometrix Flashcards. These study aids distill all that material into a comprehensive yet easy to understand set of explanations that will help you absorb the information more effectively. Plus, they also come with extra sample questions to help you learn how to apply that information to the kinds of problems you're going to see on the test.
Check Out Mometrix's OAE Special Education Flashcards
Get complex subjects broken down into easily understandable concepts
Get Your Flashcards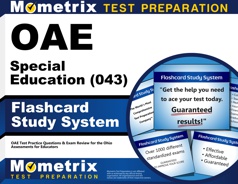 OAE Special Education Study Guide
Mometrix Academy is a completely free OAE Special Education test resource provided by Mometrix Test Preparation. If you find benefit from our efforts here, check out our premium quality OAE Special Education Study Guide and OAE Special Education Flash Cards to take your studying to the next level. Just click the OAE Special Education study guide link below. Your purchase also helps us make even more great, free test content for test-takers.
OAE Special Education Study Guide
OAE Special Education Flashcards