ParaPro Assessment Practice Test
The EPPP, developed by the Association of State and Provincial Psychology Boards, is a test used by Canadian provinces and US states to certify the knowledge and integrity of professionals providing psychological services in their area.
The Paraprofessional Assessment (PPA) is a test developed by the Educational Testing Service (ETS). American states and Canadian provinces use an applicant's score on the PPA to measure an educator's academic knowledge and classroom management skills in three critical areas: reading, writing, and mathematics. A passing score on the PPA certifies the test taker's competence to work in a classroom, transforming the dream of a career in education into a reality.
ParaPro Assessment Online Prep Course
If you want to be fully prepared, Mometrix offers an online ParaPro Test Prep Course. The course is designed to provide you with any and every resource you might want while studying. The ParaPro Course includes:
74 Lessons Covering all the Topics
350+ ParaPro Practice Questions
Over 200 Video Tutorials
More than 650 Electronic Flashcards
Money-back Guarantee
Free Mobile Access
and More!
The ParaPro Test Prep Course is designed to help any learner get everything they need to prepare for their ParaPro Assessment exam; click below to check it out.
Who takes the PPA?
The PPA is designed for prospective and practicing paraprofessionals in teaching-related positions in elementary or secondary schools. Paraprofessional educators are also called teacher's aides, instructional assistants, or similar titles depending on the school system and grade level of the students served.
What does the PPA certify?
State and provincial governments require certification in many health and human services occupations to assure the public that those working in these fields are worthy of the public trust.
Typically, certifications are awarded based on scores on standardized tests, such as the PPA. School districts usually require that candidates for certification have a high school diploma and a two-year- college credential. Schools may specify that candidates for paraprofessional positions serving gifted children, students with special needs, or adults in continuing education programs have additional experience or complete job-related coursework.
How Is the Test Administered?
The PPA is computer-delivered by appointment at local school districts. Test takers should make all arrangements through their local testing sites. Candidates should not bring personal items into the testing site other than a pen or pencil and photo identification.
The base fee for the PPA is $55, payable in USD currency and due at the time of the exam. School districts may add charges to the base amount.
Test takers who want exam scores sent to multiple recipients must order extra mailings for $50 each. There are no refunds for exams scheduled but not completed. Test scores are withheld and a $20 charge is added when test takers pay for PPA exams with insufficient funds or overdrawn accounts. Those who need to change their scheduled exam date or time should contact the administrator at their testing site.
Check Out Mometrix's ParaPro Study Guide
Get practice questions, video tutorials, and detailed study lessons
Get Your Study Guide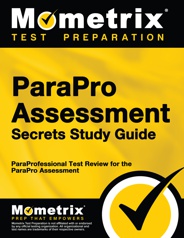 Is the PPA available to disabled or non-English speaking candidates?
Test takers desiring accommodations due to disability or limited English language skills should make their needs known to their testing site 12 weeks ahead of their exam date. This lead time allows the Educational Testing Service (ETS) to review the test taker's circumstances and respond accordingly.
What is a passing score on the PPA?
States determine the passing score for the PPA, usually in the mid-450's to 460's. School districts may adjust the state scores to serve their student populations.
When are scores released?
Testing sites release unofficial scores immediately upon test completion. The ETS mails official scores to test takers in two to three weeks.
What kinds of questions are on the PPA?
PPA questions in Mathematics cover basic arithmetical operations, such as dividing fractions, adding decimals, and calculating lengths of sides in triangles. Typical word problems ask for calculations of area (length times width) and percentages. Basic algebra problems involve factors, irrational numbers, complex numbers, and solving quadratic equations.
The Writing portion of the PPA focuses on grammatical rules for verb forms and pronoun use, identifying clauses and structural errors in sentences, and punctuation and capitalization. The Reading test features comprehension based on vocabulary and the ability to draw conclusions from statements in texts and paragraph organization.
How should I study for the PPA?
Your best PPA preparation is a focused review of the test concepts and formulas plus ample practice in sizing up questions and eliminating false answers. Mometrix has developed two unique products aimed at the heart of your PPA study.
The ParaPro Assessment Flashcards puts the test taker's best study tool in your hands. Repetition of key concepts and mastery of terminology are essential to success on academic tests, and the Flashcards let you take your PPA study everyplace you go. The Para Pro Assessment Secrets Study Guide offers a targeted review of academic skills. Scoring well on the Reading section takes more than vocabulary knowledge. With their PPA Secrets Study Guide, aspiring educators learn to recognize contextual clues in reading selections and draw logical conclusions from both the content and organization of selections. For the Writing section of the PPA, the Secrets Study Guide provides practice tests with dozens of examples, followed by explanations of how to pick the right answers. Mometrix materials will make the Mathematics portion of the PPA easier to pass by grouping practice questions that require steps in reasoning. Mometrix trains test takers to recognize principles such as "balance" and "equality" as the keys to solving all types of math problems – not a bad lesson to pass along to your students in the future!
Check Out Mometrix's ParaPro Flashcards
Get complex subjects broken down into easily understandable concepts
Get Your Flashcards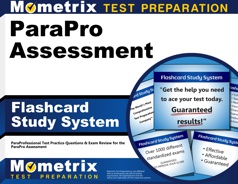 ParaPro Assessment Study Guide
ParaPro Online Course
ParaPro Assessment Flashcards