National Board Certification Literacy: Reading-Language Arts: Early and Middle Childhood Exam
The test is one of four required components for all those who wish to be National Board certified to teach early and middle childhood reading and language arts. Upon successful completion of this exam, you will receive a certificate demonstrating that you have the knowledge and skills deemed necessary by the National Board for Professional Teaching Standards.

Eligibility Requirements
To register for National Board candidacy, you must have:
A bachelors degree from an accredited institution
Completed at least three years of successful teaching in one or more early childhood, elementary, middle, or secondary schools
Held a valid state teaching license for each of the three years of verified teaching employment.
During the registration process, you will be asked to pay a one-time registration fee of $75. You will then be able to pick the components you need to complete. This test is component 1. Each component requires a fee of $475, and retakes will be charged additional fees. Check with your state and local school district to see if scholarships and fee support are available for NBCTs.
Once your registration has been verified and approved, you will receive an Authorization to Test (ATT) via email letting you know that you are allowed to schedule your exam. All the information of your ATT must be correct before you can schedule so make sure to confirm this.
When and Where Can I Take It?
The test is administered by Pearson VUE. During the testing window, you will schedule a testing date and time online through their website or by phone through their customer service department. Assessment centers fill up quickly so be sure to schedule as early as possible. It is required that you schedule your exam for a day at least 24 hours or one full business day after you schedule. There is only one testing window each year, typically falling between March and the middle of June. Locations are available across the U.S.
After you have scheduled your exam, you will be sent a confirmation including the date, time, and directions to your choice of location. If you should need to change or cancel your testing session for any reason, you must do so at least 24 hours before you are scheduled to test. If you do not, you will be charged a $175 fee.
What to Bring?
You will be expected to arrive at the testing center at least 30 minutes early. Those who arrive late will not be allowed to test.
The exam is administered via a computer. There is no need to bring anything with you except a valid government issued ID with a photo and signature. Pencils, dry-erase boards, and other materials needed for your exam will be given to you at the testing center.
Check Out Mometrix's National Board Certification Literacy: Reading-Language Arts: Early and Middle Childhood Exam Study Guide
Get practice questions, video tutorials, and detailed study lessons
Get Your Study Guide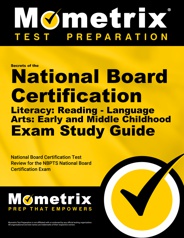 What is Covered?
The EMC/Literacy exam is made up of about 45 multiple-choice items and three constructed response exercises.
The test will cover knowledge and instruction of the following teaching standards and related content:
Learners and Collaborating with Families (20%)

Student are intellectual, social, emotional, cultural, and language learners
Understanding learning and child development theories
Assisting families in supporting their child's learning development
Equity, Fairness, and Diversity; the learning environment and literacy assessment (25%)

Promoting fairness and equity
Establishing an intellectual environment
Selecting resources
Knowledge of assessment and selecting and administering assessments
Reading and Writing (20%)

Reading
Writing
Connections of reading and writing to the other language arts and disciplines
Listening and Speaking (35%)

Listening and speaking
Viewing and visual literacy
The three constructed exercises are to assess the following:
Exercise 1 – Analyzing student reading
Exercise 2 – Writing development
Exercise 3 – Literacy across the curriculum
You will be given an hour to complete the multiple-choice questions, a 10-minute break, and 30 minutes for each constructed exercise. Total time given is 2 hours and 40 minutes.
How is it Scored?
Your score indicates your ability to prove that you have met the National Board Standards that are specific to your certificate field. Score reports show your results in each component tested and whether retesting should be done.
Scores are released on the date identified for your assessment cycle. If this date should be changed for any reason, you will be notified via email as to this change. Typically, scores are released in December for the first time and returning candidates. For those that are renewing their certificate, scores are released in November.
How to Prepare?
Mometrix Test Preparation is offering a study guide and set of flash cards made specifically for this test. To make sure you understand all that will be expected of you and to receive sample questions and constructed exercises, get your hands on these irreplaceable tools. This test is important to your future, don't compromise it by not being prepared.
Check Out Mometrix's National Board Certification Literacy: Reading-Language Arts: Early and Middle Childhood Exam Flashcards
Get complex subjects broken down into easily understandable concepts
Get Your Flashcards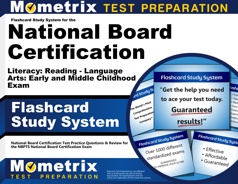 National Board Certification Literacy Study Guide
Mometrix Academy is a completely free National Board Certification Literacy test resource provided by Mometrix Test Preparation. If you find benefit from our efforts here, check out our premium quality National Board Certification Literacy Study Guide and National Board Certification Literacy Flash Cards to take your studying to the next level. Just click the National Board Certification Literacy study guide link below. Your purchase also helps us make even more great, free test content for test-takers.
National Board Certification Literacy Study Guide
National Board Certification Literacy Flashcards