MTEL Sheltered English Immersion (56) Practice Test
The Massachusetts Sheltered English Immersion (SEI) program is an English language acquisition process that integrates language and content instruction. The Massachusetts Tests for Educator Licensure (MTEL) Sheltered English Immersion (56) exam evaluates an educator's abilities in teaching lessons in English to English Language Learners (ELLs) and a school administrator's capabilities in overseeing SEI instruction.
This page will cover the MTEL Sheltered English Immersion exam, what information the examination covers, the number and type of questions you can expect, the score you need to pass, and everything you need to register for the assessment.
About the Exam
Current Massachusetts licensure policies require core academic and career vocational teachers of English Learners (EL) and principals/assistant principals and supervisors/directors who supervise or evaluate EL teachers must have an SEI endorsement. Taking this exam is one way to obtain the SEI endorsement. Educators without the SEI endorsement have one year from their hire date to receive the endorsement to be eligible for license renewal.
Exam Outline Review
The Sheltered English Immersion exam contains 60 multiple-choice questions and one open-response item, and you are given 4 hours to complete it.
The test is divided into four subareas, and each subarea is divided into test objectives designed to measure your knowledge of the subject matter. The open-response question has five tasks. Regardless of the test delivery method, the exam content is the same.
Subarea I (10%): 9–11 multiple-choice questions
Subarea II (28%): 27-29 multiple-choice questions
Subarea III (22%): 21-23 multiple-choice questions
Subarea IV (20%): 1 open-response item, split into 5 parts
I. The World of English Language Learners and their Teachers
The multiple-choice questions in this subarea evaluate your ability to analyze and apply knowledge of data and policies relevant to ELLs, diversity within ELL populations, and knowledge of cultural and social aspects of teaching in the SEI classroom.
II. Teaching Language and Sheltering Content in the Classroom
Within this subarea, the multiple-choice questions evaluate your understanding and knowledge of instructing ELLs in an SEI classroom, including:
Understanding the role of language and linguistics in instruction
Applying knowledge of second-language acquisitions and the factors that contribute to successful language attainment
Analyzing strategies for promoting oral language, listening comprehension, and vocabulary development
Applying knowledge of the principles of sheltering content in the classroom
Analyzing strategies for teaching academic language
Understanding and applying your knowledge of positive using assessments in the classroom
III. Literacy and Standards-Based Content Teaching for English Language Learners
The multiple-choice questions in this subarea assess your ability to analyze strategies for teaching reading and writing in the classroom and apply your knowledge of standards-based content teaching for ELLs.
IV. Integration of Knowledge and Understanding
This subarea contains the only open-response item, which is split into five parts. The purpose of the question is to allow you to show your knowledge of sheltering content. You are provided ten texts, and you will select one text to write a response to. Your response is judged on your ability to show evidence of your detailed, working knowledge of SEI strategies and how to employ them to create a well-developed lesson plan.
You are expected to demonstrate the following:
Your ability to plan a lesson in vocabulary tiering for reading comprehension and writing development; vocabulary strategies that support oracy and discourse development, reading comprehension, and writing development
Integrating SEI supports for the four language domains into one lesson
Your ability to select or modify SEI strategies across all four domains to meet the needs of ELLs at all development levels
Your skill at incorporating assessment components into your lesson demonstrates the results of the instructional and differentiation strategies you proposed in your essay
Your response must describe the key processes you will use that are involved in planning one lesson. Your lesson plan must integrate the components of vocabulary development and oracy, reading comprehension, and written discourse to support ELLs' content and language development. Specific examples from your selected mentor text must be incorporated into your response.
Write your response to an audience of SEI educators and ensure your writing conforms to the conventions of edited American English. Reference materials other than the chosen mentor text are not permitted.
Your response to the writing assignment is evaluated based on four criteria: purpose, subject matter knowledge, support, and rationale. The response question is scored from one to four, with four reflecting thorough knowledge and understanding and one reflecting weak knowledge and understanding. The essay can also be scored "U," indicating an unrelated, illegible, non-English, or insufficient length response. It might otherwise be scored "B," meaning that whatever you submitted was not enough to qualify as a response.
Check Out Mometrix's MTEL Sheltered English Immersion Study Guide
Get practice questions, video tutorials, and detailed study lessons
Get Your Study Guide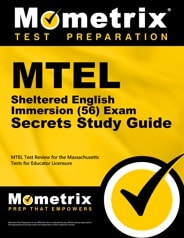 Registration
Before registering for the SEI exam, you must have a Massachusetts Education Personnel ID (MEPID) number. If you do not have a MEPID, create a profile in the Massachusetts Department of Elementary and Secondary Education's Educator Licensure and Renewal (ELAR) system. If you do not know if you have an ELAR profile, use the Office of Educator Licensure's web page to determine if you have a profile and create one if necessary. Registration is completed through the MTEL website.
Fees
When you register, you must abide by all testing rules and policies and pay the $166.00 testing and registration fees ($136.00 test fee, $30.00 non-refundable registration fee). If you do not have a Visa or MasterCard, follow the instructions to see if you can submit a personal check.
Scheduling Your Test
Once your registration and fees are accepted, you can schedule your testing appointment. The exam is delivered nationwide at Pearson-Vue testing centers or by an online remote proctor from your home or office. Your registration is valid for one year.
If you do not schedule and take your test, or if you withdraw your registration within one year, your registration expires and your payment is forfeited.
Test Delivery
The MTEL Sheltered English Immersion exam has two delivery methods: in-person at a Pearson-Vue testing center or remote online proctoring with a VUE-certified proctor.
In-person Testing
The test is offered Monday through Saturday, with some holidays excepted. Some test dates and times are in high demand; you should schedule your exam as early as possible to ensure you can secure the most convenient appointment.
After you select your test location and date, Person-Vue confirms your selection with an email. The email confirms your name, chosen test and test site, appointment date and time, and other information you need for the exam day.
On the day of your exam, arrive 15 minutes before your appointment time. Bring a valid photo ID with you, and leave prohibited items at home, such as food, drinks, calculators, or printed materials, to name a few. A secure area is provided to store your jacket, purse, or wallet once you arrive. A felt pen and note-booklet are also provided for notes.
Remote Testing
The remote exam is taken by appointment with an online proctor. You can sign in to your account to start your test up to 30 minutes before your start time and up to 15 minutes after the appointment time. After registering, a testing confirmation indicates your test, test date, and testing time.
Your testing environment needs to be quiet with no interruptions, well-lit, private (others should not be able to come and go from your testing area), and clear of anything that is not explicitly allowed.
The technical requirements for remote online proctoring include:
A desktop or laptop computer (tablets and touch screens are not allowed)
One monitor with video and microphone

If you have additional monitors, they must be removed from your testing area or unplugged
If you use an external monitor with your laptop, you must have an external keyboard, mouse, and webcam, and the lid of your laptop must remain closed during your exam
The check-in process for your online test includes taking pictures of your ID, your testing environment, and your face. Throughout your exam, a VUE-certified proctor monitors you via webcam and microphone.
Once your exam begins, you cannot move your webcam, mumble, or speak out loud. Failure to follow the rules of the exam and the instructions of your proctor could result in the cancelation of your exam.
How the Exam is Scored
The qualifying score is 240. If you take the exam at a testing center, you will receive a receipt of completion at the end of your exam, but you will not receive a completion receipt if you take the exam online.
Your results are emailed to you if you selected the option at registration or available by 10:00 pm Eastern time in your account on the score report date. If you took the online assessment, your score report might take an additional two weeks to be released.
Additionally, your scores are sent to the Department of Elementary and Secondary Education, your Massachusetts educator preparation program (if applicable), and automatically added to your licensure file when you apply for a license.
Retaking the Exam
If you did not pass the exam, you must wait 30 days before retaking the test. You can take the test as often as necessary to pass, but you must register and pay the test fees on each attempt.
Check Out Mometrix's MTEL Sheltered English Immersion Flashcards
Get complex subjects broken down into easily understandable concepts
Get Your Flashcards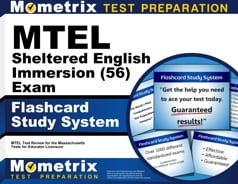 How to Study for the MTEL Sheltered English Immersion Exam
How to Study Effectively
Your success on MTEL test day depends not only on how many hours you put into preparing but also on whether you prepared the right way. It's good to check along the way to see whether your studying is paying off. One of the most effective ways to do this is by taking MTEL SEI practice tests to evaluate your progress. Practice tests are useful because they show exactly where you need to improve. Every time you take a free MTEL exam practice test, pay special attention to these three groups of questions:
The questions you got wrong
The ones you had to guess on, even if you guessed right
The ones you found difficult or slow to work through
This will show you exactly what your weak areas are and where you need to devote more study time. Ask yourself why each of these questions gave you trouble. Was it because you didn't understand the material? Was it because you didn't remember the vocabulary? Do you need more repetitions on this type of question to build speed and confidence? Dig into those questions and figure out how you can strengthen your weak areas as you go back to review the material.
Answer Explanations
Additionally, many MTEL Sheltered English Immersion practice tests have a section explaining the answer choices. It can be tempting to read the explanation and think that you now have a good understanding of the concept. However, an explanation likely only covers part of the question's broader context. Even if the explanation makes sense, go back and investigate every concept related to the question until you're positive you have a thorough understanding.
Comprehend Each Topic
As you go along, keep in mind that the MTEL practice test is just that: practice. Memorizing these questions and answers will not be very helpful on the actual test because it is unlikely to have any of the same exact questions. If you only know the right answers to the sample questions, you won't be prepared for the real thing. Study the concepts until you understand them fully, and then you'll be able to answer any question that shows up on the test.
Strategy for MTEL (56) Practice
When you're ready to start taking practice tests, follow this strategy:
Remove Limitations. Take the first test with no time constraints and with your notes and MTEL study guide handy. Take your time and focus on applying the strategies you've learned.
Time Yourself. Take the second practice test "open book" as well, but set a timer and practice pacing yourself to finish in time.
Simulate Test Day. Take any other practice tests as if it were test day. Set a timer and put away your study materials. Sit at a table or desk in a quiet room, imagine yourself at the testing center, and answer questions as quickly and accurately as possible.
Keep Practicing. Keep taking practice tests on a regular basis until you run out of practice tests or it's time for the actual test. Your mind will be ready for the schedule and stress of test day, and you'll be able to focus on recalling the material you've learned.
FAQs
Q
How many questions are on the exam?
A
There are 60 multiple-choice questions and one open-response question on the MTEL Sheltered English Immersion exam.
Q
How long is the exam?
A
The MTEL SEI (56) exam is timed at 4 hours, which does not include the 15 minutes provided to complete a tutorial of the testing system.
Q
What is a passing score?
A
A passing score for the MTEL Sheltered English Immersion exam is 240.
Q
How much does the exam cost?