The Florida Teacher Certification Examinations (FTCE) are standardized tests that evaluate candidates for teaching positions against Florida's Sunshine State Standards. The exams are designed to make sure that all teacher candidates hold both the subject matter and teaching skills required to effectively teach students in Florida.
Free FTCE Practice Tests
Use the free FTCE practice test questions below to get a better understanding of each FTCE exam.
About FTCE
The Florida Department of Education's Office of Postsecondary Assessment oversees all aspects of the FTCE, including developing, administering, scoring, and reporting the results. In collaboration with its contractor, Pearson, the Department creates and administers the FTCE exam.
The Department of Education recognizes that our most valuable resource is our youth, and we would be failing in our duty if we did not take all reasonable steps to ensure that their teachers adhere to high professional standards at the level appropriate for Beginning Effective Teacher Candidates (BETC).
The FTCE was therefore created so that the public and important stakeholders can have faith that their teachers have met the necessary professional standards as established by the profession. The Department makes sure that the Florida K–12 standards, as well as any applicable international, organizational, or industry standards, are rigorously followed and fully aligned.
For their initial five-year Florida Professional Certificate, educators must pass the FTCE. Qualified educators may be given a three-year Temporary Certificate after their application for a teaching certificate has been evaluated. This will allow them to continue teaching while the testing and performance requirements for the five-year Professional Certificate are being fulfilled.
FTCE Eligibility
Anyone can sit for the FTCE exam. There are no eligibility or readiness requirements for test registration, and there is no cap on how many times an examinee may retake an exam they have failed.
Check Out Mometrix's FTCE Study Guide
Get practice questions, video tutorials, and detailed study lessons
Get Your Study Guide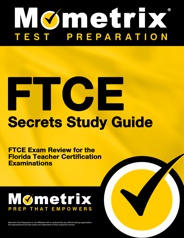 What to Expect on an FTCE Exam
The Florida Teacher Certification Exam (FTCE) for educators consists of the General Knowledge Test (GK) and Subject Area Exams (SAE). Multiple-choice items and performance items are included in the FTCE exams.
Competencies and skills, test items, and test forms are developed, validated, and finalized with the help of subject matter experts (highly qualified K–12 teachers, district coordinators, college and university faculty, and school administrators) from all over Florida.
Subject Area Exams
The SAEs examine a prospective teacher's knowledge and skills in a variety of subject areas and grade levels, as opposed to the FTCE General Knowledge test, which focuses on knowledge and skills in core subjects like English, Reading, and Mathematics.
The state of Florida offers 39 Subject Area Exams. The specific SAEs needed for a Florida teacher certification will vary depending on the area of expertise the test-taker plans to pursue. For those aiming to work with students in grades K–6, the Florida K–6 Subject Area Exam, for instance, assesses content and grade-level teaching expertise.
Florida teachers must follow several general testing guidelines when taking their individual Subject Area Exams. Not all subject areas have tests with the same length; many tests have completion deadlines of two hours and thirty minutes. Other exams, like the FTCE Elementary Education K-6 test, which has multiple subtests, require a total of 4 hours and 30 minutes to complete. No time extensions are permitted, so all SAE tests must be finished within the allotted time. The number of multiple-choice questions on each test can range from 52 to 200, with written responses not included.
The SAE format varies depending on the test; some have only multiple-choice questions, like the Biology 6–12 exam, while others, like the English 6–12 exam, have multiple-choice questions and written response essays. Still other tests, like the Elementary Education K–6 exam, have four core subject area sections. Each subject area exam includes questions that cover material specifically related to that subject area. All Subject Area Exams are computer-based, scheduled in advance, and administered at specific Florida FTCE testing centers.
General Knowledge Test
The GK test is perhaps the most basic component of the FTCE. As implied by the name, the General Knowledge test assesses your capabilities with the very basics of teaching by going over materials you likely already learned much earlier on in your academic career.
The GK test splits into four sections: an Essay, then Mathematics, Reading, and Language. Save for the essay, the exam is multiple choice in format. You will be given over four hours to finish the exam—specifically, over three hours for the multiple choice section and 50 minutes total to write out your essay.
FTCE Registration
The FTCE website is open 24 hours a day, seven days a week for online registration. When registering for an exam online, candidates are prompted to create a user account before being guided through the process of choosing a test date, test location, and the exams they want to register for.
By logging into "My Account" on the website, examinees can review this registration information and make changes to their registration.
The online registration process for alternative arrangements and certain FTCE exams consists of three steps. Examinees start by registering online, submitting accommodation requests, and then speaking with a Customer Service Representative to finalize the registration.
Online FTCE General Knowledge Prep Course
If you want to be fully prepared, Mometrix offers an online FTCE General Knowledge prep course. The course is designed to provide you with any and every resource you might want while studying. The FTCE General Knowledge course includes:
Review Lessons Covering Every Topic
750+ FTCE General Knowledge Practice Questions
More than 600 Electronic Flashcards
Over 270 Instructional Videos
Money-back Guarantee
and More!
The FTCE General Knowledge prep course is designed to help any learner get everything they need to prepare for their FTCE exam. Click below to check it out!
FTCE Scores
Multiple-Choice Item Scoring
To pass the General Knowledge exam, candidates must achieve a score of 240 on all four subtests.
Responses are electronically scored based on established answer keys.
Scaled Scores
Scald scores rather than raw scores are utilized for evaluating the examinee's performance on the FTCE. The benefit of using scale scores is that results from different test formats can all be interpreted in the same scale units, regardless of how difficult each format may or may not be. The passing score for each FTCE subject area test is set at a scale score of 200. This means that regardless of the subject area test or the format in which it is being given, each test is adjusted so that the passing score is always 200.
Some of the subject-area exams include both a multiple-choice and a performance component that is holistically scored. The multiple-choice and performance components of some of these tests are scored independently, and examinees must obtain a passing score on each component to pass the overall test. Others use composite scores, which allow the two individual components to be combined into a single overall score.
The Release of Reports
If you are taking a multiple-choice test, you will be given an unofficial pass/fail status at the end of the test session. Beginning October 1, 2023, you will receive an official score report at the end of the test session. Within four weeks of your test date, a comprehensive score report with cumulative results will be posted to your account.
Examinees may access official score reports via the score website for a period of five years following the release date of the report. Examinees receive an email on the day of score reporting informing them that their score reports are available electronically. Additionally, a copy of the score report is sent directly to the college, university, or school district that was specified during examinee registration. The State Bureau of Educator Certification receives all qualifying test results via electronic submission.
"Not Pass" Reports
The score report offers comprehensive details of the examinee's performance in each competency area for any examinee who receives a scale score that results in a status of "Not Pass." The detailed report shows the overall number of items and the percentage of items that the examinee correctly answered for each competency area.
Candidates must wait 31 days before retaking any test, subtest, or section for which they received a "Not Pass."
Check Out Mometrix's FTCE Flashcards
Get complex subjects broken down into easily understandable concepts
Get Your Flashcards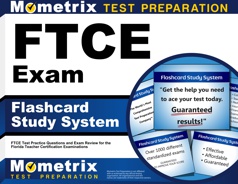 FAQs
Q
How many FTCE exams are there?
A
There are 39 FTCE subject area examinations.
Q
Who are the FTCE exams for?
A
These exams are necessary for individuals who want to work in various educational fields in the state of Florida, including the following:
Teachers
Counselors
ESOL instructors
Educational diagnosticians
Drama instructors
Reading specialists
Special education instructors
Q
What is the easiest FTCE test to pass?
A
The General Knowledge Reading test and Engineering and Technology Education 6-12 test are known to be the two easiest FTCE exams.
Q
Can you take the FTCE online?
A
The exams are only administered at approved FTCE testing sites and cannot be taken online.
Q
How long does it take to get FTCE results?
A
You should receive your exam results within four weeks of testing.