FTCE Art K-12 Practice Test
The Florida Teacher Certification Examinations (FTCE) Art K-12 exam is one of the available subject tests you can take in additional to your general teaching certification exams. The FTCE Art K-12 exam is required of all candidates wishing to teach art at any grade level between kindergarten and twelfth grade.
How Do I Register for the FTCE Art K-12 Exam?
You will first need to create an account on the FTCE website. Then, click "Register for the FTCE/FELE" and select the Art K-12 exam from the menu. After this, you'll be asked a series of background questions and provided with the testing policies. You need to agree to the testing policies before you can proceed.
Once you have completed the registration part of the process, go to the "Open Registrations" tab and click "schedule" in order to choose the specific date, time, and location where you will take the test. At this point, you will need to pay the $150 exam fee in order to confirm your reservation of that appointment.
It's highly recommended that you schedule your appointment immediately after you finish the registration process. Although you will have one year from the time of registration to schedule your appointment, the seats are given on a first-come, first-serve basis, so you need to schedule early to make sure you get the appointment that you want.
Check Out Mometrix's FTCE Art K-12 Study Guide
Get practice questions, video tutorials, and detailed study lessons
Get Your Study Guide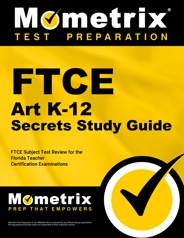 What Should I Expect on the Day of the Test?
The most important thing to remember is that you need to arrive 30 minutes before your actual appointment. And you need to bring two valid forms of ID with you in order to check in. If you are late or if you do not have the proper ID, you will not be allowed to take the exam, and you will not be refunded the exam fee. Accepted forms of ID include:
Driver's license
State ID
US military ID
Passport
US permanent resident card
Social security card (second ID only)
Student ID (second ID only)
Work ID (second ID only)
Do not bring any other personal items with you. You cannot bring anything except your IDs into the exam room with you. Leave everything else at home or in your car. After you check in, you'll be taken to the exam room where you'll complete a short, 15 minute tutorial that prepares you for the mechanics of the computer based test.
You will then have two and a half hours to respond to 110 multiple choice questions covering a wide range of knowledge, principles, and practices related to art and art education. There are no scheduled breaks included. You can take breaks as needed, but the clock will keep running on your test. So avoid breaks if possible and keep them really short if absolutely necessary.
What Will I Be Tested On?
The test inlcudes 110 multiple choice questions divided across seven core competencies in the field of art knowledge, criticism, and education. Below, you will find a breakdown of what kind of material will be included on the test:
The Processes of Two Dimensional Art – 16-17 questions
The Processes of Three Dimensional Art – 16-17 questions
The Processes of Digital Art – 16-17 questions
Art History and Culture – 16-17 questions
Art Education and Pedagogy – 16-17 questions
Present Day Connections and Applications of Art – 11-12 Questions
How Is the FTCE Art K-12 Exam Scored?
The test will be given a scaled score (based on your raw score) ranging from 100 to 300. In order to qualify for certification, you need to get a score of 200 or better. You will find out your score immediately after you complete the exam at the testing center. However, your official score report will not be available until about four weeks after the date of your exam.
Check Out Mometrix's FTCE Art K-12 Flashcards
Get complex subjects broken down into easily understandable concepts
Get Your Flashcards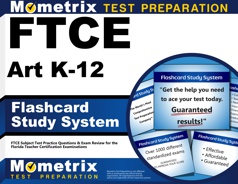 How Should I Prepare for the FTCE Art K-12 Exam?
The best way to prepare for this test is to simply review all the material that will be covered. If you try to do that by reading through all your old textbooks and classwork, you are going to get overwhelmed.
A more effective way to review such a large amount of material is to use the Mometrix Study Guide and Mometrix Flashcards. The guide provides comprehensive chapters that cover all the key knowledge and understanding included on the test. This will save you hours and hours of wasted time spent reviewing material that you aren't even going to be tested on.
Both the guide and the flashcards have been designed with this exact test in mind. So not only is the overview extremely relevant and strategically detailed but the practice questions you get are designed to be just like the ones you are actually going to have to answer on the day of the test.
FTCE Art K-12 Study Guide
Mometrix Academy is a completely free resource provided by Mometrix Test Preparation. If you find benefit from our efforts here, check out our premium quality FTCE Art K-12 study guide to take your studying to the next level. Just click the FTCE Art K-12 study guide link below. Your purchase also helps us make even more great, free content for test-takers.