FTCE Physical Education K-12 Practice Test
Educators who want to teach in the state of Florida must take and pass a certification exam in their field. That means physical education candidates will take the Florida Teacher's Certification Examination (FTCE) Physical Education K-12 (063) exam. The exam tests knowledge in a wide range of physical education specialties. This guide, as well as some suggested study tools, will help candidates prepare for the test.
How many questions are on the FTCE Physical Education K-12 exam?
There are 120 questions on this computer-based test.
What is the test passing score?
Candidates must receive a scaled score of at least 200. Unofficial pass/fail results are available after completion of the exam. Candidates will receive score results within four weeks of their test date.
How much does it cost to take the FTCE Physical Education K-12 exam?
The test fee is $150. Candidates who fail the exam and retake it pay a $150 retest fee.
Check Out Mometrix's FTCE Physical Education Study Guide
Get practice questions, video tutorials, and detailed study lessons
Get Your Study Guide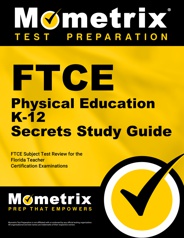 Where can I take the test?
Florida has contracted with a third-party provider to administer the test. Test centers are located throughout Florida and across the country.
What categories are on the FTCE Physical Education K-12 exam?
The exam tests 13 knowledge areas, called "competencies." Each test section comprises between 3 and 13 percent of the test questions, as noted below:
How physical education profession history and philosophy have influenced physical education. (3%). This area involves knowledge of historical events and trend analysis involving physical education.
Understanding standards-based physical education curriculum (10%). Focuses on curriculum planning, curriculum model characteristics and more.
Physical education instructional strategies that are developmentally appropriate (13%). This tests the understanding of student learning techniques, application of motivational techniques, and more.
Human growth and development and motor learning relating to physical education (8%). This focuses on human development theories and knowledge.
Movement skills and concepts relating to physical education (12%). Tests knowledge areas that include movement concepts and how to teach movement skills.
Lifetime health, wellness, and physical fitness (12%). Tests several areas including personal fitness programs and their health-related components.
How physical education and physical activity relate to cognitive, social, and emotional development (7%). Diversity, responsible behaviors and physical activities benefits are among the topics tested here.
Assessment strategies to determine student levels and needs in physical education (10%). Assessment strategy identification and application are covered in this section.
Effective learning environment strategies (7%). This section includes questions on effective learning environments and behavioral management techniques.
Understanding, as they relate to physical education, laws, legislation, and liabilities (4%). Ensures candidates understand laws and legal liabilities as they related to physical education.
Understanding, as they relate to physical education and activities, safety considerations, rules, strategies, and terminology (5%). This ensures candidates understand safety concerns.
Professional ethics, advocacy, and development knowledge (4%). This section covers physical education advocacy and professional development.
Using technology as related to physical education (5%). This section ensures candidates know how to appropriately use technology in the physical education setting.
When should I arrive at the test center on test day?
Candidates should arrive 30 minutes early. Anyone who arrives late to the test center may not be able to take the exam. Candidates could also lose fees they've already paid.
What identification will I need on test day?
Candidates should bring two forms of identification — a primary and secondary form. The primary form of identification can be a valid, unexpired government issued ID. The secondary form must contain a photo or a signature; a social security card, or a student or work ID are acceptable.
Check Out Mometrix's FTCE Physical Education Study Guide
Get complex subjects broken down into easily understandable concepts
Get Your Flashcards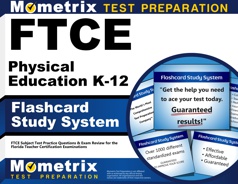 Can I bring personal items into the test room?
No. Mobile phones, calculators, electronic devices, dictionaries or other books, purses and wallets are among the items banned from the room. Candidates will have to store those in a locker at the test center. Also remember that test center security tends be very tight, so candidates will be monitored and may even be videotaped.
FTCE Physical Education K-12 Study Guide
Mometrix Academy is a completely free resource provided by Mometrix Test Preparation. If you find benefit from our efforts here, check out our premium quality FTCE Physical Education K-12 study guide to take your studying to the next level. Just click the FTCE Physical Education K-12 study guide link below. Your purchase also helps us make even more great, free content for test-takers.