FTCE Middle Grades Mathematics 5-9 Practice Test
The FTCE Middle Grades Mathematics 5-9 exam is used to certify candidates to teach math within the fifth to ninth grade levels. The questions are designed to measure both your command of mathematics at (and slightly beyond) these grade levels as well as your understanding of the principles and practices of teaching that math to students in this age range.
When Is the FTCE Middle Grades Mathematics 5-9 Exam Offered?
The test is available year round at CBT sites located throughout the state of Florida. It is also offered at testing centers across the United States in case you need to take the test out of state. Despite this availability, you should still schedule your appointment as far in advance as possible because the limited seats available are given on a first come, first serve basis.
Before you register for your exam, choose your preferred date and one or two alternative dates in case your first choice is already booked up. When you register, you will need to pay an exam fee of $150.
How Long Will the Test Take?
Your total time spent at the testing center will be a little over three hours. This includes 30 minutes to check in, two and a half hours for the test itself, and about 15 minutes after the exam for the administrator to collect the materials and for you to bring up any questions or concerns you have about the test. For example, if there were any disruptions during the exam that you feel may have impacted your performance, you need to mention this before you leave the testing center.
There are no scheduled breaks provided. That means you can take breaks as needed, but the clock won't stop, so any breaks will cut into your total test time. Given this policy, do your best to make sure you won't need to a take a break during the two and half hours provided for the exam.
More importantly, the 30 minutes for checking in needs to happen before your actual appointment. If you show up too late to complete the check in process before the start of your exam, you will not be allowed into the exam room. So if your appointment is at, say, 10:30 A.M., you need to arrive at the testing center no later than 10:00 A.M.
Check Out Mometrix's FTCE Study Guide
Get practice questions, video tutorials, and detailed study lessons
Get Your Study Guide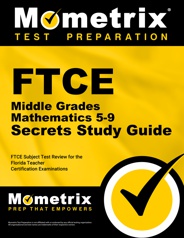 What Kind of Math Will I Be Tested On?
The 75 multiple choice questions on the test will cover a range of important mathematic concepts and teaching principles. Below is a brief outline along with an estimate of the number of questions that will be related to each concept and skill:
Knowledge of problem-solving and reasoning skills – 9-10 Questions
Knowledge of mathematical manipulatives and models and instructional technology – 4-5 Questions
Knowledge of assessment in mathematics – 6-7 Questions
Knowledge of connections among mathematical concepts – 5-6 Questions
Knowledge of number sense, operations, and proportionality – 9-10 Questions
Knowledge of foundations of algebra – 10-11 Questions
Knowledge of algebraic thinking – 8-9 Questions
Knowledge of data analysis, statistics, and probability – 5-6 Questions
Knowledge of two-dimensional geometry – 11-12 Questions
Knowledge of measurement and spatial sense – 6-7 Questions
What Score Do I Need to Get?
You will need to achieve a scaled score of at least 200 (out of a possible 300). This corresponds to roughly 54 correct answers out of the 75 questions. That number should not be used as an exact target for your studying but rather a rough estimate of how much wiggle room you have on the exam. In other words, while studying, if you set yourself a target of at least 60 questions answered correctly during practice sessions that will definitely prepare to get a passing score on test day.
Immediately after the exam, you can see your unofficial score to know whether you passed. If you do not pass the exam on your first attempt, you can retake it, but you will have to pay a $220 retake fee for each subsequent attempt. So it's better to give yourself enough time before the first attempt to adequately prepare.
How Should I Prepare for The Test?
Most of your study time should go to reviewing the relevant math and honing your computation and mathematic reasoning skills. However, you should also spend a little time reviewing the standards and accepted practices for teaching math to students within this age range.
You can do all of that with the Mometrix Study Guide and Mometrix Flashcards. These tools will help you review all the essential math that you need to know for the test day. They will also provide plenty of practice questions that you can use to develop your skills as they will need to be applied to the test.
FTCE Middle Grades Mathematics 5-9 Study Guide
Check Out Mometrix's FTCE Flashcards
Get complex subjects broken down into easily understandable concepts
Get Your Flashcards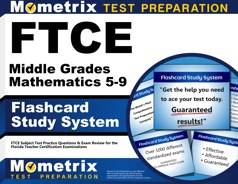 Mometrix Academy is a completely free resource provided by Mometrix Test Preparation. If you find benefit from our efforts here, check out our premium quality FTCE Middle Grades Mathematics 5-9 study guide to take your studying to the next level. Just click the FTCE Middle Grades Mathematics 5-9 study guide link below. Your purchase also helps us make even more great, free content for test-takers.