FTCE Professional Education Practice Test
Florida Teacher Certification Examinations are required by the state of Florida for any who are seeking to become a professional educator in the state. This tests candidates in reading, writing, mathematics, professional knowledge, and the subject they wish to be certified in.
What is the Application Process?
To register for this test, you will need to create or log into an FTCE/FELE account. Here you will select this test, answer the appropriate questions, and agree to testing policies. Once your registration has been approved, you will be able to schedule a testing date and place. You will be sent a confirmation email, including the address and time of your test after you have scheduled it.
The final step of registration is to pay the fee for the test you are taking. The testing fee for the FTCE Professional Education Test is $150 to take the first time. Should you need to retake it, the cost is $150.
During the application process, you can choose to have your score sent to your enrolled institution or PDCP.
When and Where?
You can schedule to take this test at a time and place that is convenient for you throughout the year. Tests are offered year-round based on available dates. Testing sites are located throughout the state of Florida, as well as some outside the state.
A full list of these dates and locations will be available to you during registration.
Check out Mometrix's Study Guide
Get practice questions, video tutorials, and detailed study lessons
Get Your Study Guide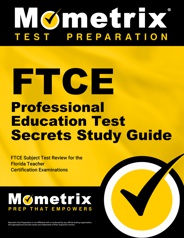 What Should I Bring?
You will need to bring two valid and current forms of identification with you to the testing site. The first ID must contain a recent photo and your signature. These may be:
Driver's license
State issued ID card
Military ID
Passport
US Permanent Resident Card
The second must include either a photo or a signature. They may be one of the above or one of the following:
Social Security Card
Student ID
Work ID
Make sure that arrive with these at least 30 minutes before your scheduled testing time. Arriving late will ensure that you are not able to test that day and will forfeit any and all fees paid up to that point.
It is important to note that only the former mentioned IDs are permitted at the testing site. All other personal belongings, including but not limited to calculators, study materials and any electronic devices are not allowed. If these items are found to be on your person, you may not be allowed to test.
What is Covered?
The test is given via a computer. It included 120 multiple choice questions. You will have 2 hours and 30 minutes to complete it. The test is made of eight major areas of content that a certified teacher must be expected to know. They are:
Knowledge of instructional design and planning
Knowledge of appropriate student-centered learning environments
Knowledge of instructional delivery and facilitation through a comprehensive understanding of subject matter
Knowledge of various types of assessment strategies for determining impact on student learning
Knowledge of relevant continuous professional improvement
Knowledge of the principles of professional conduct of the education profession in Florida
Knowledge of research-based practices appropriate for teaching English Language Learners (ELLs)
Knowledge of effective literacy strategies that can be applied across the curriculum to impact student learning
How is it Scored?
You will be given an unofficial report of your test immediately following your completion of it. This will indicate whether you have passed or not. Your scaled score must be a 200 or above to be considered passing.
Your official score report will be released to you within four weeks of your scheduled test.
How to Prepare?
The best way to prepare for any test is to get a hold of a good study guide and some flash cards with pertinent information. Here are Mometrix, we have designed just that for you. Not only do these contain all the information expected of you for this test but they also provide you with sample questions.
All of this is formatted using the same types of words and styles that you will see on the actual test, preparing you all the more. Be sure to use both to ensure that you know all you can before test day.
Check out Mometrix's Flashcards
Get complex subjects broken down into easily understandable concepts
Get Your Flashcards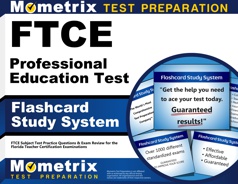 FTCE Professional Education Study Guide
Mometrix Academy is a completely free resource provided by Mometrix Test Preparation. If you find benefit from our efforts here, check out our premium quality FTCE Professional Education study guide to take your studying to the next level. Just click the FTCE Professional Education study guide link below. Your purchase also helps us make even more great, free content for test-takers.