FTCE Business Education 6-12 Practice Test
The FTCE Business Education 6-12 Exam is used by students currently in college or teachers wanting certification in this specific subject area. Prospective teachers/teachers obtain this certification to become qualified to teach business education in the state of Florida, for students in grades 6-12.
This computer-based test is 2 hours and 30 minutes in length, with 120 multiple-choice items. Questions can be in the form of direct question, sentence completion, or scenario-based.
Accommodations are available for individuals with certain conditions recognized by the Americans with Disabilities Act of 1990 and ADA Amendments Act of 2008. Prior approval is required.
What are the competencies and topics covered on the exam?
Competency 1: Information Technology – 15%
Touch keyboarding techniques
Word processing, spreadsheet, digital publishing, presentation, multimedia, and communication software
Characteristics of networks
Troubleshooting hardware and software
Basic coding practices
Emerging technologies
Competency 2: Business Communications – 10%
Grammar and punctuation
Written, verbal, and non-verbal communication
Internal and external communication
Formats of business documents
Competency 3: Accounting and Personal Finance – 10%
Accounting concepts, principles, and procedures
Financial data and statements
Personal money management and consumer credit strategies
Services and products provided by financial institutions
Competency 4: Business Management and Administrative Procedures – 10%
Management theories, styles, functions, and procedures
Business organizational structures and management responsibilities
Human resource management principles
Administrative office procedures
Information technology security, privacy, & risk management policies
Professional business behavior and effective customer service strategies
Competency 5: Entrepreneurship and Marketing – 10%
Business ownership types
Characteristics of entrepreneurship
Starting and maintaining a business
Marketing mix
Check Out Mometrix's FTCE Business Education 6-12 Study Guide
Get practice questions, video tutorials, and detailed study lessons
Get Your Study Guide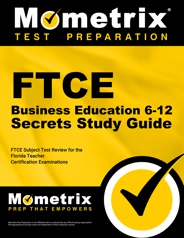 Competency 6: Business Law and Ethics – 10%
Common legal processes, procedures, and documents regarding business and technology
Major law types
Federal, state, district, and local courts and laws
U.S. Government regulations on business operations
Contract law, law of sales, and consumer law
Ethical practices and business
Competency 7: Foundations, Teaching Methods, and Professional Development Procedures – 15%
Professional and student publications, organizations, and current trends in business education
Diverse learners and curriculum planning and development
Stakeholder partnerships
Employability skills
Diverse student populations and lesson presentation and assessment techniques
Instructional resource materials and tools
Competency 8: International Business – 10%
International business relations and communication
International business and domestic and foreign economies
Social, cultural, and ethical factors that affect global business
Political, legal, and economic factors that affect global business
Financial and marketing decisions that affect global business
Competency 9: Career Development – 10%
Transition from school to college and careers
Emerging workplace trends, career paths, and related issues
Career development and workplace expectations and soft skills
What is the most convenient way to register for the exam?
Online registration is open 24 hours a day, 7 days a week.
What is the cost of the exam?
The cost of your initial attempt at the exam is $150. A re-take of the exam will cost $150.
What are the testing dates and locations?
This exam is offered by appointment, year-round, at various sites in the United States.
What should I do the day of the exam?
Bring two forms of original identification. One must contain your name, signature and a photo. The other can contain your name, signature, and a photo, but at a minimum, should contain your name/signature OR photo.
You will not be allowed to bring a calculator to the testing area.
Items such as books, purses, and food, are also prohibited.
Check Out Mometrix's FTCE Business Education 6-12 Flashcards
Get complex subjects broken down into easily understandable concepts
Get Your Flashcards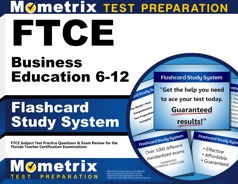 What happens after I take the exam?
Right after taking the test, you will receive an unofficial report that telling you if you passed.
Your official score report will be posted to your account within 4 weeks of your test date.
How do I know if I passed the exam?
A passing score is a scaled score of at least 200.
What happens if I don't pass the exam?
You may re-take the exam 31 days after the day you failed the test.
Allow Mometrix the opportunity to help you ace this exam. With our FTCE Business Education 6-12 study guide and FTCE Business Education 6-12 flashcards, you are sure to have the confidence and knowledge necessary to achieve success.
FTCE Business Education 6-12 Study Guide
Mometrix Academy is a completely free resource provided by Mometrix Test Preparation. If you find benefit from our efforts here, check out our premium quality FTCE Business Education 6-12 study guide to take your studying to the next level. Just click the FTCE Business Education 6-12 study guide link below. Your purchase also helps us make even more great, free content for test-takers.
FTCE Study Guide
FTCE Flashcards