FTCE Florida Educational Leadership Practice Test
The Florida Educational Leadership Exam (FELE) is aligned with the Florida Legislature and State Board of Education's requirements for educational leaders within the state of Florida. The exam is made up of three subtests and evaluates a candidate's mastery of requisite competencies and skills necessary to obtain certification in educational leadership.
Test design
The subtests of the FELE may be taken individually or in a group of two or more. Each subtest consists of multiple-choice questions. Subtest three contains one written performance prompt in addition to multiple-choice questions. You must pass all three subtests.
Subtest 1: Leadership for Student Learning
You will have two hours to answer 70 questions; this subtest evaluates the following four competencies:
Alignment of student learning goals with state accountability measures – 25%
Effective leadership tactics that prioritize student learning in a supportive environment focused on student success and improvement – 25%
Development and implementation of an instructional framework aligned with state standards, instructional strategies, student learning needs, and assessments – 25%
Structuring and monitoring a school environment that improves learning for all students – 25%
Subtest 2: Organizational Development
You will have two hours to answer 70 multiple-choice questions; this subtest evaluates the following four competencies:
Knowledge of recruitment and induction practices that develop a high-performing, diverse faculty and staff – 17%
Methods that develop and retain high-performing, diverse faculty, and staff – 33%
Knowledge of practices to cultivate, support, and develop leaders – 25%
Understanding of personal and professional behavior in education and community leadership – 25%
Subtest 3: Systems Leadership
You will have one hour and 30 minutes to complete 55 questions in the multiple-choice section and one hour to complete the one question in the written performance section; the multiple-choice component of this section consists of four competencies:
Knowledge of decision-making processes based on research, best practices, and leadership theory in support of the mission, vision, and improvement priorities of schools – 25%
Maximize a safe and effective learning environment utilizing organizational theory, research, and management practices – 25%
Effective utilization of resources and fiscal management – 25%
Knowledge of school legal practices and applications – 25%
Check Out Mometrix's FTCE Florida Educational Leadership Study Guide
Get practice questions, video tutorials, and detailed study lessons
Get Your Study Guide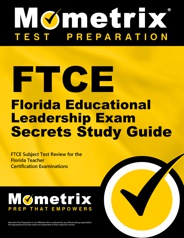 Cost
You may take one subtest, two subtests, or all three subtests during one testing period. For any combination of tests, the cost is $150.00. Registering for successive subtests on separate testing dates will have a $150.00 fee for any combination of subtests.
Registration, exam dates, and exam delivery method
Registration is completed online, and fees are paid with a credit or debit card. Alternate arrangements for payment can be made if necessary. After you register, you will receive an appointment confirmation email. The email will have the address of the testing facility and your appointment time.
The FELE is a computer-based test (CBT), and appointments are year-round, based on available dates.
Test Day
Arrive 30 minutes before your appointment time indicated in your confirmation email. Your assigned test session provides time for pre-administrative activities in addition to test completion.
Pre-administrative activities include verifying your identification, conducting a palm vein scan and taking your photograph. If you wear glasses, they will be visually inspected. You are advised to leave personal belongings not necessary for the exam at home as you may bring nothing into your testing area. At your testing station, you will be provided with an erasable notepad and pen. All materials are returned at the conclusion of the exam.
Scoring and results
Unofficial pass/non-pass status for the multiple-choice only subtests is provided immediately at the conclusion of your exam. If your test includes a written prompt, you will receive a receipt of completion report instead of an unofficial pass/non-pass status. Official scores are reported within four to six weeks of testing, and your results will be transmitted to the agency you identified at registration. You must obtain the following scores to pass each subtest:
Subtest 1 – 200
Subtest 2 – 200
Subtest 3, Multiple-choice section – 200
Subtest 3, Written Performance section – 7 out of 12 points
Preparing for the Florida Educational Leadership Exam
You're ready to take the next step in your career in education. You have worked hard to gain the experience, education, and skills to become a leader in education but now you have to take the leadership exam to obtain your certification. Do not let test anxiety or unfamiliarity with the test format keep you from your goals. Mometrix has developed a study system that will guide you, step-by-step, to a successful outcome.
With 16 years of experience in researching and developing study methods, Mometrix has the skills and experience necessary to guide you in passing your certification. With study guides and flashcards, Mometrix has the tools you need to succeed.
Check Out Mometrix's FTCE Florida Educational Leadership Flashcards
Get complex subjects broken down into easily understandable concepts
Get Your Flashcards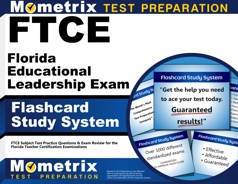 FTCE Florida Educational Leadership Study Guide
Mometrix Academy is a completely free FTCE FELE resource provided by Mometrix Test Preparation. If you find benefit from our efforts here, check out our premium quality FTCE Florida Educational Leadership study guide to take your studying to the next level. Just click the FTCE Florida Educational Leadership study guide link below. Your purchase also helps us make even more great, free content for test-takers.