FTCE ESOL K-12 Practice Test
The Florida Teacher Certification Examinations (FTCE) English for Speakers of Other Languages (K-12) is designed to assess whether would-be teachers in the state of Florida can meet the minimum requirements of state certification. This required for all candidates seeking a professional teaching license in Florida in the area of English for Speakers of Other Languages.
Who is Eligible?
There are no specific qualifications that must be met to apply to take the FTCE and any of its components. Once you have applied for this exam, the Bureau of Educator Certification (BEC) will review your application and determine any requirements that must be completed before you are eligible to test. You will receive a notification regarding these requirements and/or whether you are eligible at that time or not.
There is a fee if $150 to take this exam. Retakes cost $150.
You will have one year from the time of registration or application to schedule an exam. If you do not do within that time period, you will have to withdraw your registration and register again.
When and Where is it taken?
The FTCE and all of its exam can be taken year-round Monday through Saturday by appointment. These are scheduled and administered by Pearson VUE. They have testing locations throughout the country as well as some international sites. A complete list of dates, times, and locations will be made available to you during registration.
Once you register, you will receive an appointment notification email. This will include the time, date and address of your scheduled exam.
Check Out Mometrix's FTCE ESOL K-12 Study Guide
Get practice questions, video tutorials, and detailed study lessons
Get Your Study Guide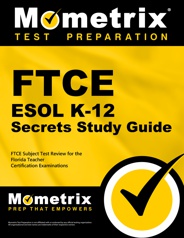 What Should I Bring?
Plan to arrive at the testing center at least 30 minutes prior to your exam time. This will allow you to have time to sign in properly. If you get there late you will not be allowed to test that day and will have to reschedule.
You will need to bring two current and valid forms of ID with you. Your primary ID should include your name that matches your application information, your signature, and a recognizable photo. Your secondary ID must have your name and signature.
The FTCE ESOL K-12 is given via computer. This means that no other personal belongings such as study material, pencils, or calculators are needed. No personal items are allowed in the testing area and will be kept in a designated locker during the exam.
What is Covered?
The ESOL K-12 certification exam is made up of 120 multiple choice questions. You will be given two hours and 30 minutes to complete it.
Below is a list of the competencies of the exam and the topics it covers, as well as, their percentage of the exam:
Culture as a factor in English language learners' (ELLs') learning 8%
Language as a system 12%
Language acquisition and development 12%
Second language literacy development 10%
ESL/ESOL research, history, public policy, and current practices 5%
Standards-based ESOL and content instruction 14%
Resources and technologies 8%
Planning standards-based instruction of ELLs 10%
Assessment issues for ELLs 8%
Language proficiency assessment 5%
Classroom-based assessment for ELLs 8%
How is it Scored?
You will be given an unofficial pass/fail status at the testing center immediately following your exam. Your official score reports will be made available on the score report dates listed for your scheduled exam. This is usually within 4 weeks of your taken exam.
A copy of this score report will be sent directly to your chosen school district or institution.
Your score report will include your pass/fail status as well as a breakdown of your performance for each section of the exam. You will need to receive at least a 70% or a scaled score of 200 on the exam to be considered passing and gain certification.
Check Out Mometrix's FTCE ESOL K-12 Flashcards
Get complex subjects broken down into easily understandable concepts
Get Your Flashcards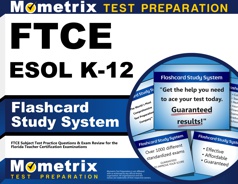 How to Prepare?
Mometrix Test Preparation wants to help you get certified. Therefore, we have constructed a study guide and set of flash cards explicitly for this FTCE exam. This will equip you with all the information you will need to understand everything that is covered.
We will also include a set of sample questions to test your even further. These questions are structured just as the ones on the actual exam are, getting you familiar with what you will see on the day of your scheduled exam. Take advantage of these unique tools and be prepared for the FTCE ESOL K-12.
FTCE ESOL K-12 Study Guide
Mometrix Academy is a completely free resource provided by Mometrix Test Preparation. If you find benefit from our efforts here, check out our premium quality FTCE ESOL K-12 study guide to take your studying to the next level. Just click the FTCE ESOL K-12 study guide link below. Your purchase also helps us make even more great, free content for test-takers.