OAE Early Childhood Special Education (013) Practice Test
The OAE Early Childhood Special Education (013) exam is approved for candidates in Ohio seeking an Early Childhood Intervention Specialist license (P-3) and candidates seeking a P-5 Primary Intervention Specialist (p-5).
This page will cover the OAE 013 exam, what information the examination covers, the number and type of questions you can expect, the score you need to pass, and everything you need to register for the assessment.

Exam Outline Review
The OAE Early Childhood Special Education exam is a computer-based test that contains a total of 100 multiple-choice questions, and you will be given 2 hours to complete it.
The exam is split into three content domains:
1. Understanding Young Children with Special Needs (27%)
The questions in this domain will assess your knowledge of the following:
Typical processes of human growth and development
Developmental significance of disabilities
Various learning processes
The significance of disabilities for learning
Assessment procedures for evaluating individual differences in children with disabilities
Making placement and programming decisions for young children with disabilities
Medical aspects and physical management implications of disabilities
2. Promoting Young Children's Growth and Development (59%)
The questions in this domain will assess your knowledge of the following:
Structuring the time and space needed to create stimulating and developmentally appropriate learning environments for children with disabilities
Using developmentally appropriate management strategies to create an atmosphere that supports and enhances young children's learning
Establishing a supportive/positive classroom that promotes self-esteem and a sense of competence for all children involved
Promoting self-discipline and autonomy
Promoting social development
Promoting receptive and expressive language development
Emergent literacy
Promoting daily living skills
Promoting cognitive development
Promoting the exploration of content-area concepts and skills to boost understanding of the world
Aesthetic development
The role of the arts in young children's development
Promoting young children's physical development
3. Working in a Collaborative Learning Community (14%)
The questions in this domain will assess your knowledge of the following:
Establishing partnerships with other school community members to enhance learning opportunities
Fostering strong school-home partnerships
Encouraging school-community interactions that enhance learning and development opportunities
The requirements, constraints, and responsibilities that pertain to teaching young children with disabilities
The history and philosophy of early childhood education
Key trends, issues, research, and practices that pertain to teaching young children with disabilities
Check Out Mometrix's OAE Early Childhood Special Education Study Guide
Get practice questions, video tutorials, and detailed study lessons
Get Your Study Guide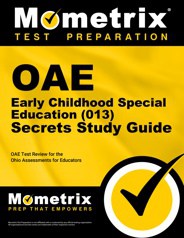 Registration
When you are ready to register for the exam, you will need to create an account with the Pearson Vue testing center. At this point, you will select which testing method you want to use: in-person or remote.
Regardless of the testing method, the cost of the exam is $109.
It is important to note that some testing centers may require proof of vaccination status as a result of local COVID-19 guidelines.
Test Day
In-person Testing
If you choose to take your test in-person, you should arrive at the testing center about 15 minutes before the test is scheduled to begin.
Once you arrive, you will be asked to provide identification that has both your picture and your signature. If you cannot provide a current, valid ID, you will not be permitted to take the exam. You may also have your picture taken, as well as a scan of your palm to verify your identity.
Before you enter the testing room, you will be asked to leave behind all prohibited items, including things like your cell phone, bag, coat, hat, computer, and smartwatch.
During the exam, you will be allowed to get up and take a bathroom break. It is important to note that the time you are allotted for the test will NOT be stopped while you are away from your testing stations, so the time you have to finish the exam will be reduced by the time you are in the bathroom.
Remote Testing
To take the exam remotely, you must first meet a few technical requirements. You must have:
A desktop or laptop computer
A desk/table for the computer/monitor to sit on
An external mouse and keyboard
A webcam
You must also provide a headshot that will be compared with your photo ID.
You will not be allowed to use a tablet or any computer that has touchscreen capabilities, use dual monitors, have food or drink on your desk, have paper or pencils on your desk, wear a hat or hoodie, or wear headphones of any kind unless they have been approved by the proctor.
Finally, you cannot get out of your seat once the exam begins, and you cannot have any visitors in the room once the exam begins.
How the Exam is Scored
The OAE Early Childhood Special Education exam is scored on a scale of 100-300. The minimum score you need to pass is 220.
Each question is assigned a different number of points according to how difficult the question is. This system of scoring makes it impossible to determine the exact number of questions you must answer correctly to achieve the 220 minimum points.
When you receive your score report, which will be made available 3-4 days after testing, it will simply indicate your pass/fail status. Your scores will be reported to you, ODE, and to your educator preparation program.
Check Out Mometrix's OAE Early Childhood Special Education Flashcards
Get complex subjects broken down into easily understandable concepts
Get Your Flashcards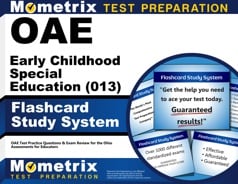 How to Study for the OAE (013) Exam
How to Study Effectively
Your success on OAE test day depends not only on how many hours you put into preparing but also on whether you prepared the right way. It's good to check along the way to see whether your studying is paying off. One of the most effective ways to do this is by taking OAE Early Childhood Special Education practice tests to evaluate your progress. Practice tests are useful because they show exactly where you need to improve. Every time you take a free OAE Early Childhood Special Education exam practice test, pay special attention to these three groups of questions:
The questions you got wrong
The ones you had to guess on, even if you guessed right
The ones you found difficult or slow to work through
This will show you exactly what your weak areas are and where you need to devote more study time. Ask yourself why each of these questions gave you trouble. Was it because you didn't understand the material? Was it because you didn't remember the vocabulary? Do you need more repetitions on this type of question to build speed and confidence? Dig into those questions and figure out how you can strengthen your weak areas as you go back to review the material.
Answer Explanations
Additionally, many Special Education practice tests have a section explaining the answer choices. It can be tempting to read the explanation and think that you now have a good understanding of the concept. However, an explanation likely only covers part of the question's broader context. Even if the explanation makes sense, go back and investigate every concept related to the question until you're positive you have a thorough understanding.
Comprehend Each Topic
As you go along, keep in mind that the OAE practice test is just that: practice. Memorizing these questions and answers will not be very helpful on the actual test because it is unlikely to have any of the same exact questions. If you only know the right answers to the sample questions, you won't be prepared for the real thing. Study the concepts until you understand them fully, and then you'll be able to answer any question that shows up on the test.
Strategy for OAE Practice
When you're ready to start taking practice tests, follow this strategy:
Remove Limitations. Take the first test with no time constraints and with your notes and OAE Early Childhood Special Education study guide handy. Take your time and focus on applying the strategies you've learned.
Time Yourself. Take the second practice test "open book" as well, but set a timer and practice pacing yourself to finish in time.
Simulate Test Day. Take any other practice tests as if it were test day. Set a timer and put away your study materials. Sit at a table or desk in a quiet room, imagine yourself at the testing center, and answer questions as quickly and accurately as possible.
Keep Practicing. Keep taking practice tests on a regular basis until you run out of practice tests or it's time for the actual test. Your mind will be ready for the schedule and stress of test day, and you'll be able to focus on recalling the material you've learned.
FAQs
Q
How many questions are on the exam?
A
There are 100 multiple-choice questions on the OAE Early Childhood Special Education exam.
Q
How long is the exam?
A
The OAE Early Childhood Special Education exam is timed at 2 hours.
Q
What is a passing score?
A
A passing score for the OAE Early Childhood Special Education exam is 220 on a scale of 100-300.
Q
How much does the exam cost?
A
The OAE Early Childhood Special Education exam costs $109.