CPACE Written Exam
The California Preliminary Administrative Credentialing Examination (CPACE) is an important step toward an administrative career in K-12 or adult schools in the state of California. Whether you hope to become a principal, supervisor, district manager, or other administrative official, you will first need to pass this exam.
When Can I Take the CPACE?
Exams are offered three times per year in separate two-week testing windows. These windows usually occur once in fall, once in winter, and once in summer. In order to get the most convenient appointment within that window, you should schedule your exam as far in advance as possible.
The CPACE is actually made up of two separate tests, the content test and the performance test. You must pass both individual tests in order to qualify for certification. It's advisable to choose separate appointments for each of the two tests included in the CPACE. If you do choose to take both on the same day, you'll need to prepare to spend more than seven hours at the testing center.
The cost of the exam is $648 which includes $294 for the content test and $358 for the performance test.
Check Out Mometrix's CPACE Written Study Guide
Get practice questions, video tutorials, and detailed study lessons
Get Your Study Guide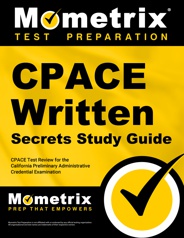 How Long Does the CPACE Take?
The content test will last about three hours and 15 minutes while the performance test will last four hours. There are no scheduled breaks for either test so if you need a break, it will be deducted from your overall test time.
Plan appropriately to avoid needing a break. That means avoiding eating or drinking in the hour immediately before the test. In order to avoid feeling hungry or thirsty, make sure to drink plenty of water and eat a substantial breakfast about two hours before your appointment.
You should plan also to arrive at least 30 minutes before your appointment in order to check in. You will be required to sign a nondisclosure agreement before taking the test.
What Material Will Be Covered in the Content Test?
The content test will include 70 multiple choice questions and three focused, constructed-response assignments. The questions on this subtest will cover six domains of knowledge and administrative skills, including:
Visionary Leadership – 12 Questions
Instructional Leadership – 14 Questions
School Improvement Leadership – 12 Questions
Professional Learning and Growth Leadership – 11 Questions
Organizational Systems Leadership – 11 Questions
Community Leadership – 10 Questions
The three constructed-response assignments will require you to synthesize knowledge from these different domains. Each prompt will present you with a school-related problem or task. You will need to consider the information, provide appropriate strategies, describe relevant considerations for addressing the situation, and then explain the reasoning that went into your decisions.
What Is the Minimum Score Needed to Pass?
The CPACE content test will receive a score ranging from 100 to 300. You must receive a minimum scaled score of 220 on the content test as well as the performance test. If you do not pass both, you will not receive your certification.
Fortunately, if you pass one but not the other, you only need to retake the test you did not pass. Unfortunately, you will need to wait until the next testing window in order to do so.
So it's worth putting all the effort necessary into preparing for the test before your first attempt. And, if you don't feel you'll be able to do your best on both tests if you take them during the same session, go ahead and schedule two separate sessions within the same testing window.
Your results will be available about five weeks after the testing window in which you took the exam.
Check Out Mometrix's CPACE Written Flashcards
Get complex subjects broken down into easily understandable concepts
Get Your Flashcards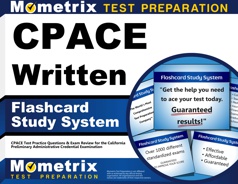 What Is the Best Way to Study for the CPACE Content Test?
The CPACE content test is a rigorous test that will require a range of different skills on your part. Not only will you need to memorize and recall an enormous amount of information relating to proper procedure, ethics, and administrative strategy, you'll also need to demonstrate your critical thinking, problem-solving, and analytical skills.
That means the most effective preparation is going to include a combination of review and practice. You need to absorb the material and sharpen your skills when it comes to applying that material to real-world situations.
The best place to start is with the Mometrix Study Guide. In this guide, you'll be given all the tools you need to learn the fundamental information you need to know and start honing your ability to think critically and analyze problems using that very same information.
For additional practice, get the Mometrix Flashcards. These will help you improve your memory as well as offer a more engaging way to practice applying your skills to the material that you'll be tested on.
Mometrix Academy is a completely free resource provided by Mometrix Test Preparation. If you find benefit from our efforts here, check out our premium quality CPACE study guide to take your studying to the next level. Just click the CPACE study guide link below. Your purchase also helps us make even more great, free content for test-takers.
CPACE Study Guide
CPACE Flashcards