The California Preliminary Administrative Credentialing Examination (CPACE) is an important step toward an administrative career in K-12 or adult schools in the state of California. Whether you hope to become a principal, supervisor, district manager, or other administrative official, you will first need to pass this exam.
Click "Start Test" above to take a free CPACE practice test, and check out our premium-quality CPACE test prep resources by clicking the links below!
Exam Outline Review
The CPACE Content exam contains 70 multiple-choice questions and three constructed-response questions, and you will be given a time limit of 3 hours and 15 minutes.
The exam is split into six content domains.
I. Visionary Leadership (17%)
The questions in this domain are grouped into four competencies:
Developing and articulating a vision of teaching and learning for the school consistent with the overall vision and goals of the Local Education Agency
Developing a shared commitment to the vision among all members of the school community
Leading by example to promote implementation of the vision
Sharing leadership with others in the school community
II. Instructional Leadership (20%)
The questions in this domain are grouped into four competencies:
Promoting implementation of K–12 standards, pedagogical skills, effective instructional practices, and student assessments for content instruction
Evaluating, analyzing, and providing feedback on the effectiveness of classroom instruction to promote student learning and teacher professional growth
Demonstrating understanding of the school and community context, including the instructional implications of cultural/linguistic, socioeconomic, and political factors
Communicating with the school community about schoolwide outcomes data and improvement goals
III. School Improvement Leadership (17%)
The questions in this domain are grouped into four competencies:
Working with others to identify student and school needs and developing a data-based school growth plan
Implementing change strategies based on current, relevant theories and best practices in school improvement
Identifying and using available human, fiscal, and material resources to implement the school growth plan
Instituting a collaborative, ongoing process of monitoring and revising the school growth plan based on student outcomes
IV. Professional Learning and Growth Leadership (16%)
The questions in this domain are grouped into three competencies:
Modeling lifelong learning and job-related professional growth
Helping teachers improve their individual professional practice through professional growth activities
Identifying and facilitating a variety of professional and personal growth opportunities for faculty, staff, parents, and other members of the school community in support of the educational program
V. Organizational and Systems Leadership (16%)
The questions in this domain are grouped into three competencies:
Understanding and managing the complex interaction of all of the school's systems to promote teaching and learning
Developing, implementing, and monitoring the school's budget
Implementing California school laws, guidelines, and other relevant federal, state, and local requirements and regulations
VI. Community Leadership (14%)
The questions in this domain are grouped into two competencies:
Representing and promoting the school's accomplishments and needs to the LEA and the public
Involving the community in helping achieve the school's vision and goals
Check Out Mometrix's CPACE Written Study Guide
Get practice questions, video tutorials, and detailed study lessons
Get Your Study Guide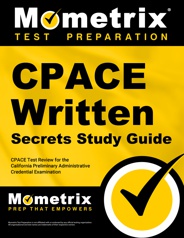 Registration
To register for the exam, you must create an online NES account via their website. You can register for the exam and schedule an exam date through this account. When you register, you will need to pay the $294 examination fee.
Test Day
In-person Testing
On exam day, you should arrive at the testing center 15-30 minutes before the scheduled testing appointment to allow enough time for the check-in process. When you arrive, you will be asked to show your admission ticket and two forms of valid identification, one of which must be a valid photo ID.
You will then be asked to leave things like your cell phone, wallet, bags, and keys in a secure locker outside the testing area.
Once the check-in process is complete and you are fully approved for testing, you will be led to the testing station and receive a piece of scratch paper for notes.
Remote Testing
To take the exam remotely, you must use a non-touchscreen laptop or desktop computer. Tablets and smartphones are not allowed. You will also need a functioning webcam, speakers, and a microphone.
When you check in to take the exam, the remote proctor will ask you to show proof of identification and to move your webcam around the room so that your testing area can be observed.
Once the proctor has approved your testing area, they will walk you through the testing process and begin your exam.
How the Exam is Scored
Your CPACE score is determined using a scaled scoring system. This system takes your raw score, which is the number of questions you answered correctly, and converts it to a numerical score from 100 to 300. To pass, you need a score of at least 220.
Check Out Mometrix's CPACE Written Flashcards
Get complex subjects broken down into easily understandable concepts
Get Your Flashcards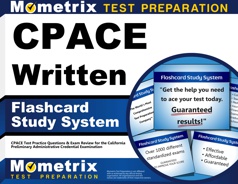 FAQs
How many questions are on the CPACE exam?
There are 70 multiple-choice questions and three constructed-response questions on the exam.
How long is the CPACE exam?
The time limit for the exam is 3 hours and 15 minutes.
What is the passing score for the CPACE exam?
To pass the exam, you must achieve a minimum scaled score of 220.
How much does the CPACE exam cost?
The examination fee is $294.