MTEL Communication Literacy Skills Exam
Being a teacher in Massachusetts can be twice as tough. Teachers must pass a Massachusetts Tests for Educator Licensure exam in their subject matter specialty. But they also have to take and pass the Massachusetts Tests for Educator Licensure (MTEL) Communication and Literacy Skills test. This reading and writing test ensures that educators are prepared to succeed in the classroom. What's on the exam? How much does it cost? What are the best test preparation materials available? This guide helps answers all those questions, and more.
Check out Mometrix's Study Guide
Get practice questions, video tutorials, and detailed study lessons
Get Your Study Guide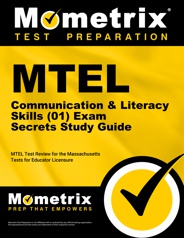 What knowledge categories will the MTEL Communication and Literacy Skills test cover?
There are two subsets on the Communication and Literacy Skills test — reading and writing. Candidates may take one subtest at a time, or both in one sitting. Candidates are required to take and pass both subtests.
What are the test fees?
The reading subtest costs $76, while the writing subtest costs $85. If you elect to take both subtests at the same time, the fee is $112.
How long do I have to complete the test?
There is a four-hour test time, whether taking one or both subtests. You can take as much time as you like on each individual subtest because subtests are not timed.
What is the MTEL Communication and Literacy Skills test passing score?
Each subtest has a passing score of 240.
How many questions are on the test?
The reading subtest contains 42 multiple-choice questions. The Writing subtest contains 35 multiple-choice questions, seven short answer items and two items that are open response.
What content areas are on the test?
Each subtest has six objectives, as described below.
Reading
Determining words and phrases in the context
Examining written material for the main idea and supporting details
Identifying the purpose, point of view, and intended meaning of a passage
Analyzing, in written material, the relationships among ideas
Evaluate written material by using critical reasoning skills
Demonstrate skills to outline and summarize written materials and interpret graphical information
Writing
Methods used to establish and maintain a central theme or main idea
Sentence construction, grammar, and usage common errors
Spelling, capitalization and punctuation common errors
Analyze and revise sentences with sentence construction, grammar, usage, spelling, capitalization and punctuation mistakes
Effective summary preparation
Using standard English conventions, prepare a well-organized and focused piece of writing for a given purpose and audience
When can I take the test?
The test is available all year, Monday through Saturday, excluding certain holidays.
Where can I take the MTEL Communication and Literacy Skills test?
The Massachusetts Tests for Educator Licensure use an independent testing agency to administer the exam. The agency has locations throughout Massachusetts and the United States.
When should I arrive at the test center?
Please arrive 15 minutes before your scheduled test time. Candidates who arrive more than 15 minutes late will not be allowed to take the exam and will lose all fees.
What identification do I need on test day?
Candidates must bring one current piece of government-issued identification that contains a photo and signature. A driver's license, passport, state ID and military ID are examples of acceptable identification.
What are the test day rules?
When arriving at the test center, candidates will be reminded that personal items are not allowed in the testing room. Personal items include mobile phones, any electronic device, bags, coats, pens, notebooks and large jewelry. All personal items must be stored in a secure area at the test center or left in your vehicle. Test center proctors provide candidates with a pen and notebooklet for taking notes.
When will I receive my MTEL Communication and Literacy Skills test scores?
Test scores are available approximately two and four weeks after taking the exam.
This sounds like a challenging test. What study materials should I buy?
You can count on Mometrix for the best study materials around. Our study guide provides easy, step-by-step instruction on how to prepare for the MTEL Communication and Literacy Skills test. Our guide will walk you through key strategies to help you be as best prepared as possible. If you're busy — and who isn't these days? — our flashcards can help you study on the go. The questions come with easy-to-understand answers that make studying easier.
MTEL Communication Literacy Skills Study Guide
Mometrix Academy is a completely free MTEL test resource provided by Mometrix Test Preparation. If you find benefit from our efforts here, check out our premium quality MTEL Study Guide and MTEL Flash Cards to take your studying to the next level. Just click the MTEL study guide link below. Your purchase also helps us make even more great, free test content for test-takers.
Check out Mometrix's Flashcards
Get complex subjects broken down into easily understandable concepts
Get Your Flashcards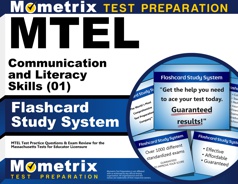 MTEL Communication Literacy Skills Study Guide
MTEL Communication Literacy Skills Flashcards