The road to becoming a certified teacher in the state of New York is both thrilling and challenging. Passing one of the New York State Teacher Certification Examinations (NYSTCE) is a significant milestone on this path.
This comprehensive exam series assesses prospective educators' skills and knowledge required to teach effectively in New York State public schools.
Free NYSTCE Practice Tests
Use the free NYSTCE practice test questions below to get a better understanding of each NYSTCE exam.
What is the NYSTCE?
The New York State Teacher Certification Exam is a series of tests designed to assess the knowledge and skills required to be an effective educator in New York State's public school system. The NYSTCE consists of two major types of exams: the Educating All Students (EAS) test and the Content Specialty Tests (CSTs).
Educating All Students (EAS):
This exam evaluates a candidate's knowledge and skills in the areas of diverse student populations, English language learners, students with special needs, and teacher responsibilities within the school community.
Content Specialty Tests (CSTs): These subject-specific tests assess a candidate's knowledge of their chosen field of teaching. There are numerous CSTs available, ranging from Mathematics to Physical Education.
The New York State Education Department (NYSED) administers these exams. Clearing these exams successfully opens the door to a rewarding career in education, with numerous opportunities in public schools throughout New York State.
Check Out Mometrix's NYSTCE Study Guides
Get practice questions, video tutorials, and detailed study lessons
Get Your Study Guide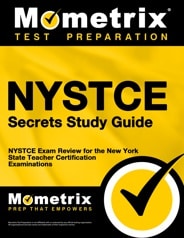 NYSTCE Registration
To register for an NYSTCE exam, you will need to create an account on their website and complete the registration process there. It is recommended that you complete the registration process at least 30 days before you take your exam.
During the registration process, you will likely be asked some questions about your educational history, as well as your current education level, first language, matriculation status, and the education code for the NYC Department of Education program type you are associated with.
Make sure to check the website frequently for updates and specific registration deadlines to ensure you meet all requirements and secure your exam spot.
NYSTCE Scores
Candidates for a first Initial teaching certificate in New York State must pass the Educating All Students (EAS) test and the Content Specialty Test(s) (CST) in their area of certification.
Educating All Students (EAS):
The EAS test score range is between 400 and 600, with a passing score of 520.
Content Specialty Tests (CSTs): The CSTs vary on a scale of 100 to 300 points, with a passing score of 220.
Your test scores will be reported to you, the NYSED, and any indicated institutions on registration. Candidates must ensure the accurate recording of their social security number during registration to prevent delays or issues with certificate issuance.
Retaking an NYSTCE Exam
If you do not pass your exam on the first attempt, you may retake the exam as many times as it takes for you to pass. Depending on which exam you are taking, you will need to wait a minimum of either 30 or 60 days between attempts, and you must pay the full examination fee each time.
Check Out Mometrix's NYSTCE Flashcards
Get complex subjects broken down into easily understandable concepts
Get Your Flashcards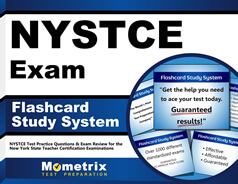 How to Pass an NYSTCE Exam
How to Study Effectively
Your success on NYSTCE test day depends not only on how many hours you put into preparing but also on whether you prepared the right way. It's good to check along the way to see whether your studying is paying off. One of the most effective ways to do this is by taking NYSTCE practice tests to evaluate your progress. Practice tests are useful because they show exactly where you need to improve. Every time you take a free NYSTCE exam practice test, pay special attention to these three groups of questions:
The questions you got wrong
The ones you had to guess on, even if you guessed right
The ones you found difficult or slow to work through
This will show you exactly what your weak areas are and where you need to devote more study time. Ask yourself why each of these questions gave you trouble. Was it because you didn't understand the material? Was it because you didn't remember the vocabulary? Do you need more repetitions on this type of question to build speed and confidence? Dig into those questions and figure out how you can strengthen your weak areas as you go back to review the material.
Answer Explanations
Additionally, many NYSTCE practice tests have a section explaining the answer choices. It can be tempting to read the explanation and think that you now have a good understanding of the concept. However, an explanation likely only covers part of the question's broader context. Even if the explanation makes sense, go back and investigate every concept related to the question until you're positive you have a thorough understanding.
Comprehend Each Topic
As you go along, keep in mind that the NYSTCE practice test is just that: practice. Memorizing these questions and answers will not be very helpful on the actual test because it is unlikely to have any of the same exact questions. If you only know the right answers to the sample questions, you won't be prepared for the real thing. Study the concepts until you understand them fully, and then you'll be able to answer any question that shows up on the test.
Strategy for NYSTCE Practice
When you're ready to start taking practice tests, follow this strategy:
Remove Limitations. Take the first test with no time constraints and with your notes and NYSTCE study guide handy. Take your time and focus on applying the strategies you've learned.
Time Yourself. Take the second practice test "open book" as well, but set a timer and practice pacing yourself to finish in time.
Simulate Test Day. Take any other practice tests as if it were test day. Set a timer and put away your study materials. Sit at a table or desk in a quiet room, imagine yourself at the testing center, and answer questions as quickly and accurately as possible.
Keep Practicing. Keep taking practice tests on a regular basis until you run out of practice tests or it's time for the actual test. Your mind will be ready for the schedule and stress of test day, and you'll be able to focus on recalling the material you've learned.
FAQs
Q
How many NYSTCE exams are there?
A
There are over 50 exams that cover materials that a wide range of educators must know according to the grade level they will be instructing in, and if they have a specialty subject they will teach.
Q
Who are the NYSTCE exams for?
A
These exams are necessary for individuals who want to work in various educational fields in the state of New York, including the following:
Teachers
Principals
Librarians
Counselors
ASL instructors
Educational diagnosticians
Dance instructors
Reading specialists
Superintendents
Technology education instructors
Special education instructors
Q
How long does it take to get NYSTCE results?
A
You should receive your test results roughly 2-4 weeks after taking the exam. When you receive your score report, you will see your total score, your pass/fail status, and your scores for each subarea of the test.
Q
Can you have scrap paper on the NYSTCE exams?
A
You are not permitted to use any notes or scrap paper on your exam.