NYSTCE Visual Arts Practice Test
The idea of a formal visual arts teacher may seem surprising to some. Visual arts have long been perceived as an intuitive subject, one that can't be taught, but is driven purely by emotion and talent. Those who have been involved in the art world to any degree, however, know this idea couldn't be farther from the truth.
Visual arts teachers are an important part of both formal artistic training and today's remaining schools that still offer arts classes to its students. Formal teachers offer students the chance to learn the concepts and technical aspects involved in creating art. As an aspiring visual arts teacher, it will be your job to impart all of these ideas to your students to help them become better artists.
The state of New York requires all of its incoming teachers to take the NYSTCE (New York State Teacher Certification Examinations) before they can officially start their careers. This exam is the last step to earning your certification. It divides up by field of expertise, meaning visual arts teachers will take the NYSTCE Visual Arts exam. This exam will last approximately three hours and 15 minutes, and features 91 questions. One of these questions will be in essay ("constructed-response") format, while the remaining 90 are multiple choice ("selected-response"). Each set of questions also features its own set of subject categories, also known as "subareas." The constructed-response section of the test deals with Visual Arts and Culture: Constructed-Response Assignment. The selected-response section focuses on Aesthetic and Interdisciplinary Connections; Visual Arts Materials and Processes; Visual Arts and Culture; and Principles and Elements of Art and Design.
If you want to score well on this test, you'll need a thorough study plan and the study tools to match. The Mometrix Test Preparation team is here to help you with our NYSTCE Visual Arts practice test. We have created this study tool with your needs in mind. As such, we have devoted countless hours of careful observation of the real test to render our practice test as close a match as possible in terms of structure and content.
For further help, you can also turn to our NYSTCE Visual Arts study guide, also featured on this page. Good luck!
Check Out Mometrix's NYSTCE Visual Arts Study Guide
Get practice questions, video tutorials, and detailed study lessons
Get Your Study Guide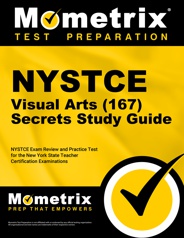 NYSTCE Visual Arts Study Guide
Mometrix Academy is a completely free resource provided by Mometrix Test Preparation. If you find benefit from our efforts here, check out our premium quality NYSTCE Visual Arts study guide to take your studying to the next level. Just click the NYSTCE Visual Arts study guide link below. Your purchase also helps us make even more great, free content for test-takers.
NYSTCE Study Guide
NYSTCE Flashcards