NYSTCE Spanish Practice Test
Prospective teachers in New York who wish to teach Spanish to public school students will need to take the NYSTCE Spanish Exam to obtain their teacher certification. Mometrix has carefully designed the NYSTCE Spanish Study Guide to assist you with studying for this examination. This examination is part of the NYSTCE Series – New York State Teacher Certification Examination and is administered by the Educational Testing Service (ETS).
This exam was created by the New York State Board of Education to ensure you have the subject mastery to teach Spanish to New York public school students. It will help you to read the test framework and special instructions for this test. The testing facility will set you up on a computer-based test with 50 selected-response questions and 3 constructed-response questions.
You will have 3 hours and 25 minutes to take your test, and you will need a score of 520 to pass it. You will be able to familiarize yourself with the format of the test by taking a computer tutorial which will explain how to complete the verbal portions of the test. Be aware that you may hear other students taking Languages Other Than English tests and that you may request a set of earplugs or noise-reducing headphones to mitigate the extra noise. You will also have access to a character selector tutorial which shows you how to insert special characters for the Spanish Language. The NYSTCE Spanish Study Guide and NYSTCE Spanish Practice Test will assist you along with other study aid materials in preparing for this test.
Many students enjoy forming study groups to help prepare for the examination. This test consists of 25 selected-response questions on Interpretive Listening and 25 selected-response questions on Interpretive Reading. These sections account for 40% of your total score. You will also be expected to answer 3 constructed-response questions covering the topics of Presentational Writing, Presentational Speaking, and Pedagogical Content Knowledge. Each of these sections counts for an additional 20% of your score. This exam assesses your general and specific teaching skills in the area of Spanish.
Check Out Mometrix's NYSTCE Spanish Study Guide
Get practice questions, video tutorials, and detailed study lessons
Get Your Study Guide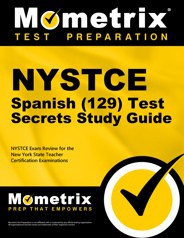 NYSTCE Spanish Study Guide
Mometrix Academy is a completely free resource provided by Mometrix Test Preparation. If you find benefit from our efforts here, check out our premium quality NYSTCE Spanish study guide to take your studying to the next level. Just click the NYSTCE Spanish study guide link below. Your purchase also helps us make even more great, free content for test-takers.
NYSTCE Study Guide
NYSTCE Flashcards