NYSTCE Earth Science Practice Test
The New York State Board of Education requires college graduates who want to pursue a career as an Earth Science teacher in the state of New York to take the New York State Teacher Certification Examination (NYSTCE) for Earth Science to get their teacher certification. An Earth Science teacher is a skilled problem-solver who understands the historical development of scientific ideas and their connections to science, math, and technology. Earth Science Teachers should be able to apply their knowledge and thinking skills to address real-life problems and be able to use scientific inquiry processes to explore and explain natural phenomenon.
The best way to study for this examination is to use the NYSTCE Earth Science Study Guide, which Mometrix carefully designed to prepare you for this test. It also helps to pull together your college text books, notes, and lecture notes for a thorough review of the subject matter. Many students enjoy forming study groups in preparation for the NYSTCE Earth Science Exam.
Mometrix also offers the NYSTCE Earth Science Practice Test which will acclimate you to the types of questions you can expect to see on the examination. Your test will consist of 90 selected-response questions on the topics of Foundations of Scientific Inquiry, Space Systems, Atmospheric Systems, Geological Systems, and Water Systems.
In addition, you will need to prepare your studies for a constructed-response question in the subarea of Geological Systems. Read each question carefully and eliminate answers that you believe are wrong. Choose the best answer to the question. You will have 4 hours to complete your test, so pace yourself so that you can complete the entire test in the time allotted.
A score of 220 is considered passing and will qualify you to obtain your certification. Be sure to register for your test and bring proper identification with you on the day of your scheduled exam. Take note of the testing facility rules. You won't be allowed to take anything with you into the testing area, including a calculator. Everything that you need for your test will be provided for you.
Check Out Mometrix's NYSTCE Earth Science Study Guide
Get practice questions, video tutorials, and detailed study lessons
Get Your Study Guide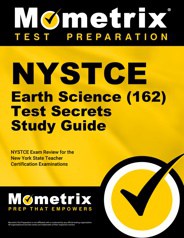 NYSTCE Earth Science Study Guide
Mometrix Academy is a completely free resource provided by Mometrix Test Preparation. If you find benefit from our efforts here, check out our premium quality NYSTCE Earth Science study guide to take your studying to the next level. Just click the NYSTCE Earth Science study guide link below. Your purchase also helps us make even more great, free content for test-takers.
NYSTCE Study Guide
NYSTCE Flashcards