NYSTCE Multiple Subjects 7-12 Exam
Grades 7 through 12 are important ones for students. Not only do they need age-appropriate curriculum, but as they progress through their high school years, they need to prepare for college. In New York State, educators who want to teach the multiple subjects of Math, Literacy and English Language Arts, and Arts and Sciences must pass the New York State Teacher Certification Examinations (NYSTCE) Multi-Subject Secondary Teachers (Grade 7-Grade 12) exam. This guide contains test information and offers an excellent study guide that helps you prepare for the exam.
What content categories are on the NYSTCE Multi-Subject Secondary Teachers (Grade 7-Grade 12) exam?
The test has three parts.
Literacy and English Language Arts. This section has 40 selected-response and one constructed-response item in the following categories:

Knowledge of Literacy & Language Arts includes understanding reading difficulties and factors that impact language and literacy development.
Instruction in Foundational Literacy Skills focuses on vocabulary development, language knowledge, and comprehension skills.
Instruction in English Language Arts focuses on the various skills — reading, writing, speaking listening — students need as they progress toward college and a career.
Analysis, Synthesis, and Application includes literary assessments and identifying student strengths and weaknesses.

Mathematics also has 40 selected-response and one constructed-response item. The categories are:

Numbers and Quantity focuses on the areas of real and complex numbers, and rations and proportional relationships.
Algebra and Fractions tests areas of algebraic concepts and functions.
Geometry and Statistics includes lines and angles, triangles, and parallelograms theorems.
Analysis, Synthesis, and Application focuses on the ability to assess a student's math knowledge.

Arts and Sciences has 40 selected-response items in these categories:

Science and Technology includes scientific inquiry and investigation and the living environment.
Social Studies focuses on New York State, the United States, and World history, as well as historical turning points and human development and interactions.
Fine Arts, Health and Fitness, Family and Consumer Science, and Career Development includes visual art analysis, musical techniques and analysis, and theater and dance concepts, techniques and materials.
Check Out Mometrix's NYSTCE Study Guide
Get practice questions, video tutorials, and detailed study lessons
Get Your Study Guide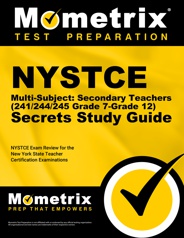 That seems like a lot. Do I have to take all three tests on the same day?
No. You can take each test separately on different days.
How long do I have to finish the test?
The test time depends on how many sections of the tests you're taking. Here is the test time by section:
Literacy and English Language Arts: 2 hours
Mathematics: 2 hours and 15 minutes
Arts and Sciences: one hour
Candidates who take the entire test in a single day have 5 hours and 30 minutes to finish the exam. That test time includes breaks.
How much are the test fees?
Again, that depends on how you elect to take the test. If you take the test in one sitting, the test fee is $179. If you take the tests individually, Literacy and English Language Arts and Mathematics tests both cost $65. The Arts and Science test costs $49.
Can I bring my own calculator to use during the math portion of the exam?
Yes. Candidates may bring their own graphing calculator. Please check the test rules for a list of approved calculators.
Is the NYSTCE Multi-Subject Secondary Teachers (Grade 7-Grade 12) exam available year-round?
Yes. Candidates may take the exam on Monday through Saturday, although the testing centers will be closed on certain holidays.
Will it be easy for me to find a test center?
It should be. A private test company that has offices across the state and country delivers the test.
What is the exam's passing score?
Candidates must pass each part of the exam with a score of at least 520.
Check Out Mometrix's NYSTCE Flashcards
Get complex subjects broken down into easily understandable concepts
Get Your Flashcards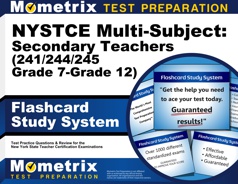 When will I receive my test scores?
That varies. It could take up to 10 weeks to get the Literacy and English Language Arts scores. Candidates taking the Math portion of the exam will receive their results in roughly two to six weeks. Preliminary, unofficial results for the Arts and Sciences portion will be available at the end of the exam, with official results available approximately two to six weeks after the test.
There's a lot to unpack here. What's the best study took I can buy?
You'll want to buy the Mometrix study materials. They've been created by professionals in the test-taking field skilled at test preparation. Our study guide helps you prepare with a study plan, test-taking tips and strategies to correctly answer questions. Our flashcards are the perfect tool to take with you, anywhere you go, and study those questions that have proved difficult. The Mometrix materials will help you best prepare.
NYSTCE Study Guide
Mometrix Academy is a completely free NYSTCE test resource provided by Mometrix Test Preparation. If you find benefit from our efforts here, check out our premium quality NYSTCE Study Guide and NYSTCE Flash Cards to take your studying to the next level. Just click the NYSTCE study guide link below. Your purchase also helps us make even more great, free test content for test-takers.
NYSTCE Study Guide
NYSTCE Flashcards