NYSTCE Literacy Practice Test
Literacy Specialists in the state of New York have a high level of skill sets in all aspects of literacy and literacy assessments and can apply their knowledge as teacher, coach, or literacy leader in a variety of settings. Literacy Specialists are required to take the NYSTCE Literacy Exam as required by the New York State Board of Education. The exam is part of the New York State Teacher Certification Examination (NYSTCE) series.
This exam tests for general and specific knowledge literacy instruction and intervention. The test covers Foundations of Language and Literacy Development; Foundations of Literacy Instruction and Assessment; Role of the Literacy Professional; Reading & Writing-Foundational Skills; Text Complexity and Text Comprehension; Reading & Writing-Different Types of Text; and Language and Vocabulary Development.
The test asks 90 selected-response questions on these 7 subareas of literacy and these questions make up about 80% of your score. The final 20% of the test will score your answer to 1 constructed-response question. A score of 520 and higher is considered passing and acceptable for certification.
This test uses a computer-based format which gives you 3 hours and 15 minutes to complete the test. Many students find it helpful to gather a few of their college classmates together to form a study group to take the test. Among other resources, you will find it helpful to use the NYSTCE Literacy Study Guide, which Mometrix carefully designed to help you with your studies.
Test your level of skill using the NYSTCE Literacy Practice Test as you get closer to taking your test. Arrive early to the testing center and be prepared to present an acceptable source of identification. Read through the Educational Testing Service Rules prior to the day of the test so that you will know what you can and can't bring to the testing center. Read through the questions carefully before choosing the best answer. Wear comfortable clothing on the day of the test, and pace yourself as you answer questions so you will have enough time to complete the entire test.
Check Out Mometrix's NYSTCE Literacy Study Guide
Get practice questions, video tutorials, and detailed study lessons
Get Your Study Guide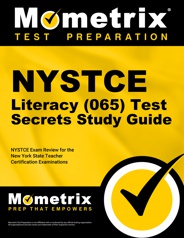 NYSTCE Literacy Study Guide
Mometrix Academy is a completely free resource provided by Mometrix Test Preparation. If you find benefit from our efforts here, check out our premium quality NYSTCE Literacy study guide to take your studying to the next level. Just click the NYSTCE Literacy study guide link below. Your purchase also helps us make even more great, free content for test-takers.
NYSTCE Study Guide
NYSTCE Flashcards