TX PACT: Essential Academic Skills (700) Exam
Are you planning to enter a State-Board-approved Texas Educator Preparation Program (EPP)? If so, the Texas Pre-Admission Content Test (TX PACT) may be required for you. The PACT exam aids program candidates in understanding the competencies and item formats for the EPP. While the PACT doesn't guarantee your admission to a program, schools can use it for admissions to the EPP.
According to the Texas Educator Certification Examination Program, the PACT exam is used for admissions in the following areas:
Core Subjects: Early Childhood–Grade 6
Deaf and Hard of Hearing: Early Childhood–Grade 12
Special Education: Early Childhood–Grade 12
Intensive pre-service (IPS) candidates and some Texas charter school teacher candidates will be required to take this pre-admission exam. All programs may have additional requirements for acceptance.
If you have a bachelor's or higher degree obtained at an accredited college or university and you're now seeking a post-bac education preparation program or alternative certification, you are permitted to take the PACT. Students about to complete their degree are also eligible.
What Will I Be Tested On?
The TX PACT, as explained, is a pre-assessment test for admission consideration. It doesn't contain the exact same content as the actual certification exam, which will test your pedagogy knowledge following EPP completion; the PACT assesses academic skills for program entry.
The total time scheduled for the computer-administered PACT is 4 hours and 15 minutes. For the first 15 minutes, you'll complete a tutorial on taking a computer-administered test (CAT) and read and accept a compliance agreement. Competencies and descriptive statements based on the Essential Academic Skills exam framework determine the exam content, which include the following subtests:
| | | |
| --- | --- | --- |
| Subtest | Time Allotted | Questions |
| I:   Reading | 1 hour, 15 minutes | 45 selected response |
| II:  Writing | 1 hour, 30 minutes | 36 selected response, 1 constructed response |
| III. Mathematics | 1 hour, 15 minutes | 45 selected response |
If you pass all sections with a score of at least 240 per subtest, then you have successfully completed the exam. If you happen to fail one or more of the subtest sections, you can retake a single subtest that you didn't pass, or, if you failed to pass two or all three subtests, then you will be required to schedule a retake of the whole exam. Each exam score is reported at 10 p.m. on identified score reports dates.

Check Out Mometrix's HESI A2 Study Guide
Get practice questions, video tutorials, and detailed study lessons
Get Your Study Guide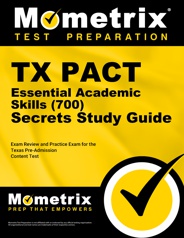 How Do I Sign Up?
The TX PACT exam is offered in CAT sites around Texas year-round, depending on appointment availability. Begin by creating an account or, if you have an account, signing into the Texas Educator Certification Examination Program website. As of 2021, you'll pay $106 for the whole test in one CAT session or $56 for one subtest in a session with the possibility of additional fees. Once paid, you can schedule the exam in the location of your choice.
Do I Really Need to Study?
Yes, studying for the test improves your chance of success. The best way to prepare for the PACT is to familiarize yourself with the competencies, identify the areas in which you lack the knowledge to be confident about passing, and focus more study and practice time on those weak areas while covering all content in your review. Find a great study guide and flashcard set for the best results. Then, it's all about the time that you put in with them.
Completing the various types of question formats presented in study materials helps you to be able to complete them more easily during the regular exam. Review your college books on the subjects, review relevant notes, or find helpful materials for study through a college or local library.
Many people enjoy studying with others, motivating each other to come to online or in-person study sessions. Just make sure you're getting your needs met by the sessions. When you're studying alone, it may be easier to decide to put it off, and the studying doesn't get done. If you do prefer working alone, make a schedule that you'll stick to and give yourself incentives to entice you to study.

Check Out Mometrix's HESI A2 Flashcards
Get complex subjects broken down into easily understandable concepts
Get Your Flashcards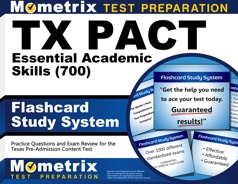 Is There Anything to Do for Test Day?
Think about test day in advance so you can prepare. Have two original, currently valid identifications ready. The name on the IDs must match the name you used to register and include a recognizable photo and your signature. Read the test center rules on the exam website for what you can and can't take into the site. Usually, you aren't allowed to take anything inside the testing room, and the test center attendant provides the computer and scratch paper, if needed. Make sure you're well-rested, have eaten a light meal, and leave your home in plenty of time to arrive 30 minutes early. It's best to be prepared in all ways to improve your chances of passing the important TX PACT exam.