National Board Certification Generalist: Early Childhood Exam
To be National Board Certified as an Early Childhood or Generalist Teacher is to prove that you have the skills and knowledge needed for entry level professionals in this field. This exam is the first component of four required by all who are seeking National Board certification. As a generalist, you will be expected to know the basics of all subjects taught to children between the ages of 3-8.

What are the Eligibility Requirements?
Candidates seeking National Board certification must have the following:
A bachelor's degree from an accredited institution
Completed at least three years of classroom or school counselor experience
A valid state teaching license
Registration requires that you pay a nonrefundable fee of $75 during your assessment cycle. Once registration is complete, you may then select which components you will need to complete. Each component charges a $475 fee. Check with your local school district and state to see if financial support is available for you.
Once this application process has been approved, you will receive an Authorization to Test (ATT) email with instructions to schedule your exam. It is important to note that you must confirm that all information in your ATT before you will be allowed to continue.
When and Where Can I Take It?
All National Board-Certified exams are taken through Pearson VUE. You can schedule a testing date, time and location that is most convenient for you. There is typically only one testing window in which these dates are available, usually falling between March and mid-June.
You must schedule your date at least 24 hours prior to the date and time you wish to take the exam. Available space in each testing session fills up quickly so the sooner you get scheduled, the more likely you are to get your preferred date and time.
Pearson VUE has locations all over the U.S., as well as some international sites.
You will be sent a confirmation letter once you have completed the scheduling process. This will include your date, time, and directions to the site of your choosing. Rescheduling is available at least 24 hours prior to your scheduled exam.
Check Out Mometrix's National Board Certification Generalist: Early Childhood Study Guide
Get practice questions, video tutorials, and detailed study lessons
Get Your Study Guide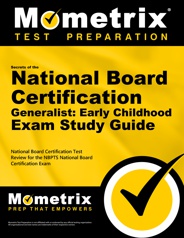 What to Bring?
It is important to arrive at least 30 minutes early for your scheduled exam to allow for proper sign in time. If you show up late, you will not be allowed to test and will have to reschedule for a $175 fee.
This is a computer administered exam. Therefore, there is no need to bring any personal items with you to the testing site except for a current and valid government issued ID. This ID must include your name, signature and a photo. All other belongings will not be allowed in the testing area, including calculators, study materials, and electronic devices.
What is Covered?
The Early Childhood Exam is made up of 45 multiple choice questions and three constructed response exercises.
For the multiple-choice questions, you will be expected to answer based on the following standards and their content:
Child development, Equity, Fairness, and Appreciation of Diversity (30% of this section)

Fostering cognitive development
Fostering language development
Fostering moral and ethical development
Knowledge, skills, and dispositions related to equity, fairness, and diversity

Knowing and Integrating Subject Matter: Language and Literacy, Technology, Resources (35%)

Language and literacy, listening and speaking, writing
Technology
Learning materials and resources

Knowing and Integrating Subject Matter: Science, Social Studies, Arts, Health, Physical Education (35%)

Science
Social studies
Visual arts, music, and drama
Health and physical education
The three constructed responses will evaluate your teaching abilities in the following areas:
Exercise 1 – Literacy
Exercise 2 – Analyzing Student Work in Mathematics
Exercise 3 – Children's Play
The multiple-choice section of the exam will be given an hour to finish. You will then be given a 10-minute break. You will be given another 30 minutes for each constructed exercise. Total time given is 2 hours and 40 minutes.
How it is Scored?
Score reports are made available no later than December 31st each year, depending on your assessment cycle. These will show your results in each component tested and whether retesting should be done.
This exam, Component 1, requires an earned score of at least 1.75. This score will be added to your scores on components 2,3, and 4 for a total weighted score. Your total of this component makes up 40% of your total weighted score. This total must be a score of at least 110 to be certified.
Check Out Mometrix's National Board Certification Generalist: Early Childhood Flashcards
Get complex subjects broken down into easily understandable concepts
Get Your Flashcards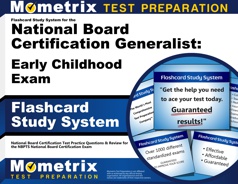 How to Prepare?
Mometrix wants to help prepare you for this exam. Our study guide and flash cards are designed to be the ultimate tool for success. With all relevant information included and sample questions that mimic the actual exam you will be more than ready to move on to the next component successfully. Let us do what we do best, prepare you for this exam.