MTEL English (61) Practice Test
To become a certified educator for elementary and secondary education in Massachusetts, you must pass the Massachusetts Tests for Educator Licensure (MTEL). The MTEL is administered by the Massachusetts Department of Elementary and Secondary Education (DESE) through its official Pearson VUE affiliation.
This page will cover the MTEL English exam, what information the examination covers, the number and type of questions you can expect, the score you need to pass, and everything you need to register for the assessment.
About the Exam
Massachusetts is a state known for its education standards at all levels. As a state with a 12:1 student-to-teacher ratio and ranked as the eighth-best state for teachers out of the 50 states and the District of Columbia, Massachusetts is an available option for those aspiring to join the teaching profession.
The MTEL English (61) exam has specific test objectives divided into content subareas. Each of these measures your knowledge and proficiency in your chosen subject area at the level required of a baccalaureate major (according to Massachusetts standards). The MTEL tests are aligned with educator licensure regulations in Massachusetts and the standards in the Massachusetts curriculum frameworks.
Upon successful completion and subsequent passing of the exam, you are considered to be fully knowledgeable in the subject matter chosen. You are subsequently expected to communicate with students, parents, guardians, and other educators as an effective educator.
Check Out Mometrix's MTEL English Study Guide
Get practice questions, video tutorials, and detailed study lessons
Get Your Study Guide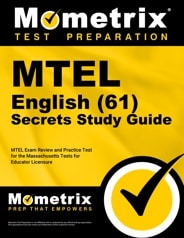 Exam Outline Review
The MTEL English exam contains 100 multiple-choice questions and 2 open-response items, and you are given a total of 4 hours to complete it.
The test is split into three subareas. All of the multiple-choice questions are split between the first two subareas, while the third subarea only contains the two open-response items.
Subarea I – Reading and Language (40%): 48–50 multiple-choice questions
Subarea II – Rhetoric and Composition (40%): 48–50 multiple-choice questions
Subarea III – Integration of Knowledge and Understanding (20%): 2 open-response items
You may take the MTEL for English as either a computer-based test (CBT) or an online-proctored test. As mentioned above, both testing methods allow four hours to take the whole exam. The online-proctored test allots two hours and 30 minutes for the multiple-choice questions, 15 minutes for an optional break, and one hour and 30 minutes for the open-response assignments. Both tests begin with a tutorial and an explanation of the nondisclosure agreement for an additional 15 minutes.
Let's take a closer look at the three subareas of the exam.
I. Reading and Language
The 48–50 multiple-choice questions on this subarea assess your knowledge of the following:
Characteristics of major genres of literature
American literature from the 17th-21st centuries that represents a range of American perspectives reflecting the diversity of gender, race, ethnicity, sexual orientation, nation of origin, religion, age, disability, and cultural, economic, and geographic backgrounds
British literature from the Anglo-Saxon through the contemporary period
Contemporary and historical literature from Africa, Asia, Latin America, the Caribbean, and Europe from ancient times through the 21st century
Informational texts
Structure and development of Standard American English
Theory, research, and instructional practices related to language acquisition and reading
II. Rhetoric and Composition
The 48–50 multiple-choice questions on this subarea assess your knowledge of the following:
Principles of rhetoric and characteristics of effective writing and writing instruction
Techniques for writing arguments
Techniques for writing informative/explanatory texts
Techniques for conducting academic research to build and present knowledge
Techniques for writing narratives
Techniques for speaking and/or expressive communication and listening and/or receptive communication to use in a variety of contexts
III. Integration of Knowledge and Understanding
The two open-response questions on this subarea assess your ability to prepare an organized and developed written analysis on the following:
A literary or informational text
An argument
Registration
To register for the exam, you must create an account on the MTEL website. Before registering, be sure to review and abide by the testing rules and policies to avoid any issues before, during, and after your examination. Both types of exams are administered via a computer, so you don't need to bring any additional items that you might normally bring for a written assessment.
In-person Testing
If you opt to take the CBT, the exam is done by appointment from Monday to Saturday for the whole year, excluding public holidays. You can visit the affiliated Pearson website and search for testing centers near your location with their available examination schedules. Make sure to input "MA061" to find schedules for the MTEL for English.
Online Testing
If you opt for online proctoring, you may only take one subtest per session. You must book an appointment with an online proctor during a one-week testing window (there are testing windows available every month). You may view the available test weeks and register through the MTEL website.
Online proctoring will allow you to take the exam remotely, whether from your own home or somewhere else aside from a testing center. Before registering for an online-proctored exam, it is highly recommended that you take the system test to determine if your equipment is eligible for online proctoring.
Fees
The fee for the exam is $139. Once paid, your registration is valid for one year from the date of issue. If you do not schedule a test appointment and take your test within one year, or if you withdraw your registration within one year, your registration will expire and you will receive no refund or credit of any kind.
Test Day
For on-site testing, you must arrive at the test venue 15 minutes before your scheduled exam time. During check-in, your signature, photo, and palm vein image will be collected. Biometric technology ensures that each examinee only has a single record in the system to safeguard the integrity of the exam.
You must bring a valid government-issued identification card with your photo, signature, and a name that matches the name you used when applying for the exam.
You will be asked to leave your personal belongings in a small locker outside the testing room. During the exam, you are not allowed to use your smartphone or smartwatch.
For online-proctored exams, you will be required to sign in to your account 30 minutes before and up to 15 minutes after the specific appointment time.
Exam Scores
Your score report will be emailed to you if you requested this option when you registered, and it will be available in your account beginning at 10:00 pm Eastern time on the score report date for your test date. Score reports are available for two years in your account.
The minimum passing score for the MTEL for English is 240.
Your final score is a scaled score from 100 to 300 and is derived from your combined scale scores for the multiple-choice items and open-response items. The scaled score for the multiple-choice items is obtained from the number of items answered correctly. On the other hand, the scaled score for the open-response items is obtained from the scores assigned to the candidate's written or oral responses.
Check Out Mometrix's MTEL English Flashcards
Get complex subjects broken down into easily understandable concepts
Get Your Flashcards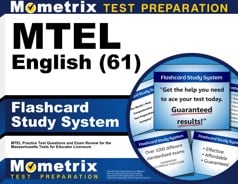 How to Study for the MTEL English Exam
How to Study Effectively
Your success on MTEL test day depends not only on how many hours you put into preparing but also on whether you prepared the right way. It's good to check along the way to see whether your studying is paying off. One of the most effective ways to do this is by taking MTEL English practice tests to evaluate your progress. Practice tests are useful because they show exactly where you need to improve. Every time you take a free MTEL exam practice test, pay special attention to these three groups of questions:
The questions you got wrong
The ones you had to guess on, even if you guessed right
The ones you found difficult or slow to work through
This will show you exactly what your weak areas are and where you need to devote more study time. Ask yourself why each of these questions gave you trouble. Was it because you didn't understand the material? Was it because you didn't remember the vocabulary? Do you need more repetitions on this type of question to build speed and confidence? Dig into those questions and figure out how you can strengthen your weak areas as you go back to review the material.
Answer Explanations
Additionally, many MTEL English practice tests have a section explaining the answer choices. It can be tempting to read the explanation and think that you now have a good understanding of the concept. However, an explanation likely only covers part of the question's broader context. Even if the explanation makes sense, go back and investigate every concept related to the question until you're positive you have a thorough understanding.
Comprehend Each Topic
As you go along, keep in mind that the MTEL English practice test is just that: practice. Memorizing these questions and answers will not be very helpful on the actual test because it is unlikely to have any of the same exact questions. If you only know the right answers to the sample questions, you won't be prepared for the real thing. Study the concepts until you understand them fully, and then you'll be able to answer any question that shows up on the test.
Strategy for MTEL English Practice
When you're ready to start taking practice tests, follow this strategy:
Remove Limitations. Take the first test with no time constraints and with your notes and MTEL study guide handy. Take your time and focus on applying the strategies you've learned.
Time Yourself. Take the second practice test "open book" as well, but set a timer and practice pacing yourself to finish in time.
Simulate Test Day. Take any other practice tests as if it were test day. Set a timer and put away your study materials. Sit at a table or desk in a quiet room, imagine yourself at the testing center, and answer questions as quickly and accurately as possible.
Keep Practicing. Keep taking practice tests on a regular basis until you run out of practice tests or it's time for the actual test. Your mind will be ready for the schedule and stress of test day, and you'll be able to focus on recalling the material you've learned.
FAQs
Q
How many questions are on the exam?
A
There are 100 multiple-choice questions and 2 open-response questions on the MTEL English exam.
Q
How long is the exam?
A
The MTEL English exam is timed at 4 hours, which does not include the 15 minutes provided to complete a tutorial of the testing system.
Q
What is a passing score?
A
A passing score for the MTEL English exam is 240.
Q
How much does the exam cost?