National Board Certification: Science (Early Adolescence)
The National Board for Professional Teaching Standards (NBPTS) Certification aims to develop, retain, and recognize accomplished educators while encouraging school improvement nationwide.
Board certification is available in 25 certificate areas, spanning 16 disciplines from pre-kindergarten through 12th grade. Obtaining National Board Certification is optional, but with certification comes recognition as an expert in their educational field, providing financial and career enhancement.
This page will discuss certification in teaching Science to children ages 11-15.
Eligibility
To qualify to take the examination, you must complete a minimum of 3 years of employment as a teacher. You can begin the application process before you have completed the three years of employment, but you cannot finish the certification process until you have accumulated those three years of teaching experience.
You must also have a bachelor's degree and a valid state teaching license to be eligible for certification. These are things you must have before the registration process begins.
Check Out Mometrix's National Board Certification Study Guide
Get practice questions, video tutorials, and detailed study lessons
Get Your Study Guide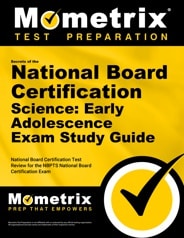 Certification Components
The Science for Early Adolescence exam is split into four sections, called "components." All four components are required for certification:
Component 1: Content Knowledge. This is the computer-based assessment where you demonstrate your understanding of knowledge and pedagogical practices in your content area.
Component 2: Differentiation in Instruction. This portion of the examination is a portfolio entry that focuses on differentiation to instruction. You will provide work examples that demonstrate the growth and knowledge advancement of individual students with commentary on your analysis of their instructional choices.
Component 3: Teaching Practice and Learning Environment. This portion of the examination is a portfolio entry that focuses on teaching practices and learning environments. Video recordings of you in the classroom demonstrating your classroom engagement along with written commentary explaining the video contents will be required. In the written portion, you will need to analyze and reflect on the video contents and on how you interacted with the students.
Component 4: Effective and Reflective Practitioner. This portion of the examination is a portfolio entry on effective and reflective practices. You will be required to demonstrate your skills in developing and applying the knowledge of your students to create the greatest impact on their learning and growth in scientific knowledge. You will need to describe and demonstrate your collaborative efforts in advancing student learning.
The testing window for Component 1 ranges from the beginning of March to the middle of June. The submission window for your portfolio components goes from the beginning of April to the middle of May.
Details of Component 1: The Exam
Component 1, which is the computer-based assessment, is timed at 3 hours, with one 10-minute break between the selected-response section and the constructed-response section.
You are allowed 75 minutes for the 45 selected-response questions and 30 minutes for each of the three constructed-response questions.
Selected-Response Section
For each question in this section, you are asked to select the best answer. Try to answer every question—guessing is not penalized.
The selected-response questions are split into three sections.
Knowledge of Science Practices and Context (9 questions): The questions in this section cover the nature of science, understanding of science, and context of science.
Knowledge of Science Content (27 questions): The questions in this section cover Earth and space science, life science, and physical science.
Curriculum, Instruction, and Learning Environment (9 questions): The questions in this section cover crosscutting principles, assessing and addressing preconceptions, and safety.
Constructed-Response Section
There are three exercises in the constructed-response section, and you are given 30 minutes to complete each one.
A scenario or student profile is presented for you to consider, and then you must answer the prompts relating to the information. It is important to only answer the exact question that is being asked; any tangents or unrelated information in your answer will not be evaluated. For example, if you are asked to provide three examples, do not provide four examples. You will waste valuable time, and the assessors will only evaluate the first three examples.
Your responses are also judged on the depth and quality of your answers.
Exercise 1: Data Analysis
Read a description of a student-designed experiment, study the collection of data collected by the student(s), and analyze the conclusion provided by the student(s) that pertains to the experiment. This exercise contains one prompt.
Exercise 2: Contexts of Science
Describe a scientific event or discovery, and then hold a discussion about the scientific knowledge necessary to comprehend the event or discovery, explain how one other science-related discipline is related, and describe how society has been affected by the event or discovery. This exercise contains one prompt.
Exercise 3: Development of Scientific Concepts
Evaluate and describe a student's conceptual understanding of scientific concepts and describe instruction that would guide the student toward understanding the scientific concept in a more accepted way. This exercise contains one prompt.
Registration
Before you can register for the components, you will need to submit a Candidate Eligibility Verification Form. You will also be required to submit a copy of your valid teaching license at this time.
Registration for the exam can be completed online using the National Board Candidate Management System. The testing and submission of each component can be spread out over a period of 36 months.
Fees
It costs $75 to register for each component of the exam process. The registration fee for all four components must be paid before you can purchase or move forward in the process.
The exam fee for each of the test components is $475 ($1,900 for all four components). You have the option of paying for the entire test at one time or spreading the cost out and paying for each component as you take them. Financial aid is available to help defer these costs, through various states and school districts.
Test Day
You should arrive at the testing facility 30 minutes before the exam is scheduled to be given. If you arrive later than 30 minutes after the test has started, you will not be allowed to take the exam that day.
When you arrive, you will be asked to provide a government-issued photo ID, such as your drivers license or passport. Note that the name that is on your ID must match the name that you registered for the exam under.
Before the exam begins, you will be asked to sign a non-disclosure agreement (NDA). The purpose of the NDA is to maintain the integrity of the examination. You will also be provided with a test booklet and a pencil, as well as an online scientific calculator on your computer screen.
How the Exam is Scored
For the selected-response questions, one point is awarded for each correct answer. Five of the 45 questions are not scored and do not contribute to your score. The number answered correctly is converted and reported on a scale of 0 to 4.25. Assessors score your constructed-response items using a 12-point rubric score scale ranging from 0.75 to 4.25.
The assessment component score is the average of the unweighted scores from the selected-response and constructed-response sections and represents 40% of your combined score. A passing score for the assessment component is 2.75. To achieve certification, you must also receive a 2.75 on each portfolio component.
The scores you made on the test will be available during the second week of December. If you do not make a passing score on your first attempt, you will be permitted to retake the test up to two times during the next 24 months. Note that you are only allowed to retake a component that you failed; you cannot retake a component that you passed.
Check Out Mometrix's National Board Certification Flashcards
Get complex subjects broken down into easily understandable concepts
Get Your Flashcards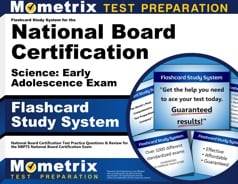 How to Study for the National Board Certification Exam
How to Study Effectively
Your success on National Board Certification test day depends not only on how many hours you put into preparing but also on whether you prepared the right way. It's good to check along the way to see whether your studying is paying off. One of the most effective ways to do this is by taking Science (for Early Adolescence) practice tests to evaluate your progress. Practice tests are useful because they show exactly where you need to improve. Every time you take a free Science (for Early Adolescence) exam practice test, pay special attention to these three groups of questions:
The questions you got wrong
The ones you had to guess on, even if you guessed right
The ones you found difficult or slow to work through
This will show you exactly what your weak areas are and where you need to devote more study time. Ask yourself why each of these questions gave you trouble. Was it because you didn't understand the material? Was it because you didn't remember the vocabulary? Do you need more repetitions on this type of question to build speed and confidence? Dig into those questions and figure out how you can strengthen your weak areas as you go back to review the material.
Answer Explanations
Additionally, many National Board practice tests have a section explaining the answer choices. It can be tempting to read the explanation and think that you now have a good understanding of the concept. However, an explanation likely only covers part of the question's broader context. Even if the explanation makes sense, go back and investigate every concept related to the question until you're positive you have a thorough understanding.
Comprehend Each Topic
As you go along, keep in mind that the Science (for Early Adolescence) practice test is just that: practice. Memorizing these questions and answers will not be very helpful on the actual test because it is unlikely to have any of the same exact questions. If you only know the right answers to the sample questions, you won't be prepared for the real thing. Study the concepts until you understand them fully, and then you'll be able to answer any question that shows up on the test.
Strategy for National Board Certification Practice
When you're ready to start taking practice tests, follow this strategy:
Remove Limitations. Take the first test with no time constraints and with your notes and Science (for Early Adolescence) study guide handy. Take your time and focus on applying the strategies you've learned.
Time Yourself. Take the second practice test "open book" as well, but set a timer and practice pacing yourself to finish in time.
Simulate Test Day. Take any other practice tests as if it were test day. Set a timer and put away your study materials. Sit at a table or desk in a quiet room, imagine yourself at the testing center, and answer questions as quickly and accurately as possible.
Keep Practicing. Keep taking practice tests on a regular basis until you run out of practice tests or it's time for the actual test. Your mind will be ready for the schedule and stress of test day, and you'll be able to focus on recalling the material you've learned.
FAQs
Q
What is the National Board Certification?
A
The National Board Certification is an advanced professional certification for PreK-12 educators, provided by the National Board for Professional Teaching Standards (NBPTS). The certification identifies teaching expertise through assessments that are performance-based and peer-reviewed.
Q
Can I retake the National Board Certification exam?
A
You can retake the Science (Early Adolescence) Exam during a two-year window, up to two times each.
Q
What is a passing score on the National Board Certification?
A
A passing score on the assessment component of the Science (Early Adolescence) Exam is 2.75. A passing score for each of the portfolio components is also 2.75.
Q
How long is the National Board Certification exam?
A
The Science (Early Adolescence) Exam lasts for 3 hours, with a 10-minute break between sections.
Q
How much does the National Board Certification exam cost?
A
The Science (Early Adolescence) Exam contains four components. The fee for each component is $475, making the total cost of certification $1,900 (not including the $75.00 registration fee).
Q
When will I receive my test scores?
A
You will receive your test scores around the second week of December.