MTEL Foundations of Reading (90) Exam
The Massachusetts Tests for Educator Licensure (MTEL) Foundations of Reading Exam is required of all candidates wishing to teach at the early childhood or elementary level as well as those wishing to teach students with moderate disabilities. The test measures the candidate's knowledge of reading and language arts as well as their understanding of reading and writing development in children.
How Do I Register for the Test?
In order to register, you will first create an account on the MTEL website and submit an application along with the $139 exam fee. Afterward, you will be able to schedule your appointment. The test is offered year-round at testing centers across Massachusetts and the United States, so you will be able to choose the date and location most convenient to you. However, it's best to register as far in advance as possible to ensure there are still seats available on the date you want to take the test.
How Long Will the Test Take?
You should plan to spend almost five hours at the testing center. That includes 30 minutes prior to the start of your appointment to check in, 15 minutes for a computer tutorial prior to the start of the exam, four hours for the test itself, and about 15 minutes after the test to go over any questions or concerns you have.
Check Out Mometrix's MTEL Foundations of Reading (90) Study Guide
Get practice questions, video tutorials, and detailed study lessons
Get Your Study Guide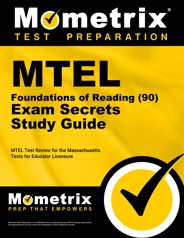 What Subjects Are Included on the MTEL Foundations of Reading Exam?
The 100 multiple choice questions are divided into three distinct content areas as follows:
Foundations of Reading Development – 43-45 Questions

Phonological and phonemic awareness
Concepts of print and the alphabetic principle
The role of phonics in promoting reading development
Word analysis skills and strategies

Development of Reading Comprehension – 33-35 Questions

Vocabulary development
How to apply reading comprehension skills and strategies to imaginative or literary texts
How to apply reading comprehension skills and strategies to informational or expository texts

Reading Assessment and Instruction – 21-23 Questions

Formal and informal methods for assessing reading development
Multiple approaches to reading instruction
The open response section will include two separate prompts for which you will provide a written response that demonstrates your ability to integrate and apply the knowledge and understanding you have of the concepts you were tested on in the previous multiple choice sections.
Each prompt will be primarily located in one of the above content areas but will usually require you to draw from the other content areas as well in developing your analysis. These written responses will be judged according to the following criteria:
How well and fully it responds to the topic of the prompt.
The substance, accuracy, and appropriateness of the subject matter knowledge you applied in your analysis.
The use of sound supporting evidence and high-quality, relevant examples.
How well it demonstrates your comprehensive understanding of the topic as well as your ability to reason.
What Is the Minimum Score Needed to Pass?
The MTEL Foundations of Reading exam is scored on a scale of 100 to 300. In order to pass, you need to receive at least 240. Your score report will not only show you your total score for the entire exam but also information about how you performed in each content areas.
While the content areas aren't scored individually, the report will identify how you did on the section by marking it with one of four possible labels, referring to how many questions you answered correctly:
Most or all Items
Many of the items
Some of the items
Few or no items
This detailed information will help you understand which areas you need to work on in the event that you didn't pass the exam. Even if you do pass, it would still be useful to review your weaker sections in preparation for beginning your career as a teacher.
How Much Time Should I Spend Studying for the MTEL Foundations of Reading Exam?
Although you have likely already completed or are very near completing your education or training by the time you take this test, it is still recommended that you spend at least a couple of weeks reviewing the fundamental concepts of reading and writing development, assessment, and instruction.
For a great review of those concepts, turn to the Mometrix Study Guide and Mometrix Flashcards. These tools provide clear, easy to follow explanations of all the material most relevant to the exam. Plus, they also come with tips and strategies for both the multiple choice section and open response sections.
You'll be able to practice answering questions similar to the ones you will see on test day and learn more about exactly what the readers are looking for when scoring your written response.
Check Out Mometrix's MTEL Foundations of Reading (90) Flashcards
Get complex subjects broken down into easily understandable concepts
Get Your Flashcards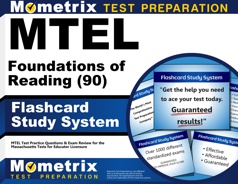 MTEL Foundations of Reading Study Guide
Mometrix Academy is a completely free MTEL Foundations of Reading test resource provided by Mometrix Test Preparation. If you find benefit from our efforts here, check out our premium quality MTEL Foundations of Reading Study Guide and MTEL Foundations of Reading Flash Cards to take your studying to the next level. Just click the MTEL Foundations of Reading study guide link below. Your purchase also helps us make even more great, free test content for test-takers.
MTEL Foundations of Reading Study Guide
MTEL Foundations of Reading Flashcards
MTEL Foundations of Reading Online Course