The Texas Examinations of Educator Standards (TExES) are a series of standardized tests designed to assess the knowledge and skills of individuals seeking certification as educators in the state of Texas.
These tests cover a wide range of subjects and grade levels, as well as various specialized areas such as special education and school counseling.
Free TExES Practice Tests
Use the free TExES practice test questions below to get a better understanding of each TExES exam.
TExES Exam Eligibility
To meet the eligibility requirements for a TExES exam, you must be enrolled in or have completed an approved educator preparation program (EPP).
What's On a TExES Exam?
The majority of the TExES exams contain selected-response (multiple-choice) questions. There are a few of the exams that also include written questions with short essay-style answers, and some exams have spoken-response questions.
Each exam has a set time limit, generally 4 hours and 45 minutes. You will also be given an additional 15 minutes before the exam begins to walk through a computer-adaptive testing (CAT) tutorial and a compliance agreement.
Computer-Adaptive Testing
Every TExES exam is computer-adaptive. Here's a look at how it works:
The first question is judged to be of medium difficulty, and depending on your performance, the next question may be easier or harder. If you do well on the first question, the second question will be harder; conversely, if you do poorly on the first question, the second question will be easy.
Check Out Mometrix's TExES Study Guides
Get practice questions, video tutorials, and detailed study lessons
Get Your Study Guide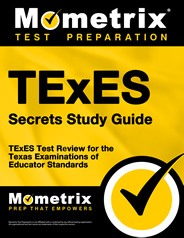 TExES Exam Registration
To register for a TExES exam, you must create an online NES account via their website. Once your account has been created, you can use it to register for the exam you wish to take and schedule an exam date. After you register you have 170 days to schedule your exam.
The cost of the TExES exams can differ slightly, but the majority of the exams cost $116.
Active-Duty Military Cost Reduction Waiver
Active-duty members of the military and their spouses may qualify for an $11 cost reduction for the price of their TExES exam. To be awarded the cost reduction a written request must be sent to TEA. Your TEA ID, the last four digits of your social security number, a copy of both the front and back of your military ID as well as your state ID will need to be sent along with your written request. Spouses of active-duty military members will also need to send a copy of their marriage license along with the written request and other proofs of identification.
Veterans may also qualify for the discount. A veteran will need to include a copy of their DD-214 certification with their written request to TEA.
TExES Exam Scores
The TExES exams are scored using a scaled scoring system. First, your raw score is determined, which is done by adding together how many questions you answered correctly. Then, your raw score is converted into a numerical score on a scale from 100 to 300. You will need a minimum score of 240 to pass your exam.
This scaled scoring system is used because there are different versions of the exam given to each group of test-takers. Since different testers are given different questions, raw scores do not always represent fair comparisons between the different exams. Scaled scoring allows the variability in difficulty to be considered so candidates have an equal opportunity no matter what version of the exam they are given.
Retaking a TExES Exam
If you do not pass the exam on your first attempt, you may retake the exam up to four times. You must wait a minimum of 45 days between attempts, and you must pay the full examination fee each time.
TExES Certification Renewal
The certification you earn by taking a TExES exam will need to be renewed, but the certification is generally good for a period of five years. Before the end of the five years, you will need to apply for a renewal examination.
Certain requirements, such as a specified number of continuing education hours (CPE) will be mandatory before you are eligible to take the renewal examinations.
Check Out Mometrix's TExES Flashcards
Get complex subjects broken down into easily understandable concepts
Get Your Flashcards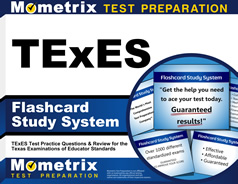 FAQs
Q
How many TExES exams are there?
A
There are 57 exams that cover materials that a wide range of educators must know according to the grade level they will be instructing in, and if they have a specialty subject they will teach.
Q
Who are the TExES exams for?
A
These exams are necessary for individuals who want to work in various educational fields in the state of Texas, including the following:
Teachers
Principals
Librarians
Counselors
ASL instructors
Educational diagnosticians
Dance instructors
Reading specialists
Superintendents
Technology education instructors
Special education instructors
Q
Is there one TExES exam that all teachers must take?
A
All teaching candidates who wish to teach in the Texas school system are required to pass the PPR (Pedagogy and Professional Responsibilities) EC–12 exam. It is mandatory to pass this exam in order to get a standard teaching certificate.
Q
What is the easiest TExES exam to pass?
A
The difficulty of a TExES exam is entirely dependent on how much you prepare and study before taking it. If there is an exam that matches your interests or specialized knowledge, that exam will likely be easier for you to pass.
Q
Can I cancel or reschedule my TExES exam?
A
If you contact the TEA 48 hours before you are scheduled to take the exam, you may reschedule at no additional cost.
Q
How long does it take to get TExES exam results?
A
The score results for your TExES exam should be ready within 7 to 10 days after you complete the exam. When you register, you will be informed of the TExES score report dates for the exam you are taking.