TExES English Language Arts and Reading 4-8 Practice Test (217)
The TExES English Language Arts and Reading 4-8 exam is a certification exam designed to assess whether you have the knowledge and skills required to teach grade levels 4-8 in Texas public schools. The exam is a requirement in certification.
Test design
The exam is a five-hour computer-administered test (CAT) which consists of 100 multiple-choice questions. The questions are formed in either single-question format or clustered question format and will come from two domains:
Language Arts, Part I: Oral Language, Early Literacy Development, Word Identification Skills, and Reading Fluency – 33%.
Understand the importance of oral language and the developmental processes of language, including listening and speaking skills.
Understand the foundations of early literacy development.
Understand the importance of word identification (decoding, blending, structural analysis, and sight word vocabulary) and reading fluency.
Language Arts, Part II: Reading Comprehension and Assessment, Reading Applications, Written Language, Viewing and Representing and Study and Inquiry Skills – 67%.
Understand components and processes of reading comprehension; apply strategies to improve student comprehension.
Understand reading skills and strategies for texts and contests; instruct students in the application of skills and strategies to enhance reading proficiency.
Understand and apply conventions of writing in English; apply knowledge to help students develop proficiency.
Instruct and guide students' development of written communication.
Understand the skills needed for interpreting, analyzing, evaluating, and producing visual images and messages; provide students opportunities to develop skills.
Understand and develop study and inquiry skills in students.
The questions will test your ability to recall factual information, think critically about the information presented, analyze that information, compare presented situations with your knowledge, and/or make a judgment about it. Often there are reading passages, graphics, and tables included with the question.

Check Out Mometrix's TExES English Language Arts and Reading 4-8 Study Guide
Get practice questions, video tutorials, and detailed study lessons
Get Your Study Guide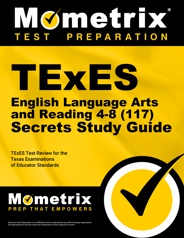 Registration, cost, dates and delivery methods
There are three ways to register for the exam. You can register online, by phone, or by mail. Regardless of the registration method, the exam cost is $131.00 and paid via MasterCard, Visa, American Express, Discover, or debit card with one of the previously listed card logos. Cash and checks are not accepted. Testing dates are available continuously.
Test Day
On test day you will need your admission ticket and required identification. Make sure you arrive at or before the designated time on your admission ticket so you have time to complete the sign-in process. You will not be allowed any items in the testing area. This includes but is not limited to jackets, backpacks and electronic gear. Jewelry must be kept to a minimum as well.
Once you enter the testing center and take your seat, you are not allowed to talk to any other test taker. Everything you need for the exam will be provided to you by the testing administrator. Failure to follow the test center rules could result in the cancellation of your test and your registration fee forfeited.
Exam results and scoring
Your score report will be available on your testing account within seven days after your exam. Your results are a score in the range of 100-300 with 240 required to pass. The exam is scored based on the number of questions answered correctly with no points deducted for incorrect responses.
Your scores are automatically reported to the Texas Education Agency (TEA). You will not receive a report of your scores in the mail. You will need to print your score report from your online account for your records.
Preparing for the TExES English Language Arts and Reading exam
While you are allowed to take the test five times to pass, why would you want to risk having to do that and pay each time? Mometrix study guide and flashcards is a proven system, guiding you to understanding the content within the test framework. Not only do you need to know the factual information, but you must be able to apply it in a teaching environment, thinking critically about the information, your previous experience, and your gained knowledge.
Let Mometrix assist you with your study plan so that you can get started on your career. With 12 years of research and experience, Mometrix is qualified to assist you with your study plan. Let Mometrix guide you to a successful first attempt. Mometrix is so confident in their study methods that they offer a 100% money-back guarantee.

Check Out Mometrix's TExES English Language Arts and Reading 4-8 Flashcards
Get complex subjects broken down into easily understandable concepts
Get Your Flashcards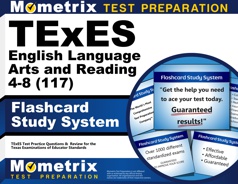 TExES Study Guide
Mometrix Academy is a completely free TExES test resource provided by Mometrix Test Preparation. If you find benefit from our efforts here, check out our premium quality TExES English Language Arts and Reading 4-8 Study Guide and TExES English Language Arts and Reading 4-8 Flash Cards to take your studying to the next level. Just click the TExES study guide link below. Your purchase also helps us make even more great, free test content for test-takers.
TExES Study Guide
TExES Flashcards