TExES History 7-12 Practice Test (233)
The Texas Examinations of Educator Standards (TExES) History 7-12 exam is a certification exam designed to assess whether you have the knowledge and skills required to teach history in grade levels 7-12 in Texas public schools. The exam is a requirement in certification.
Test design
The exam is a five-hour computer-administered test (CAT) which consists of 100 multiple-choice questions. From four domains, questions are either single-question format or clustered question format. The four domains include:
World History – 30% of the test:

Ancient World Civilizations
World History from 600 A.D. to 1450 A.D.
World History from 1450 A.D. to 1750 A.D.
World History from 1750 A.D. to the present
Geography and Culture in World History
Government and Citizenship in World History
Economics, Science, and Technology in World History
U.S. History – 35% of the test:

Exploration and Colonization
Revolutionary Era and the Early Years of the Republic
Westward Expansion, the Civil War, and Reconstruction
The United States as a World Power
Political, Economic, and Social Developments from 1877 to the Present
Geography and Culture in U.S. History
Government and Citizenship in U.S. History
Economics, Science, and Technology in U.S. History
Texas History – 20% of the test:

Exploration and Colonization
Independence, Statehood, Civil War Reconstruction, and the Aftermath
Texas in the Twentieth and Twenty-first Centuries
Foundations, Skills, Research, and Instruction – 14% of the test:

History Foundations and Skills
Sources of Historical Information; Interpreting and Communicating Historical Information
Historical Research
History Instruction and Assessment
Each question will require you to recall factual information and apply critical thinking skills to analyze, compare, and inform the data presented. Questions will often include graphs, maps, tables, and select passages.
Check Out Mometrix's TExES Study Guide
Get practice questions, video tutorials, and detailed study lessons
Get Your Study Guide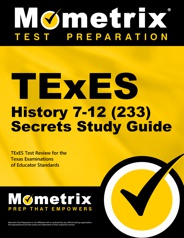 Registration, cost, and dates
Registration for the TExES History exam is available online, by phone, or by mail. The exam fee is $131.00 and is payable via MasterCard, Visa, American Express, Discover, or debit card. Cash and checks are not accepted. Testing dates are available continuously within the state of Texas, nationwide and at select military installations abroad.
Test Day
On test day you will need your admission ticket and required identification. Make sure you arrive at or before the designated time on your admission ticket, so you have time to complete the sign-in process. You will not be allowed any items in the testing area, including jackets, backpacks, and electronic devices, to name a few prohibited items. Refer to the instructions for a complete list of allowed and non-allowed items.
Everything you need for the exam will be provided, including an online calculator. Once you are seated at your station, you are not allowed to talk to anyone. The exception is if you have a question or need more supplies and you have raised your hand. Failure to follow the test center rules and instructions of the testing center staff could result in the cancellation of your test and your registration fee forfeited.
Exam results and scoring
Your score report will be available on your testing account by 5 p.m., Central time, on the score reporting date. You must obtain a minimum score of 240, within a 100-300 range, to pass the TExES History exam. You are scored based on your correct responses, and incorrect responses are not penalized. Therefore, it behooves you to answer as many questions as you can, using your intellect and reasoning to work out the answers to questions you do not know.
Your scores are automatically reported to the Texas Education Agency (TEA) and your Education Preparation Program (EPP), if applicable. You will not receive a report of your scores in the mail. You will need to print your score report from your online account for your records.
Preparing for the TExES History exam
Not only do you need to know the factual information, but you must be able to apply it in a teaching environment, thinking critically about the information, your previous experience, and your gained knowledge. Let Mometrix assist you with your study plan so that you can get started on your career. With 12 years of research and experience, Mometrix is qualified to guide and assist you during your studying. Prepare confidently with the TExES Study Guide and TExES Flashcards. Mometrix is so confident in their study methods that they offer a 100% money-back guarantee.

Check Out Mometrix's TExES Flashcards
Get complex subjects broken down into easily understandable concepts
Get Your Flashcards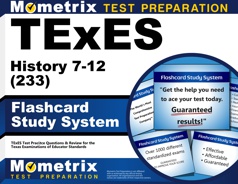 TExES History 7-12 Study Guide
Mometrix Academy is a completely free resource provided by Mometrix Test Preparation. If you find benefit from our efforts here, check out our premium quality TExES History 7-12 study guide to take your studying to the next level. Just click the TExES History 7-12 study guide link below. Your purchase also helps us make even more great, free content for test-takers.
TExES Study Guide
TExES Flashcards