TExES Bilingual Target Language Proficiency Test Spanish Practice Test (190)
In order to educate others in a language, you must have a comprehensive understanding of that language. This fact in and of itself sums up why language education training is so intensive. Not only must you spend several years devoting yourself to obtaining total fluency in a language, but you must also invest additional time and effort into learning how to teach that language to interested students. This involves taking different learning styles into account and crafting a curriculum that allows you to meet all of these needs in a way that boosts better understanding of the language for every learner in your potential classroom.
This responsibility is what drives the state of Texas to devise new versions of the TExES Spanish subject test each year. It is no secret that Spanish is one of the most-spoken languages across the United States, but especially so within Texas and the general southwest region of the country. As such, Spanish-language education is incredibly widespread across the state.
The Spanish exam is just one of many TExES Bilingual Target Language Proficiency Tests to be offered by the state, yet it is no less important, especially for aspiring Spanish-language educators. If you do not earn a passing score on this exam, you cannot earn your certification or begin your official career. We understand the gravity of this exam, and we want to see you succeed. That's why we've written this article. Here we'll fill you in on everything you need to know regarding the exam, as well as provide you with resources to help you thoroughly prepare. Keep reading to receive a crash course on the Spanish-language TExES Bilingual Target Language Proficiency Test.
The Layout of the Exam
The TExES Spanish exam contains 91 questions that split into one of two answer categories: constructed-response and multiple choice. Seven out of those 91 questions belong to the former category, while the remaining 84 belong to the latter one. To answer a "constructed-response" question, you must write out a brief essay response.
While the number of questions featured on this exam may seem small, they are designed to thoroughly represent the subject matter with a strong level of complexity. In fact, test takers will receive three-and-a-half hours (or three hours and 30 minutes) to complete the exam.

Check Out Mometrix's TExES Bilingual Target Language Proficiency Test Spanish Study Guide
Get practice questions, video tutorials, and detailed study lessons
Get Your Study Guide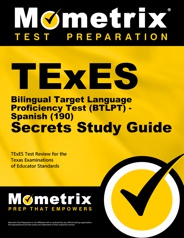 The Exam's Content
Like most subject tests featured under the TExES umbrella, the Spanish exam divides its questions up by knowledge categories or, as they're specifically known, "domains." Each domain falls under one of four standards, each of which is designed to gauge incoming Spanish teachers' comprehension of the Spanish language as well as how to properly convey its grammar, vocabulary, and nuances to a student audience. The domains (and the individual percentages they take up of the exam) are as follows:
Written Expression (24 percent) addresses the potential teacher's comprehension of how to write in the Spanish language as well as efficiently convey these concepts and rules to students. This portion of the exam lasts 70 minutes, and features three constructed-response questions.
The Listening Comprehension (21 percent) focuses on how well the test taker comprehends interpretive, inferential, and literal listening, as well as how to implement these skills within their curriculum. The domain spans 50 minutes of testing time and contains 36 multiple choice questions.
Oral Expression (29 percent) centers on the potential teacher's ability to create exercises and curriculum that allow their students to better comprehend oral  communication of the Spanish language. This domain is the shortest in terms of time limit, lasting just 20 minutes. During this time, you must answer four constructed-response questions.
Reading Comprehension (26 percent) deals with critical, literal, interpretive, and inferential reading, as well as the best methods to convey and teach these capabilities to students effectively. This domain lasts 70 minutes and features 48 multiple choice questions.
The Registration Process
The registration process for any TExES exam is carried out completely online. You must have your TEA ID on hand to sign up, as this will be one of the primary forms of identification. To start the process, you must first sign in to your testing account on the Pearson website, or sign up for an account if you haven't created one yet. From there, you can choose the location where you would like to test, as well as the date. Afterward, you can register for the exam on the Texas Educator Certification Examination Program website. It is here that you will be expected to detail any special accommodations you may need as well as submit your required $116 payment. The process is finished once you've set up your testing schedule. Once you've scheduled, you have until a full 48 hours prior to the day of your test to cancel or make any changes.
About Your Scores
You must earn a minimum of 240 points in order to pass the TExES Spanish exam. The highest amount of points you can score on the exam is 300. However, your score report will tell you directly whether you passed. Your score report will be sent to you via your account at around 28 days after you have finished your exam, at approximately 10:00 PM. Should you be unhappy with your scores, you can register for a retest; however, you may only take the exam a maximum of five times. Registering for a retest also involves going back through the entire registration process, fees included. You must also gain approval to retest beforehand.

Check Out Mometrix's TExES Bilingual Target Language Proficiency Test Spanish Flashcards
Get complex subjects broken down into easily understandable concepts
Get Your Flashcards
Approaching Your Study Plan
The TExES  exam can prove challenging even to star students. If you're in the midst of studying for it, you'll need the best tools to help you prepare. At Mometrix Test Preparation, we strive to provide the most efficient study resources to students in need. On this page, you'll find links to our main two resources for the TExES Spanish exam:
TExES Study Guide, which is designed to further guide you through the exam content. In this thorough book, you'll not only learn more about every facet of the test, but also receive step by step tips on how to target your study approach and how to answer specific types of questions. Also included is a practice exam and answer key.
TExES Flash Cards, which is aimed at repetition-based learners. Quiz yourself with these flash cards that are closely modeled after real TExES Spanish exam questions. This tool can help you improve the amount of time you need to finish each portion of the exam.
We hope these resources will fit well into your study plan and help you to gain a better understanding of the ins and outs of the exam. Good luck, and happy studying!
TExES Bilingual Target Language Proficiency Study Guide
Mometrix Academy is a completely free resource provided by Mometrix Test Preparation. If you find benefit from our efforts here, check out our premium quality TExES Bilingual Target Language Proficiency Spanish study guide to take your studying to the next level. Just click the TExES Bilingual Target Language Proficiency Spanish study guide link below. Your purchase also helps us make even more great, free content for test-takers.
TExES Study Guide
TExES Flashcards