TExES Special Education EC-12 Practice Test (161)
The TExES Special Education EC-12 exam measures a candidate's knowledge and skills in the field of special education. It's an important step before you can become a teacher in a Texas public school at any grade level from EC to 12.
Who Is Eligible to Take the TExES Special Education EC-12 Exam?
Before you can register for the test, you will first need to meet the eligibility criteria to take the exam. You are eligible to take the test if you meet one of the following criteria:
You have completed or will soon complete an educator preparation program that is approved by the State Board of Educator Certification. This includes university initial, university post baccalaureate, university alternative certification, and alternative certification programs. In this case, you must get approval to test from your program.
You have already been certified to teach special education at the EC-12 level in another state or country and are seeking to become certified in Texas. In this case, you have to get approval to test from the Texas Education Agency.
You have a bachelor's degree and are already certified to teach in Texas public schools but wish to become further certified in special education. In this case, you do not need an approval to test. You simply need to register for the exam through the Texas Education Agency website.
Once you have established eligibility, you will be able to register for the exam online or by phone. You should make sure to schedule your appointment at the first possible opportunity to improve your chances of getting the date and time that you want. If possible, give yourself at least two or three weeks to prepare for this exam. You also need to be prepared to pay the $131 exam fee when you make the appointment.
How Long Will the Test Take?
You will have five hours to answer all 150 questions included on this exam. But you should also plan for an extra 15 minutes before the test begins to check in and another 10 or 15 minutes at the end to ask any questions you might have before leaving the test center.
The test is computer administered and some reference material will be provided to you during the test. That includes:
The Periodic Table of Elements
An On-Screen Calculator
Assorted Math Reference Materials
Assorted Scientific Reference Materials
Beyond the provided reference material, you won't be able to bring any other study aids or personal items into the exam room with you. The only thing you should bring is your government-issued ID in order to check in.
Check Out Mometrix's TExES Study Guide
Get practice questions, video tutorials, and detailed study lessons
Get Your Study Guide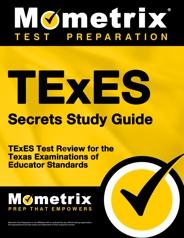 What Knowledge and Skills Should I Expect to Be Tested On?
The 150 multiple choice questions are all based on Texas's established framework and are broken down into four key content areas:
Understanding Individuals with Disabilities and Evaluating their Needs – 19-21 Questions
Promoting Student Learning and Development – 49-51 Questions
Promoting Student Achievement in English Language Arts and Reading and in Mathematics – 49-51 Questions
Foundations and Professional Roles and Responsibilities – 29-31 Questions
The number of questions listed are approximate estimates. This is just to help you prioritize subjects appropriately as you study for the test.
When Will I Find Out If I Passed the Test?
When you register for the exam, you will be given a specific score reporting date based on the date that you take the exam. You will be able to view your results online by 5 P.M. Central Time on this date.
Your results will fall somewhere on a scale of 100 to 300. In order to become certified in the state of Texas, you need to get a score of at least 240.
How Should I Prepare for the TExES Special Education EC-12 Exam?
Preparing for the test means becoming very familiar with Texas's established educational standards and developing the knowledge and skills needed to be a great special education teacher.
To do that, you should buy a copy of the Mometrix Study Guide. Your guide will come with engaging, easy-to-follow video tutorials to help you understand the most challenging concepts that you'll be tested on. In addition, it teaches you test-taking strategies to help you improve both speed and accuracy when answering exam questions, even the ones that you feel totally lost on.
If you want to squeeze even more out of every study session, make sure you also buy Mometrix Flashcards. These flashcards have been designed to perfectly complement the study guide by distilling the most important information into clear, concrete explanations on individual cards.
Using flashcards as part of your study process will help you improve both your memory and your ability to recall information quickly—two skills which you absolutely cannot do without on the TExES Special Education EC-12 Exam.
Check Out Mometrix's TExES Flashcards
Get complex subjects broken down into easily understandable concepts
Get Your Flashcards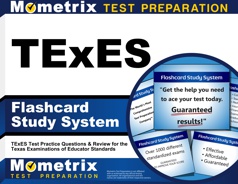 TExES Special Education EC-12 Study Guide
Mometrix Academy is a completely free resource provided by Mometrix Test Preparation. If you find benefit from our efforts here, check out our premium quality TExES Special Education EC-12 study guide to take your studying to the next level. Just click the TExES Special Education EC-12 study guide link below. Your purchase also helps us make even more great, free content for test-takers.
TExES Study Guide
TExES Flashcards