TExES Science of Teaching Reading
The Science of Teaching Reading (STR) exam is a new requirement for all teacher candidates who seek certification in grades pre-kindergarten through Grade 6 (Pre-K-6). The purpose of the exam is to ensure candidates demonstrate proficiency in the science of teaching reading. The STR exam is an amendment to Texas Education Code (TEC) §21.048 (a-2), becoming effective January 1, 2021.
What is the "Science of Reading?"
The Science of Reading (SoR) is relatively new research (over the past 20 years) focusing on understanding the cognitive processes involved in successful reading acquisition. The research behind SoR is empirically supported, providing information on how individuals read, the skills involved with reading, how skills work together, and the parts of the brain responsible for reading development, leading to evidence-based best-practice approaches to teaching foundational literacy. SoR empowers educators to help students read by providing key approaches to instruction to reach all learners.
Who is required to take the STR exam?
Teacher candidates, probationary or intern teachers, and teachers looking to add one of the five certification fields to their standard certificate are now required to take the exam. The five certification fields requiring the STR exam include:
Early Childhood – Pre-K through Grade 3
Core Subjects with Science of Teaching Reading – Pre-K through Grade 6
Core Subjects with Science of Teaching Reading – Grades 4 through 8
English Language Arts and Reading with Science of Teaching Reading – Grades 4 through 8
English Language Arts and Reading/Social Studies with Science of Teaching Reading – Grades 4 through 8
Educators with standard certification in one of the above fields are not required to take the STR exam to renew their standard certificate.

Check Out Mometrix's TExES Study Guide
Get practice questions, video tutorials, and detailed study lessons
Get Your Study Guide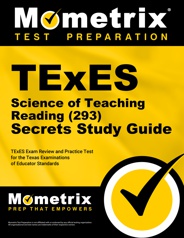 Registration, Location, and Cost
Register for the STR exam through your candidate portal on the Texas Educator Certification Examination Program website. The exam's registration fee is $136.00, payable by Visa or MasterCard, or debit card with the Visa/MasterCard logo. Your registration fee must be paid before you can schedule your exam.
Once your registration fee is paid, you have 170 days to schedule your exam. Testing centers are located throughout Texas and nationwide.
Test Day
Arrive at the testing center 15 minutes before your test time. Dress comfortably and ensure you have the identification required for admission. Your confirmation email contains the information you need for the day of the exam; make sure you read it carefully as rules vary between testing centers.
STR Design
The Science of Reading exam is a computer-administered exam containing 90 selected-response questions and one constructed-response question. You have five hours to complete the exam, which includes 15 minutes for the exam tutorial. Content in the STR exam is organized into four domains. Competencies, which define each domain, examine your understanding and knowledge of the concepts, principles, and best practices using developmentally appropriate research- and evidenced-based assessments and instructional methods to promote student development.
Let's take a look at the four domains.
Domain I – Reading Pedagogy (13%)
The competencies include:
Foundations of the Science of Teaching Reading
Foundations of Reading Assessment
Selected-response questions cover the construction of language, the process of learning spelling, the response to intervention, and key assessment concepts. Basic principles of language include morphology, orthography, syntax, semantics, pragmatics, and segmentation. Stages involved in spelling development include pre-communicative, semi-phonetic, phonetic, transitional, and conventional. The response to intervention is a three-tiered process by which teachers identify and support students' academic and behavioral needs. Finally, key assessment concepts include congruence, reliability, validity, absence of bias, clarity of language, and determining what is age and grade-level appropriate.
Domain II – Reading Development: Foundational Skills (43%)
There are six competencies:
Oral Language Foundations of Reading Development
Phonological and Phonemic Awareness
Print Concepts and Alphabetic Knowledge
Phonics and Other Word Identification Skills
Syllabication and Morphemic Analysis Skills
Reading Fluency
Concepts examined in this domain include measuring reading fluency, English language learner (ELL) instructional strategies, evaluation of phonemic awareness, the importance of phonological awareness in literacy, syllable awareness, print awareness, directionality, diphthongs, sight words, decodable words, and r-controlled vowels.
Domain III – Reading Development: Comprehension (24%)
The competencies evaluated include:
Vocabulary Development
Comprehension Development
Comprehension of Literary Texts
Comprehension of Informational Texts
The four competencies in domain III examine your understanding of concepts like the levels of comprehension, teaching active reading, the three tiers of vocabulary, the types of nonfiction texts, and selecting culturally responsive texts for instruction.
Domain IV – Analysis and Response (20%)
In Domain IV, you'll find the one constructed-response question. This question centers around a case study of a fictional student. The information provided includes an overview of the student, the skill that you need to assess, and exhibits of the student's work. With the provided information, you'll need to construct a 400-600-word response that identifies:
An academic need of foundational reading skills and an instructional strategy to meet that need,
An academic need related to reading comprehension skills and an instructional strategy to meet that need
A descriptive analysis about why you selected those strategies
Your in-depth written response demonstrates your knowledge of the subject matter and should conform to standard English conventions. This response is your own and not copied or paraphrased from other material. Citations are allowed as long as the evidence is appropriately cited in your response. Your answer will be evaluated on the degree of completion, appropriate application of knowledge and skills, and the degree to which you support your response with evidence, examples, and explanations based on relevant content knowledge and skills.

Check Out Mometrix's TExES Flashcards
Get complex subjects broken down into easily understandable concepts
Get Your Flashcards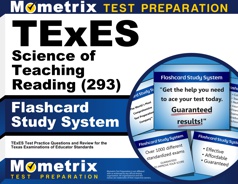 Exam Scoring and Results
An introductory period exists for the new STR exam, and an initial cut score exists to support the transition period. Between January 1, 2021, and September 6, 2021, teacher candidates must meet a minimum threshold of correct items to pass the exam. If that threshold is not met, the candidate does not pass the exam. Exams delivered after September 6, 2021, will have a passing standard determined by the standard-setting committee of Texas educators.
Your exam is scored as a whole, not as individual subtests. Your scaled score for the selected-response sections is combined with the scaled-score for your constructed-response section to produce your overall score. If you do not pass the exam, you are required to retake the entire examination.
Your exam results are available in your candidate account within 28 days of testing. If needed, you can retake the exam 30 days after you receive your results. You can take the exam up to five times.
Preparation
The Science of Teaching Reading Exam is an in-depth evaluation of the skills and knowledge you have as an entry-level educator in the state of Texas. Your educator credentials depend on your success with certification exams. Start on the right foot with tools designed to ensure your success. Mometrix's flashcards and study guide present methods designed to make studying easy and effective, while the 100% satisfaction guarantee gives you peace of mind.
Online TExES Science of Teaching Reading Prep Course
If you want to be fully prepared, Mometrix offers an online TExES 293 Prep Course. The course is designed to provide you with any and every resource you might want while studying. The TExES 293 Course includes:
Review Lessons Covering All the Topics
350+ CMA Practice Questions
264 Digital Flashcards
Over 37 Instructional Videos
Money-back Guarantee
Free Mobile Access
and More!
The TExES Science of Teaching Reading Prep Course is designed to help any learner get everything they need to prepare for their TExES 293 exam; click below to check it out.