MEGA Elementary Education Multi-Content Practice Test
Missouri candidates seeking certification in Elementary Education must pass the Elementary Education Multi-Content test. The four subject areas assess a candidate's content and pedagogical knowledge in addition to candidate disposition and work styles.
Test design
This is a computer-based test (CBT) with four subtests. Each subtest is scored individually. You must achieve a passing score of 220 on each subtest to pass. You will have one hour for each subtest, and one 15-minute break between subtests two and three. At the beginning of the exam, there is a 15-minute CBT tutorial. The tutorial is not included in the test time allowed.
English Language Arts: 40 multiple-choice questions

Foundations of Language and Literacy Development – 25%
Text Comprehension and Vocabulary Development – 25%
Reading Literature and Informational Texts – 25%
Processes, Modes, and Conventions of Written and Oral Communication -25%
Mathematics: 40 multiple-choice questions

Numbers and Operations – 40%
Algebraic Relationships – 25%
Measurement, Geometry, and Data – 35%
Science: 40 multiple-choice questions

Science and Engineering Practices and Crosscutting Concepts – 35%
Biology – 30%
Physical Science and Earth Science – 35%
Social Studies: 40 multiple-choice questions

History – 34%
Geography – 33%
Government and Economics – 33%
Check Out Mometrix's MEGA Elementary Education Multi-Content Study Guide
Get practice questions, video tutorials, and detailed study lessons
Get Your Study Guide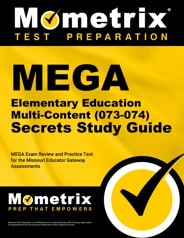 Cost
You may take one, two, three or all subtests in one testing session. Please keep in mind that you must pass all four subtests to obtain your credential and, while it could be less stressful to take each test individually, you will save both money and time by taking all subtests in one session.
Single subtest – $39.00
Two subtests – $65.00
Three subtests – $90.00
All subtests – $110.00
Registration, dates and delivery method
You register exam online with MasterCard, Visa or a debit card. Should you not have access to this form of payment, arrangements may be made to pay via check. After your payment is received, your registration will be valid for one year. If you do not take the test within the year or fail to withdraw within that timeframe, your registration will expire, and you will not receive a refund or credit.
The test is delivered a computer-based test (CBT) and appointments to take the exam can be scheduled Monday through Saturday, holidays excluded. Options are available for military personnel to utilize military base test centers with proper military identification and authorization.
Test Day
Plan to arrive at the testing facility 15 minutes before your scheduled time. Your digital signature and digital photo are taken, and a palm scan may be required. You will also have to present one form of government-issued identification, and it must show the name you used to register for the test. If you are taking the exam out of the country, you will use your unexpired passport as your form of identification.
After your identification is verified, you'll be assigned to your station, and provided with a noteboard, booklet, and a wet-erase marker. You are not allowed to bring in any item to the testing room, and you will be asked to empty your pockets.
The Test Administrator (TA) will ask you to place any personal items in a secure location but keep in mind that the TA and facility do not assume any responsibility for your belongings. At the conclusion of the exam, you will return all materials provided back to the test administrator.
Once you enter the testing center and take your seat, you are not allowed to talk to any other test taker. Should you have a question or need additional supplies, you must raise your hand for assistance. Failure to follow the test center rules could result in the cancellation of your test and your registration fee forfeited.
Scoring
Your score is based on the number of correct answers in each subtest and the proportion accounted for by each section (raw score). The raw score is converted to a scale that will range from 100 to 300. To pass each subtest, you must obtain a score of 220. You will receive an interpretation guide when you receive your score report, so you can identify areas of strength and improvement.
The results of your exam are reported to you, the Missouri Department of Elementary and Secondary Education, and to any institution that you indicated as a score recipient when you registered.

Check Out Mometrix's MEGA Elementary Education Multi-Content Flashcards
Get complex subjects broken down into easily understandable concepts
Get Your Flashcards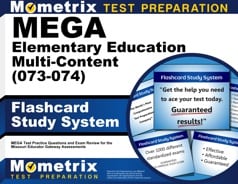 Preparing for your exam
You have invested time and money in your education, and your goal is within reach. Let Mometrix's team of professionals guide you in your efforts in passing the credential the first time around. 16 years of experience are behind their flashcards and study guides and present to you the most efficient, no fluff study plan. With a 100% money-back guarantee, Mometrix is in your corner.
MEGA Elementary Education Multi-Content Study Guide
Mometrix Academy is a completely free MEGA test resource provided by Mometrix Test Preparation. If you find benefit from our efforts here, check out our premium quality MEGA Study Guide and MEGA Flash Cards to take your studying to the next level. Just click the MEGA study guide link below. Your purchase also helps us make even more great, free test content for test-takers.
Upgrade your studying with our TSI study guide and flashcards:
MEGA Elementary Education Multi-Content Study Guide
MEGA Elementary Education Multi-Content Flashcards