A certified nursing assistant (CNA) works under the supervision of an RN to meet the healthcare needs of patients, such as serving meals, measuring patients' vital signs, and bathing patients.
Nursing assistants need to be certified in these skills and in the knowledge that will be applicable in their day-to-day operations. Certain states authorize the ​​National Council of State Boards of Nursing (NCSBN) to administer the CNA exam which, once passed, lets you work as a certified nursing assistant.
Click the "Start Test" button above to begin your free CNA practice test. Good luck with your studying!
What is the CNA Exam?
The National Nurse Aide Assessment Program (NNAAP) administers the most large-scale nurse aide certification program with over 200,000 paper and practical exams annually through the NCSBN. The CNA Exam is available through a national testing service by Credentia, which assumes scheduling, administration, and delivery of the exams in the designated states.
There are currently 17 NCSBN jurisdictions that accept the CNA Exam to measure your competency as a nurse aide. It is important for you to know that the exam guidelines vary for each of these states. To ensure that you are reading the correct information related to the exam for your desired state of practice, read its corresponding Candidate Handbook for complete details.
The CNA Exam is designed for entry-level nurse aides and nursing assistants (NAs), meaning those who zero to 12 months of direct care experience after receiving certification. Eligibility varies per state but in general, applicants are required to have completed at least a state-approved nurse aide training program that usually includes classroom learning, practical training, and on-the-job training.
Once you pass the CNA Exam, you will be given a certification to practice as a nursing assistant and will be added to your state's nurse aide registry.
CNA Exam Outline
The CNA Exam is composed of two parts: 1) a written or oral portion and 2) a skills demonstration portion. You must complete and pass both assessments to gain a certification and for a state to add your name to the state nurse aide registry.
Written/Oral Test
Whether you take the written version of the exam or the oral version is entirely up to you. You will get to choose your preference during registration.
The written exam is composed of 70 multiple-choice items, 10 of which are non-scored items that will only collect statistical information.The oral exam is composed of 60 multiple-choice items and 10 reading comprehension (word recognition) items. This is recommended for those who may have difficulty reading and answering a written exam. Instead, recordings of the questions will play on a headset and you will be asked to provide an answer from the list of choices.
The written and oral exam covers three main content domains: Physical Care Skills, Psychosocial Care Skills, and the Role of the Nurse Aide.
Physical Care Skills (61%)
This domain is divided into three categories:
Activities of Daily Living takes up 14% of the exam with nine questions. These questions cover the topics of hygiene, dressing and grooming, nutrition and hydration, elimination, and rest/sleep/comfort.
Basic Nursing Skills takes up 39% of the exam with 23 questions. It covers infection control, safety in an emergency, therapeutic and technical procedures, and data collection and reporting.
Restorative Skills takes up 8% of the exam with five questions. It covers prevention, self-care, and independence for the client.
Psychosocial Care Skills (13%)
This domain tackles two categories that deal with the client's non-physical needs:
Emotional and Mental Health Needs takes up 11% of the exam with six questions.
Spiritual and Cultural Needs takes up only 2% of the exam with two questions.
Role of the Nurse Aide (26%)
This domain assesses your ability to fulfill your responsibilities as a nurse aide through your knowledge and skills in the following categories:
Communication takes up 8% of the exam with four questions.
Client Rights takes up 7% of the exam with four questions.
Legal and Ethical Behavior takes up 3% of the exam with two questions.
Member of the Health Care Team takes up 8% of the exam with five questions.
Skills Test
The skills demonstration portion of the exam will have you perform five key skills of a nurse aide in an area similar to your work setting where you will be evaluated by a Nurse Aide Evaluator. You will be given 30 minutes to finish all tasks. You will be performing these skills to a candidate volunteer who will act as a weakened elderly person in an area that has all the necessary equipment you will need.
All skills are broken down into a series of tasks and will be measured by assessing your performance on these tasks. Each task has a Critical Step that must be performed correctly for you to pass that skill. Among the five skills, all examinees will be required to perform the Hand Hygiene skill along with four other random skills that will be assigned to you. One of the four random skills will involve a measurement skill and will ask you to measure and record certain vital signs or specimens (e.g. measures and records blood pressure or urinary output of the client).
There are 23 skills that may be evaluated during the exam:
Hand hygiene
Applies one knee-high elastic stocking
Assists in ambulation using a transfer belt
Assists with use of bedpan
Cleans upper or lower denture
Counts and records radial pulse
Counts and records respirations
Donning and removing PPE (gown and gloves)
Dresses client with affected (weak) right arm
Feeds client who cannot feed self
Gives modified bed bath (face and one arm, hand, and underarm)
Measures and records electronic blood pressure
Measures and records manual blood pressure
Measures and records urinary output
Measures and records the weight of an ambulatory client
Performs modified passive range of motion (PROM) for one knee and one ankle
Performs modified passive range of motion (PROM) for one shoulder
Positions on side
Provides catheter care for female
Provides foot care on one foot
Provides mouth care
Provides perineal care (peri-care) for female
Transfers from bed to wheelchair using a transfer belt.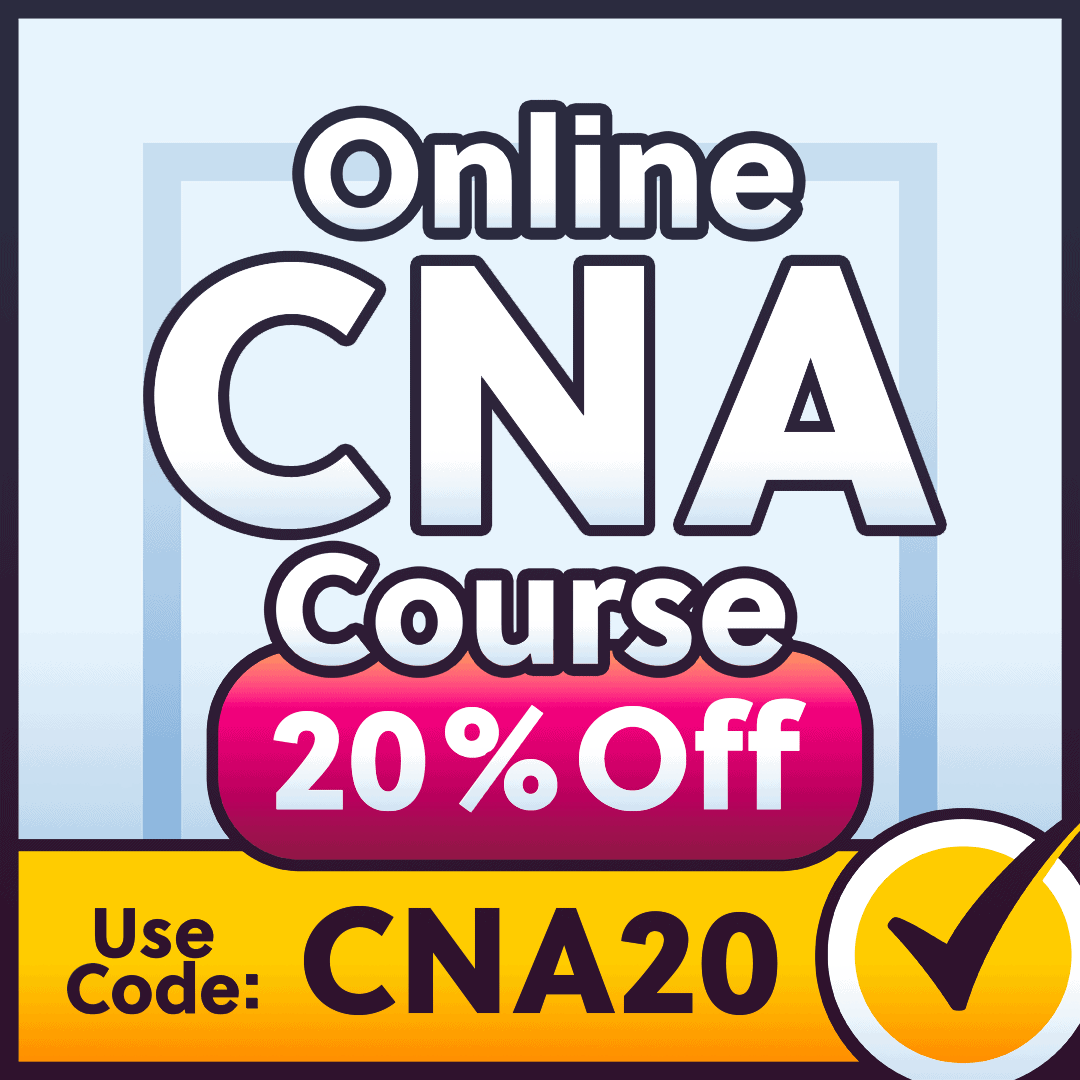 CNA Exam Registration
You must register to take the exam through Credentia, the official testing vendor for the CNA Exam. You must first choose the state in which you plan to practice in and the website will lead you to its specific platform. Note that one major prerequisite to taking the CNA Exam is the completion of a state-approved nurse aide training program at the least.
You will be asked to sign up or sign in to a Credentia CNA365 account on their website. After signing up or signing in to your new account, you may start a new application, select the applicable eligibility route for you, and enter the required information and submit any supporting documents that may be asked from you. You will receive an email confirming whether your application is approved after which you can register for the exam.
Once registered, you can select your preferred schedule for both the written or oral exam and the skills demonstration exam. You may also choose how you want to take the written or oral exam, whether it will be conducted online remotely or on-site in a testing center near you. If you plan to take an exam online, you may schedule an exam until the day before your preferred schedule depending on exam availability.
If you decide to take the exam at a testing center, make sure to register at least 10 calendar days before your desired schedule to ensure ample time. Finally, you will be asked to pay for the exam through their online platform using a credit card or a pre-paid credit card.
Consult your state's Candidate Handbook so you are reading the appropriate information for your chosen state. Exam fees also vary per state, but in general, be prepared to spend around $100 for exam fees.
Check Out Mometrix's CNA Printed Study Guide
Get practice questions, video tutorials, and detailed study lessons
Get Your Study Guide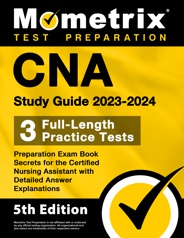 Test Day
For both online and on-site exams, you are required to bring at least two current, unexpired, and valid government-issued IDs with your photo and signature (one of them should be your Social Security card). Other items that you may bring include two No. 2 pencils, an eraser, a watch with a second hand, and other supporting documentation that may be asked from you.
Taking the Exam Online
If you plan to take the online exam, you will be asked to prepare your computer or laptop accordingly by performing a system test so that everything works smoothly on the day of the exam.
You will also need a mobile device that can download Credentia's free mobile app to complete a 360-degree scan of your planned testing room on the day. Your testing room should be private with a news workspace and no one else should be in the room with you during the exam.
Read the onboarding procedure beforehand so you don't run into problems on the day.
CNA Exam Scores
Your official Score Report will indicate whether you have passed or failed the exam. For your results in the skills demonstration exam, the Score Report will indicate a score of Satisfactory or Unsatisfactory for each skill. Any skill with an Unsatisfactory rating is considered a failed skill. You must have a Satisfactory rating on all five skill demonstrations to pass this portion of the exam.
Receiving Your Scores
Your exam results will be available a few hours after you finish the exam. You will be notified via email once the results are available in your CNA365 account. For some states, your exam results will be mailed to you physically which you should receive within five to seven business days.
If you have passed both exams, your name will be registered in the state's nurse aide registry a few weeks to a few months after you pass. On the hand, if you failed the exam, you can submit a written grievance or complaint through the state's appropriate channels, or you may opt to retake the exam after a period of time.
Online CNA Prep Course
If you want to be fully prepared, Mometrix offers an online Certified Nursing Assistant Prep Course. The course is designed to provide you with any and every resource you might want while studying. The CNA Course includes:
Review Lessons Covering Every Topic
400+ CNA Practice Questions
More than 300 Electronic Flashcards
Money-back Guarantee
Free Mobile Access
and More!
The CNA Prep Course is designed to help any learner get everything they need to prepare for the CNA exam. Click below to check it out!
Check Out Mometrix's CNA Flashcards
Get complex subjects broken down into easily understandable concepts
Get Your Flashcards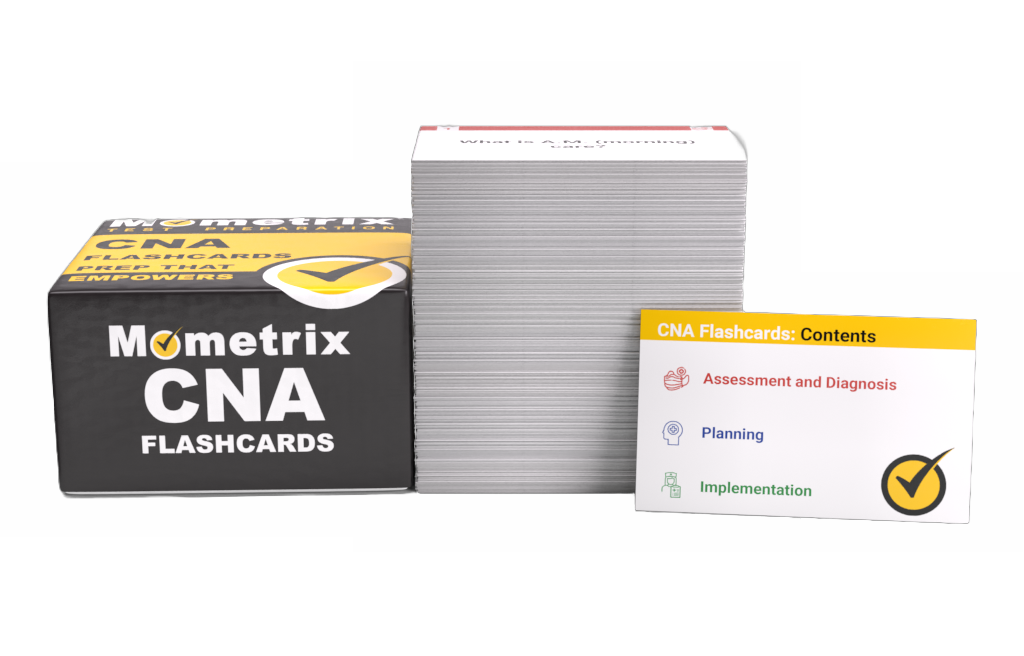 How to Study for the CNA Exam
How to Study Effectively
Your success on CNA test day depends not only on how many hours you put into preparing but also on whether you prepared the right way. It's good to check along the way to see whether your studying is paying off. One of the most effective ways to do this is by taking CNA practice tests to evaluate your progress. Practice tests are useful because they show exactly where you need to improve. Every time you take a free CNA exam practice test, pay special attention to these three groups of questions:
The questions you got wrong
The ones you had to guess on, even if you guessed right
The ones you found difficult or slow to work through
This will show you exactly what your weak areas are and where you need to devote more study time. Ask yourself why each of these questions gave you trouble. Was it because you didn't understand the material? Was it because you didn't remember the vocabulary? Do you need more repetitions on this type of question to build speed and confidence? Dig into those questions and figure out how you can strengthen your weak areas as you go back to review the material.
Answer Explanations
Additionally, many CNA practice tests have a section explaining the answer choices. It can be tempting to read the explanation and think that you now have a good understanding of the concept. However, an explanation likely only covers part of the question's broader context. Even if the explanation makes sense, go back and investigate every concept related to the question until you're positive you have a thorough understanding.
Comprehend Each Topic
As you go along, keep in mind that the CNA practice test is just that: practice. Memorizing these questions and answers will not be very helpful on the actual test because it is unlikely to have any of the same exact questions. If you only know the right answers to the sample questions, you won't be prepared for the real thing. Study the concepts until you understand them fully, and then you'll be able to answer any question that shows up on the test.
Strategy for CNA Practice
When you're ready to start taking practice tests, follow this strategy:
Remove Limitations. Take the first test with no time constraints and with your notes and CNA study guide handy. Take your time and focus on applying the strategies you've learned.
Time Yourself. Take the second practice test "open book" as well, but set a timer and practice pacing yourself to finish in time.
Simulate Test Day. Take any other practice tests as if it were test day. Set a timer and put away your study materials. Sit at a table or desk in a quiet room, imagine yourself at the testing center, and answer questions as quickly and accurately as possible.
Keep Practicing. Keep taking practice tests on a regular basis until you run out of practice tests or it's time for the actual test. Your mind will be ready for the schedule and stress of test day, and you'll be able to focus on recalling the material you've learned.
Upgrade your studying with our CNA study guide, flashcards, and online course:
FAQs
What is the CNA exam?
The CNA exam is a certification for those who wish to become a certified nursing assistant. The CNA exam will consist of a written/oral portion and a clinical skills test.
What is the cost of the exam?
The cost of the CNA Exam depends on the state in which it is taken. On average, it is $100.
What are the testing dates and locations?
CNA testing is typically done throughout the year and can be done at various sites. It is best to consult with your training instructor to find the testing sites available in your area.
How do I get my CNA certification?
You will first need to enroll in a training program that is approved by your state. After completing the state-approved program, you will then be ready to take the exam for your CNA certification.
How long does it take to become a certified nursing assistant?
Depending on where you live and which training program you will be taking, you can expect to complete the CNA program between 6 and 12 weeks.
How much does a CNA make an hour?
As of 2022, the median hourly range for a CNA is $14.82 per hour.
What is a CNA certification?
A CNA Certification exam is the second step in becoming a certified CNA. It is a two-part, multiple-choice test that generally takes 2 hours to complete.
How long is CNA license good for?
A CNA license is valid for 24 months. Some states require that you have worked for at least 8 hours during this 24 month time. If you did not work at least 8 hours during this time, you will be required to take a competency evaluation test if your state requires it.
How much does it cost to take a CNA test?
The cost to take the CNA test will vary between states. Most states charge $80 to $100 for both sections of the CNA exam.
How long do I have to wait to take my state test for CNA?
Some states allow you to have 12 months after completing your training to get your CNA certification.
What score do you have to get to pass the CNA test?
Each state has their own passing score regarding the CNA test. Some states require you to achieve 70%-75% while others may require you to achieve 80%.
How much is a CNA salary?
The average annual salary for a CNA is between $20,075-$34,126.
What are the duties of a CNA?
There are a variety of duties that a CNA will have. The main role of a CNA is to provide basic care to patients, but a CNA might also work with billing software.
What can you do as a CNA in a hospital?
A CNA that works in a hospital can expect to aid the nursing staff in every aspect regarding patient care. CNAs may be required to monitor blood pressure and vital signs, help move and clean patients, as well as respond to calls.
How many hours do you work as a CNA?
Depending on your facility, anywhere from 32-40 hours per week is considered full time.
What happens if I don't pass the exam?
The majority of states allow you to take the exam three times within two years of finishing your training program. It is only necessary to retake the section you failed. For example, if on your first try you passed the written exam but failed clinical skills, you only need to retake the clinical skills portion.