Civil Service Exam Practice Test
If you want to work in a civil service job, chances are you'll be asked to take a Civil Service Exam. A Civil Service exam is used by certain job classifications to test a candidate's skills for specific positions.
The test is utilized at every level of government—local, state, federal—so the exam structure will differ from jurisdiction to jurisdiction. It's an important test that requires preparation and an excellent study tool to help candidates prepare.
Here's a free Civil Service practice test for you to try!
About the Civil Service Exam
Civil service, a term dating back to the 19th century, refers to professional jobs that are required to properly run and maintain a government's policies and programs.
The US federal civil service system began in 1871, and workers were hired based on a merit-based system. As the civil service system grew and was modified, the Civil Service exam became a mandatory assessment for every person applying for a civil service position, particularly if the position was directly government-related.
In 1978, it was decided that specific exams should be created and administered for each civil service job, which is how the system operates today.
What's on the Civil Service Exam?
That will vary, depending on the position you apply for. Air traffic controllers, for example, have stiff education and training requirements in addition to the test. Here are some other examples:
The United States Post Office exam focuses, in part, on address-related issues, such as whether a candidate can determine if two addresses are identical. Candidates are tested on address checking, forms completion, coding, memory, and inventory of personal experience and characteristics.
Clerical exams focus on grammar, vocabulary, spelling, word relationships, and reading. You'll likely see problem-solving questions that include addition, subtraction, multiplication, and division. You may be presented with a group of words and asked which one is spelled correctly. You'll also likely find questions that will ask you to identify sentences that contain proper grammar.
In short, each test measures an applicant's strengths based on the job they're applying for.
Check Out Mometrix's Civil Service Printed Study Guide
Get practice questions, video tutorials, and detailed study lessons
Get Your Study Guide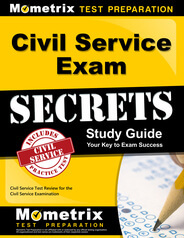 Study for the Civil Service Exam the Right Way
How to Study Effectively
Your success on test day depends not only on how many hours you put into preparing but also on whether you prepared the right way. It's good to check along the way to see whether your studying is paying off. There are numerous Civil Service practice methods to choose from, but one of the most effective is taking Civil Service practice tests like the one above to evaluate your progress.
Practice tests are useful because they show exactly where you need to improve. Every time you take a Civil Service practice test, pay special attention to these three groups of questions:
The Civil Service questions you got wrong
The ones you had to guess on, even if you guessed right
The ones you found difficult or slow to work through
This will show you exactly what your weak areas are, and where you need to devote more study time.
Ask yourself why each of these questions gave you trouble. Was it because you didn't understand the material? Was it because you didn't remember the vocabulary? Do you need more repetitions on this type of question to build speed and confidence?
Dig into those questions and figure out how you can strengthen your weak areas as you go back to review the material.
Answer Explanations
Many Civil Service practice tests have a section explaining the answer choices. It can be tempting to read the explanation and think that you now have a good understanding of the concept. However, an explanation likely only covers part of the question's broader context. Even if the explanation makes sense, go back and investigate every concept related to the question until you're positive you have a thorough understanding.
Comprehend Each Topic
As you go along, keep in mind that the Civil Service practice test is simply practice. Memorizing these questions and answers will not be very helpful on the actual test because it is unlikely to have any of the same questions.
If you only know the right answers to the sample questions, you won't be prepared for the real thing. Study the concepts until you understand them fully, and then you'll be able to answer any question that shows up on the test.
Strategy for Civil Service Practice
When you're ready to start taking practice tests, follow this strategy:
Remove Limitations. Take the first test with no time constraints and with your notes and Civil Service study guide handy. Take your time and focus on applying the strategies you've learned.
Time Yourself. Take the second practice test "open book" as well, but set a timer and practice pacing yourself to finish in time.
Simulate Test Day. Take any other practice tests as if it were test day. Set a timer and put away your study materials. Sit at a table or desk in a quiet room, imagine yourself at the testing center, and answer questions as quickly and accurately as possible.
Keep Practicing. Keep taking practice tests on a regular basis until you run out of practice tests or it's time for the actual test. Your mind will be ready for the schedule and stress of test day, and you'll be able to focus on recalling the material you've learned.
FAQs
What are the civil services?
Civil service employees work for a government department or agency in the public sector. Civil service does not include the military, judicial branches, or elected officials.
What jobs are likely to require a civil service exam?
Here are some examples of civil service jobs:
Air Traffic Control Agent
ATF Agent
Customs and Border Patrol
FBI Intelligence Analyst
Police Officer
Transportation Security Administration (TSA) Worker
USPS Worker
911 Dispatcher
Does a town comptroller require a Civil Service exam?
If you are pursuing a job as a town comptroller, you will generally need to take a Civil Service exam. Check with your local government officials to procure more details.
How long do civil service tests take?
It depends on the test, but you can expect the exam to last at least 2-3 hours.
When can I take a civil service test?
Some exams are available on a continual basis, while others have specific test dates.
Where will I take a civil service test?
Some jurisdictions will allow candidates to take the test online. Others require candidates to take the test in person.
If I do well on the test, does that guarantee I'll get the job?
No. The test can be just one part of the application process. Some jobs may also have training, experience, educational or other requirements. Firefighters, for example, may have to meet minimum requirements for the amount of weight they can lift. Police officers may have to meet certain minimum physical fitness requirements. It's always best to check with your local jurisdiction for the specifics.
What are the passing scores?
That varies as well. Candidates who take the clerical Civil Service exam, for example, must score at least 33 on the verbal abilities test portion, and a combined minimum score on the clerical and verbal portions of 80.
Is there a fee to take the Civil Service Exam?
Yes, and that fee is set by each jurisdiction. Fees could include a test fee and/or a filing fee.
I'm a veteran. What programs are available to me?
Veterans can receive preference points and may be eligible for the Veteran's Recruitment Appointment Rule. Veterans who meet certain criteria can have an additional five or 10 points added to their final Civil Service Exam passing score. Under the Veteran's Recruitment Appointment Rule, veterans can be appointed to white collar posts without competing with other applicants.
What's the best study tool I can get?
There's a lot of information for anyone who wants to be a civil servant to consider. That's why Mometrix has created study tools to help you prepare for this important exam. Remember, this is your career we're taking about, and you need the best. Our Civil Service Exam study guide walks you through the questions you'll likely see on the exam, and offers test taking tips. The best way not to get overwhelmed is to get these study materials.
Civil Service Study Guide Customer Success Stories
Our customers love the tutorial videos from Mometrix Academy that we have incorporated into our Civil Service test study guide. The Civil Service study guide reviews below are examples of customer experiences.
Easy to read. Organized. Great tips and practice exams.
Civil Service Study Guide – Yolanda
Civil Service Exam Secrets is nothing short of amazing, informative, and easy to follow. It has prepared me for my exam and I keep getting better and better at the practice exams. It has enabled me to feel confident in going in to take my exam. I feel ready and prepared and most of all, I know what to expect. Thank you so much for putting out this wonderful product that is definitely worth the money spent, and then some.
Civil Service Study Guide – Jeremy
Love this guide book! I cannot believe how much it has changed my way of attacking the Civil Service test! This has lessened my anxiety and I feel more confident in taking the tests. The best study sections for me was the Analogies and the Mathematics. What a great refresher and techniques!
Civil Service Study Guide – Cathy
People told me it's a hard test to take, so with some research, I came across " civil service exam, secrets study guide". This book has truly been a blessing in disguise. If your test score don't improve after studying this book, I don't know what will.
Civil Service Study Guide – Kobie
This is a very useful and very informative guide. Very helpful tips I can't wait to take my civil service exam in a few weeks. I think this guide along with its tips has prepared me for the exam... this is an awesome book very well put together and full of useful tips. I highly recommend this if you are having trouble with passing the civil service exam.
Civil Service Study Guide – Jesse
This has helped so much!! I had no idea how to study before. This is clear and saving time !! I hate math and it gives simple explanations. I recommend it to everyone that has to take this exam!!
Civil Service Study Guide – Kelly
The practice tests were very helpful. As I read through the material there were many things that I had forgotten like the difference between a synonym and an antonym. To have to ponder those kinds of things in the midst of testing can be time consuming; very helpful.
Civil Service Study Guide – Stephanie
The practice exams and detailed explanations were helpful. I improved my score for the supervisor test. My score allowed me to be referred to interview for the open supervisor position. Thankfully, I ended up getting the promotion I was seeking.
Civil Service Study Guide – Customer