CBEST Practice Test
The California Basic Educational Skills Test (CBEST) is a specialized exam that is taken as part of the path toward gaining teaching credentials in California.
Click "Start Test" below to take a free CBEST practice test!
CBEST Practice Tests by Subject
If you need some extra practice in a specific subject, click one of the subjects below to get started on a subject-specific CBEST practice test.
CBEST Exam Outline
The CBEST is a computer-based test that contains 102 questions in total and is split into three sections: Reading, Mathematics, and Writing.
Reading
The Reading section contains 50 multiple-choice questions and is timed at 1.5 hours. These questions are meant to gauge your ability to comprehend written material, tables, and graphs.
There are two skill factors being assessed in this section:
Critical Analysis and Evaluation (40%)
Comprehension and Research (60%)
Mathematics
The Mathematics section contains 50 multiple-choice questions and is timed at 2 hours. These questions are meant to gauge your ability to solve mathematical problems, most of which are word problems.
This section is broken down into three skill factors:
Estimation, Measurement, and Statistical Principles (30%)
Computation and Problem-solving (35%)
Numerical and Graphic Relationships (35%)
Using a calculator for these questions is not allowed.
Writing
The Writing section contains two essay questions and is timed at 1.5 hours. These questions are meant to gauge your ability to write effectively.
For the first writing prompt, you will need to analyze a given situation or statement. For the second prompt, you will need to write about a specific personal experience.
Check Out Mometrix's CBEST Study Guide
Get practice questions, video tutorials, and detailed study lessons
Get Your Study Guide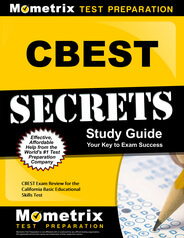 CBEST Exam Registration
To register for the exam, you first need to create a Pearson VUE account online. Through your account, you can select which test and subtest(s) you wish to take and which testing method you prefer (in-person or remote). Note that each section of the CBEST is administered in a separate testing session, so you must register for each section separately.
After filling out your information and agreeing to the testing rules, you will need to submit the $30 exam feeFor eligible California residents, registration fees for educator exams are being waived, effective July 1, 2022, through June 30, 2023. for each section of the CBEST you plan on taking.
Remote Testing Requirements
Before you indicate that you would like to take the exam remotely, you should first ensure that you have all of the necessary technical requirements. A system check is available on the Pearson VUE website.
You must have a desktop or laptop computer (tablets and touchscreen devices are not allowed), and you can only use one monitor. You must also have a working webcam and microphone, and you will need to download the OnVUE application.
Test Day
In-person Testing
You should arrive at the testing center 15-30 minutes prior to your scheduled exam time. If you arrive late, you will not be permitted to take the exam.
Once you arrive, you will be asked to present two forms of valid ID, one of which must contain your photo. You will also be asked to provide a digital signature, and your face and/or palm may be digitally scanned for security and identification purposes.
Before the exam begins, you will be asked to leave all personal items (pencils, bags, cell phone, food, etc.) in a locker outside the testing room.
Once you enter the testing room, you will be given a nondisclosure agreement (NDA) to read and sign. Once you sign the NDA, the exam will begin.
You are allowed to take restroom breaks at any time, but the timer will not be stopped during these breaks.
Remote Testing
You should log in to your account 15-30 minutes before the scheduled exam time. Once you are logged in, you will be asked to provide two forms of valid ID, one of which must contain your photo. You will also be asked to scan the room with your webcam and remove all personal items from your table or desk.
Before the exam begins, you will be given a nondisclosure agreement (NDA) to read and sign. Once you have signed the NDA, the exam will begin.
You must ensure that no one enters your room during the test. If someone does enter your room, you must ask them to leave immediately.
How the CBEST Exam is Scored
Each section of the CBEST is scored on a scale ranging from 20 to 80. A passing score for each section is 41, which means a combined score of 123 is necessary to pass the CBEST as a whole. If you score anything below a 37 on any section of the exam, it is not possible for you to pass the exam, regardless of how high your other section scores are.
You can expect to receive the results of your exam no earlier than four weeks nor any later than six weeks after you completed the CBEST. You will also be able to find the unofficial version of your score on the official exam website.
Your score is divided up by the sections you took, and will include a guide to your strengths and weaknesses alongside each exam segment.
Retaking the CBEST Exam
If you did not pass the exam, you have the option to retake the CBEST as many times as you need. However, you cannot sign up for a retest right away. You must wait for at least 45 days after you receive your scores to register to test again. Preferably, you can use this window of time to brush up on the subjects you gave the weakest performance in so that you can gain a higher grade on your retest, pass the exam, and continue with your teaching certification process.
CBEST Prep Course
If you want to be fully prepared, Mometrix offers an online CBEST Prep Course. The course is designed to provide you with any and every resource you might want while studying. The CBEST Course includes:
66 Review Lessons Covering Every Topic
700+ CBEST Practice Questions
190+ Video Tutorials
More than 550 Electronic Flashcards
Money-back Guarantee
Free Mobile Access
and More!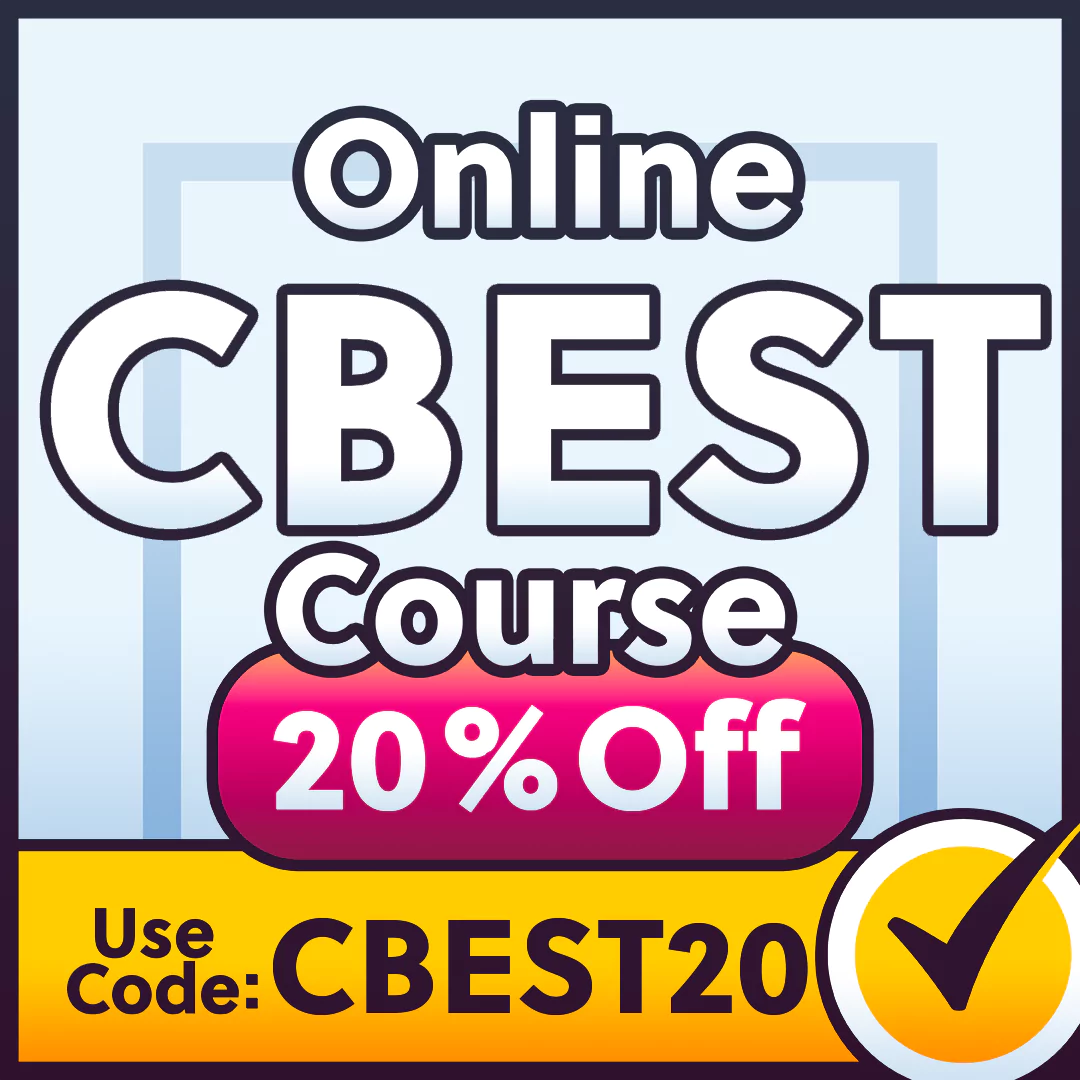 The CBEST Course is designed to help any learner get everything they need to prepare for their CBEST exam. Click below to check it out!
Check Out Mometrix's CBEST Flashcards
Get complex subjects broken down into easily understandable concepts
Get Your Flashcards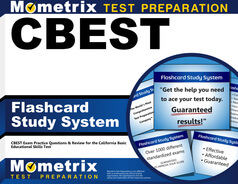 How to Study for the CBEST Exam
How to Study Effectively
Your success on CBEST test day depends not only on how many hours you put into preparing but also on whether you prepared the right way. It's good to check along the way to see whether your studying is paying off. One of the most effective ways to do this is by taking CBEST practice tests to evaluate your progress. Practice tests are useful because they show exactly where you need to improve. Every time you take a free CBEST exam practice test, pay special attention to these three groups of questions:
The questions you got wrong
The ones you had to guess on, even if you guessed right
The ones you found difficult or slow to work through
This will show you exactly what your weak areas are and where you need to devote more study time. Ask yourself why each of these questions gave you trouble. Was it because you didn't understand the material? Was it because you didn't remember the vocabulary? Do you need more repetitions on this type of question to build speed and confidence? Dig into those questions and figure out how you can strengthen your weak areas as you go back to review the material.
Answer Explanations
Additionally, many CBEST practice tests have a section explaining the answer choices. It can be tempting to read the explanation and think that you now have a good understanding of the concept. However, an explanation likely only covers part of the question's broader context. Even if the explanation makes sense, go back and investigate every concept related to the question until you're positive you have a thorough understanding.
Comprehend Each Topic
As you go along, keep in mind that the CBEST practice test is just that: practice. Memorizing these questions and answers will not be very helpful on the actual test because it is unlikely to have any of the same exact questions. If you only know the right answers to the sample questions, you won't be prepared for the real thing. Study the concepts until you understand them fully, and then you'll be able to answer any question that shows up on the test.
Strategy for CBEST Practice
When you're ready to start taking practice tests, follow this strategy:
Remove Limitations. Take the first test with no time constraints and with your notes and CBEST study guide handy. Take your time and focus on applying the strategies you've learned.
Time Yourself. Take the second practice test "open book" as well, but set a timer and practice pacing yourself to finish in time.
Simulate Test Day. Take any other practice tests as if it were test day. Set a timer and put away your study materials. Sit at a table or desk in a quiet room, imagine yourself at the testing center, and answer questions as quickly and accurately as possible.
Keep Practicing. Keep taking practice tests on a regular basis until you run out of practice tests or it's time for the actual test. Your mind will be ready for the schedule and stress of test day, and you'll be able to focus on recalling the material you've learned.
FAQs
What is the CBEST?
The California Basic Educational Skills Test (CBEST) is an exam designed to assess the reading, math, and writing knowledge of prospective teachers in the state of California.
How many questions are on the CBEST?
There are 102 questions on the exam.
How long is the CBEST?
Each section of the CBEST is taken separately. The Reading and Writing sections each take 1.5 hours, while the Mathematics section takes 2 hours.
Can you use a calculator on the CBEST?
No, you are not allowed to use a calculator on the Mathematics section of the CBEST.
Is the CBEST still required in California for substitute teachers?
As of 2021, the CBEST is no longer a strict requirement to become a teacher in the state of California. The TK-12 Education Trailer Bill (AB 130) allows teacher candidates to prove they are proficient by earning at least a B in reading, writing, and mathematics coursework in college..
What is the passing score for the CBEST?
To pass the exam, you must achieve a scaled score of 41 on each section, resulting in a minimum passing score of 123 on the whole exam.
How much does the CBEST exam cost?
The examination fee is $30 for each section of the exam, but eligible California residents will have their exam fees waived.
CBEST Study Guide Customer Success Stories
Our customers love the tutorial videos from Mometrix Academy that we have incorporated into our CBEST study guide. The CBEST study guide reviews below are examples of customer experiences.
Well, my neighbor who is a teacher too she recommended me to buy a CBEST guide, so when I was looking for it in my Amazon prime account this product was the right choice. This study guide is really clear and organized. I feel better now to know I have this guide with me. I'm really bad in mathematics and I loved the way you explain the Mathematics Test. There's no doubt, this guide (product) is going to help me a lot. Great price, amazing content, this is a real CBEST guide!
CBEST Study Guide – Yesenia
Very detailed instructions and plenty of directions too. Looking forward to passing the CBEST.
CBEST Study Guide – Sheila
The layout seems easy enough to follow. I have to study up on the math and that portion has been very explanatory on the concepts that are needed.
CBEST Study Guide – Craig
The book was helpful. The explanations help me understand and master the concept esp of the difficult questions.
CBEST Study Guide – April
I was really impressed with the structure of secrets study guide. It was the first book on CBEST That did not intimidate me.
CBEST Study Guide – Barbara
Thanks to this guide, I passed the CBEST. The manual addressed my weaknesses in Reading and also significantly improved my confidence and in result my score on the Mathematics and Writing section. JUST EVERYTHING! I can't believe it. What would I have done without this, seriously?
CBEST Study Guide – Kim
My impressions of the book is that is very methodical and logical approach to studying for the CBEST. I like how it is split into sections and the reading is very easy to understand. This was a great brush up on many subjects.
CBEST Study Guide – Sabrina
I am studying for the CBEST test and this course is amazing. I would rate a 4.8 for sure. I like the test format and being able to check the explanations of answers for help.
CBEST Study Guide – David