Connecticut Foundations of Reading Practice Test
The Connecticut Foundations of Reading test is part of a set of examinations that you will need to pass before becoming certified to teach in the state of Connecticut. This test measures your understanding of the principles and practices of helping students develop their reading skills and comprehension.

Is the Connecticut Foundations of Reading Test Timed?
Yes, this test has a time limit of four hours. However, the individual sections are not limited. That means you can divvy up those four hours across the content areas in whatever way suits you best. With that said, make sure you pay attention to the time as you are taking the exam because once the four hours are up, you will be automatically closed out of the test, even if you haven't finished all the sections.
While you might be tempted to spend a lot of time carefully constructing your written responses, try not to spend much more than 30 minutes on each one. If 30 minutes has passed, and you still don't feel confident in your response, move on to the other sections of the test and come back to it at the end.
What Subjects Will I Be Tested On?
There are three multiple choice sections and one open response section, which will require preparation in order to record two written responses to two provided topics. Here is a quick overview of the material that will be covered in the multiple choice sections:
Foundations of Reading Development – 43-45 Questions

Phonological processing, phonemic awareness skills, and the difference between phonological and phonemic awareness.
Promoting awareness of the relationship between spoken and written language and the directionality of print.
Strategies for teaching phonics and the role of phonics in developing automatic word recognition.
Relationships between decoding, fluency, and reading comprehension
Strategies for developing word analysis skills
Development of Reading Comprehension – 33-35 Questions

Reading as a process to construct meaning
Reading comprehension and analysis skills for literature
Strategies for promoting comprehension of imaginative and literary texts.
Reading comprehension and analysis skills for informational texts
Strategies for promoting comprehension of informational and expository texts.
The relationship between oral and written vocabulary
Systematic, non-contextual vocabulary strategies
Reading Assessment and Instruction – 21-23 Questions

Use of data and ongoing reading assessments to adapt instruction methods to the students.
Standardized tests
Identifying reading difficulties and reading development
Significant theories, practices, approaches, and programs for developing reading skills and comprehension.
Planning, organizing, managing, and adapting reading instruction in a way that supports all students in developing reading skills.
In the open response section, the two prompts will each require you to synthesize knowledge and understanding from the three content areas described above. When scoring the two written responses, graders will be looking for the following qualities:
Clear organization of ideas
Logical development of analysis
Integration of concepts from multiple content areas
Check out Mometrix's Study Guide
Get practice questions, video tutorials, and detailed study lessons
Get Your Study Guide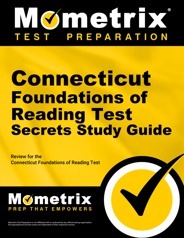 How Is the Test Scored?
The test is given a scaled score ranging from 100 to 300. You will need to achieve at least 240 in order to pass the exam. You don't need to worry too much about going above and beyond the minimum. There is not really any career advantage to getting a perfect or near perfect score.
Your score report will provide your total score, a statement indicating whether you met the passing score, and a section-by-section breakdown showing how you performed in each content area.
How Much Time Should I Spend Studying for the Connecticut Foundations of Reading Test?
The content on this exam are based on established standards of reading development and instruction strategies. You do not want to just wing it and hope you'll know the right answer. This is even truer for the written response questions. You won't be able to simply guess by picking a choice from a list.
With that in mind, it's worthwhile to spend two or three weeks reviewing the principles, practices, and standards that you will be tested on. In that time, you should also practice integrating those concepts into well-organized analyses.
You can do all of that with the Mometrix Study Guide and the Mometrix Flashcards. These study tools will help you every step of the way from your initial review of the material to your practice sessions. The guide includes well-crafted chapters that clearly explain all the concepts you need to know. Then, the flashcards distill those explanations into easy to use cards that will help you better absorb that information.
Finally, both the guide and the flashcards come with practice questions that you can use to strengthen your ability to apply what you have learned to exactly the kinds of questions you will encounter on test day.
Check out Mometrix's Flashcards
Get complex subjects broken down into easily understandable concepts
Get Your Flashcards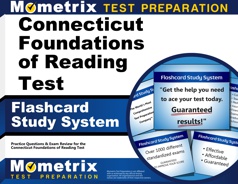 Online Connecticut Foundations of Reading Prep Course
If you want to be fully prepared, Mometrix offers an online Connecticut Foundations of Reading Prep Course. The course is designed to provide you with any and every resource you might want while studying. The Connecticut Foundations of Reading course includes:
Review Lessons Covering Every Topic
400+ CHPN Practice Questions
More than 300 Digital Flashcards
Money-back Guarantee
Free Mobile Access
The Connecticut Foundations of Reading Prep Course is designed to help any learner get everything they need to prepare for their exam. Click below to check it out!
Connecticut Foundations of Reading Study Guide
Mometrix Academy is a completely free Connecticut Foundations of Reading test resource provided by Mometrix Test Preparation. If you find benefit from our efforts here, check out our premium quality Connecticut Foundations of Reading Study Guide and Connecticut Foundations of Reading Flash Cards to take your studying to the next level. Just click the Connecticut Foundations of Reading study guide link below. Your purchase also helps us make even more great, free test content for test-takers.
Connecticut Foundations of Reading Study Guide
Connecticut Foundations of Reading Flashcards
Connecticut Foundations of Reading Online Course