WEST Special Education Practice Test
We know you're preparing to do your best on the Washington Educator Skills Tests-Endorsements® (WEST-ETM) Special Education (070) exam. With that in mind, we've put together this resource to give you more information about test registration, tips to keep in mind on the day of your test, content that will be covered during the test, and more.
Exam Purpose and Background?
The WEST-E Special Education (070) exam is in place to assess the educational competency for those who wish to teach in the special education field in the state of Washington. With that in mind, the test is in step with Washington's teacher endorsement competencies.
Registration?
You can register for the test online at www.west.nesinc.com.
Costs/Payment Options?
The fee to take the exam is $155 using either a VISA® or MasterCard® credit card, debit card or check card that carries either the VISA® or MasterCard® logos.
Times/Locations?
You can find your nearest test center and available testing time options at www.west.nesinc.com
When to Arrive?
It's very important that you plan to arrive for your assigned test time early. If you arrive more than 15 minutes late at your testing center, you may not be allowed to take the test. In this case, your exam fee will not be refunded, and you will also be required to register and pay a new exam fee to set up your next opportunity to test.
Test Duration?
You'll have two hours and 15 minutes to take the test.
What to Bring?
A form of Identification printed in English, showing your name, signature and photo (such as a passport, a driver's license, state/province ID, national ID or military ID), or an alien registration card, such as a green card or permanent resident visa.
Check Out Mometrix's WEST Special Education Study Guide
Get practice questions, video tutorials, and detailed study lessons
Get Your Study Guide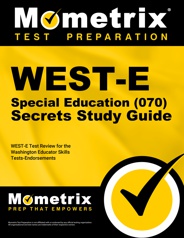 What Not to Bring?
Electronic devices, including cell phones and calculator (a calculator will be provided)
Personal items, including coats, bags, wallets and purses
Firearms or other weapons
Non-religious headwear
Writing instruments
Paper or books
Food/drink unless specifically required and approved in advance
What to Expect During the Exam?
Format/Number of Questions: This is a computer-based test consisting of about 110 multiple-choice questions.
What Content Domains are Covered?
Here are the content domains that will be included as part of the test, along with the estimated percentage each domain represents as part of the overall exam.
Category 1: Understanding Students with Disabilities (25%) — This section includes knowledge of human development and growth, including cognitive, communicative and linguistic domains, plus principles in sensory, motor and physical development, emotional and social areas and recognizing differences and similarities between those with and without disabilities. This section also looks at assessing the needs and characteristics of those who have disabilities, as well as command of knowledge around the learning and development needs of those with disabilities.
Category 2: Assessment and Program Development (25%) — In this section, the exam looks at assessment terminology, informal and formal assessment tools, appropriate administration of testing, and curriculum-based assessment. It also looks at childfind referrals, pre-referrals, screening and intervention responses, eligibility, student transitions, diversity impacts, student evaluation and progress and FBA procedures. In addition, this portion of the test reviews procedures for individualized program development and implementation.
Category 3: Promoting Development and Learning (25%) — Covers the creation and operation of environments that foster the way students learn and interact in keeping with established state guidelines. This section also looks at research-grounded methods for developing positive educational results for those with disabilities and ways for using research to enhance the independent living, communication and adaptive skills.
Category 4: Foundations and Professional Practice (25%) — This area of the test focuses on understanding legal, historic and philosophical aspects that come into play during the education of those with disabilities. In addition, this section reviews strategies for working with others to help those with disabilities reach optimal educational goals, as well as reviewing core roles and responsibilities of a teacher focused on a special education curriculum.
Required Score to Pass: Possible scores will range from 100 to 300 points, with a required passing score threshold of 240 points. Test results will be made available to you immediately upon conclusion of the testing period.
Check Out Mometrix's WEST Special Education Flashcards
Get complex subjects broken down into easily understandable concepts
Get Your Flashcards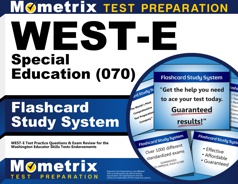 Additional Resources
While you prepare to take the exam, we want you to be aware of other valuable resources that are also available to you through Mometrix Academy. These fee-based resources include the WEST-E Special Education (070) exam Study Guide that includes exam preparation details and informative videos. Also, you can test your knowledge and enhance your recall with our set of flashcards.
WEST Special Education Study Guide
Mometrix Academy is a completely free resource provided by Mometrix Test Preparation. If you find benefit from our efforts here, check out our premium quality WEST Special Education study guide to take your studying to the next level. Just click the WEST Special Education study guide link below. Your purchase also helps us make even more great, free content for test-takers.
WEST Study Guide
WEST Flashcards