AEPA Early Childhood Education Test
The Arizona State Board of Education sets the rules for state teaching certification, which require prospective teachers to demonstrate mastery of subject material before becoming certified to teach in Arizona. The AEPA tests were designed with input from educators and were approved by review committees. Prospective educators who want to specialize in Early Childhood Education must pass the AEPA Early Childhood Education Examination. The AEPA Early Childhood Education Practice Test will help you to prepare for the AEPA exam.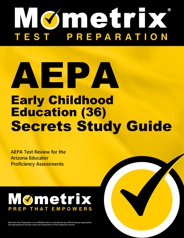 Mometrix has carefully prepared the AEPA Early Childhood Education Study Guide to help you prepare for each set of objectives on the AEPA Examination. You will need to register for the examination and prepare to take your test at an official testing center. The AEPA Early Childhood Education Examination consists of 100 selected-response questions. You will not be allowed to take notes or other materials into the testing center with you. You will have 2 ½ hours to take your test, which will be plenty of time if you study. A passing score of 240 will earn you your certification.
The test covers three main topics. About 24% of the examination covers Child Development and Learning. This section includes questions on human growth and development and how to use it to promote learning and development in all domains. It also includes understanding of factors that may affect children's development and learning and using this information to support children's progress. In addition, this topic includes demonstrating an understanding of how integrated curriculum design reflects the ways children construct knowledge.
The second topic is Communication, Language, and Literacy Development. About 38% of the questions cover this topic. It includes understanding communication and language development, understanding second-language acquisition and working with children with diverse linguistic backgrounds. It also includes questions on the development of concepts about print, and how to create a learning environment to promote emergent literacy, foundations of reading development, understanding writing processes, creating effective learning opportunities and promoting writing skills.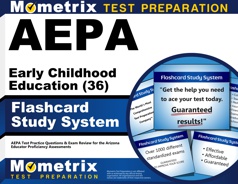 The third topic covers about 38% of the questions and tests you on Learning in the Content Areas. This section offers questions on mathematics concepts and skills, and facilitating learning in mathematics. It also covers understanding science, social studies, and visual and performing arts and how to facilitate learning in these domains.
AEPA Early Childhood Education Practice Test
Mometrix Academy is a completely free resource provided by Mometrix Test Preparation. If you find benefit from our efforts here, check out our premium quality AEPA Early Childhood Education study guide to take your studying to the next level. Just click the AEPA Early Childhood Education study guide link below. Your purchase also helps us make even more great, free content for test-takers.