CTEL Practice Test
The California Teachers of English Learners (CTEL) exam is administered by the state of California. Its purpose is to evaluate the capabilities and knowledge of potential English Second Language teachers to ensure they are adequately prepared to meet their students' educational needs.
Click "Start Test" below to take a free CTEL practice test!
CTEL Exam Outline
The CTEL exam is split into three subtests, each containing a set of multiple-choice questions and at least one essay. The subtests can be administered either separately or together, with a combined time limit of 6 hours.
CTEL 1: Language and Language Development
This subtest contains 50 multiple-choice questions and one essay, and you will be given a time limit of 1 hour and 45 minutes.
The questions are grouped into two domains, and each domain is split into a set of competencies
Domain 1: Language and Structure

Phonology and morphology
Syntax and semantics
Language functions and variation
Discourse
Pragmatics
Domain 2: Additive-Language Development

Theories, processes and stages of language acquisition
Theories, models, and processes of second-language acquisition
Cognitive, linguistic, and physical factors affecting language development
Affective factors affecting language development
Sociocultural and political factors affecting language development
CTEL 2: Assessment and Instruction
This subtest contains 60 multiple-choice questions and two essays, and you will be given a time limit of 2 hours and 45 minutes.
The questions are grouped into three domains, and each domain is split into a set of competencies
Domain 1: Assessment of English Learners

Principles of standards-based assessment and instruction
Roles, purposes, and types of assessment
Language and content-area assessment
Domain 2: Foundations of English Language/Literacy Development and Content Instruction

Foundations of programs for English learners
Foundations of English language literacy
Instructional planning and organization for ELD and SDAIEM
Components of effective instructional delivery in ELD and SDAIE
Effective recourse use in ELD and SDAIE
Domain 3: Approaches and methods for ELD and Content Instruction

ELD: Approaches and methods
ELD: Listening and speaking
ELD: Reading and writing
SDAIE
CTEL 3: Culture and Inclusion
This subtest contains 40 multiple-choice questions and one essay, and you will be given a time limit of 1 hour and 30 minutes.
The questions are grouped into two domains, and each domain is split into a set of competencies
Domain 1: Culture and Cultural Diversity and Their Relationship to Academic Achievement

Cultural concepts and perspectives
Cultural contact
Cultural diversity in California and the United States
Crosscultural interaction
Domain 2: Culturally Inclusive Instruction

The role of culture in the classroom and school
Culturally inclusive learning environment
Family and community involvement
Culturally inclusive curriculum and instruction
Check Out Mometrix's CTEL Study Guide
Get practice questions, video tutorials, and detailed study lessons
Get Your Study Guide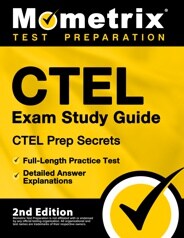 CTEL Exam Registration
To register for the CTEL exam, you must first create an online NES account. Once you have created your account, you can register for the exam and schedule an exam date.
If you schedule to take all sections of the exam at the same time, you will need to pay an examination fee of $260. If you schedule to take only some of the sections of the exam, you must pay a slightly different fee for each subtest.
| Subtest | Fee |
| --- | --- |
| CTEL 1 | $98 |
| CTEL 2 | $147 |
| CTEL 3 | $99 |
| All subtests in one session | $260 |
Test Day
In-person Testing
On the day of the exam, you should arrive at the testing center 30 minutes earlier than the scheduled appointment to allow time for the check-in process. When you arrive, you will be asked to sign in and present a valid form of photo ID to the proctor. If you fail to bring your ID, you will not be able to take the exam.
Personal items are not allowed in the testing room, so they must be stored in a secure locker outside the testing area. This includes your phone, wallet, keys, and accessories.
Just before the exam starts, you will be given a brief tutorial on the testing system. You will also be given everything you need to work out any calculations by hand (no calculator will be provided).
Remote Testing
You should log into your testing account 15-30 minutes prior to the scheduled exam time. The proctor will ask you to show a valid form of government-issued photo ID, and they will ask you to scan your surroundings using your webcam.
Once your exam begins, you cannot leave the webcam view, take breaks, or talk to yourself. Your focus must be on the exam, and other people must be out of your testing space while you take the exam.
How the CTEL Exam is Scored
Your CTEL score is based on your raw score, which is the number of questions you answer correctly. Your raw score is then converted to a scaled score on a range of 100 to 300, with 220 being the minimum passing score for each subtest.
You should receive an official score report about 5 weeks after testing.
Check Out Mometrix's CTEL Study Guide
Get complex subjects broken down into easily understandable concepts
Get Your Flashcards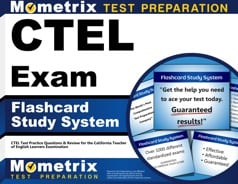 How to Pass the CTEL Exam
How to Study Effectively
Your success on CTEL test day depends not only on how many hours you put into preparing but also on whether you prepared the right way. It's good to check along the way to see whether your studying is paying off. One of the most effective ways to do this is by taking CTEL practice tests to evaluate your progress. Practice tests are useful because they show exactly where you need to improve. Every time you take a free CTEL exam practice test, pay special attention to these three groups of questions:
The questions you got wrong
The ones you had to guess on, even if you guessed right
The ones you found difficult or slow to work through
This will show you exactly what your weak areas are and where you need to devote more study time. Ask yourself why each of these questions gave you trouble. Was it because you didn't understand the material? Was it because you didn't remember the vocabulary? Do you need more repetitions on this type of question to build speed and confidence? Dig into those questions and figure out how you can strengthen your weak areas as you go back to review the material.
Answer Explanations
Additionally, many CTEL practice tests have a section explaining the answer choices. It can be tempting to read the explanation and think that you now have a good understanding of the concept. However, an explanation likely only covers part of the question's broader context. Even if the explanation makes sense, go back and investigate every concept related to the question until you're positive you have a thorough understanding.
Comprehend Each Topic
As you go along, keep in mind that the CTEL practice test is just that: practice. Memorizing these questions and answers will not be very helpful on the actual test because it is unlikely to have any of the same exact questions. If you only know the right answers to the sample questions, you won't be prepared for the real thing. Study the concepts until you understand them fully, and then you'll be able to answer any question that shows up on the test.
Strategy for CTEL Practice
When you're ready to start taking practice tests, follow this strategy:
Remove Limitations. Take the first test with no time constraints and with your notes and CTEL study guide handy. Take your time and focus on applying the strategies you've learned.
Time Yourself. Take the second practice test "open book" as well, but set a timer and practice pacing yourself to finish in time.
Simulate Test Day. Take any other practice tests as if it were test day. Set a timer and put away your study materials. Sit at a table or desk in a quiet room, imagine yourself at the testing center, and answer questions as quickly and accurately as possible.
Keep Practicing. Keep taking practice tests on a regular basis until you run out of practice tests or it's time for the actual test. Your mind will be ready for the schedule and stress of test day, and you'll be able to focus on recalling the material you've learned.
FAQs
How many questions are on the CTEL exam?
There are 150 multiple-choice questions and four essays on the exam.
How long is the CTEL exam?
The time limit is 6 hours if you take all three subtests in one session.
What is the passing score for the CTEL exam?
To pass the exam, you must achieve a scaled score of at least 220 per subtest.
How much does the CTEL exam cost?
The examination fee for taking all three subtests in one session is $260.