CTEL Practice Test
The CTEL (California Teachers of English Learners) exam is administered by the state of California. Its purpose is to evaluate the capabilities and knowledge of potential English Second Language teachers to ensure they are adequately prepared to meet their students' educational needs. The CTEL test is developed in cooperation with numerous educational professionals. Its structure is designed to emulate the curriculum ESL teachers are exposed to throughout their training, as well as the skills they will be expected to display within the classroom environment.
What Types of Questions Will Feature on the Exam?
The CTEL exam features two different question formats: constructed response and multiple choice. Questions qualifying as constructed response are comparable to essay questions. They are formatted in two "parts": a piece of information, and a question asking test takers to assess the information given (by evaluating, discussing, transforming, describing, etc.) Answers for these questions should be in long form, much like a typical five-paragraph essay.
Multiple choice questions ask test takers a specific question, then display four answer choices marked A, B, C, and D. Only one answer choice displayed underneath the question is considered to be the correct choice. Test takers may also be given additional information alongside the question, typically in the form of graphical data. Test takers may be expected to apply critical thinking to the questions given.
What Topics Are Addressed on the Exam?
The CTEL addresses three topics, which split into their own individual subtests. These topics are Culture and Inclusion, Assessment and Instruction, and Language and Language Development. Each of the CTEL exam's subtests focuses on different aspects of the average ESL teacher curriculum, and is structured accordingly:
Language and Language Development (CTEL 1)
The Language and Language Development subtest features 51 questions (one constructed response, and 50 multiple choice). Test takers will receive one hour, 45 minutes to finish this portion of the CTEL exam. Questions featured on the Language and Language Development subtest will center on how English Second Language students develop fluency, as well as the test taker's own knowledge of the grammar and structure of the English language.
Assessment and Instruction (CTEL 2)
The Assessment and Instruction subtest contains 62 questions (two constructed response, and 60 multiple choice). Test takers will be expected to complete this portion of the exam in two hours, 45 minutes. Questions under this subtest will assess the test taker's knowledge of how to foster development of English language acquisition; rudimentary information regarding how to teach English to ESL learners, how students develop literacy, and how the English language is structured; and how to gauge the progress of one's students.
Culture and Inclusion (CTEL 3)
The Culture and Inclusion subtest features 41 questions (one constructed response, 40 multiple choice). Test takers will be given one hour, 30 minutes to complete this subtest. Questions under this portion of the CTEL exam will center on the importance of and techniques for incorporating students' cultures into classroom curriculum; and how academic success and culture intertwine.
Check Out Mometrix's CTEL Study Guide
Get practice questions, video tutorials, and detailed study lessons
Get Your Study Guide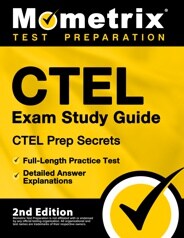 How is the CTEL Scored?
Generally, scores on each section of the CTEL will range between 100 and 300 points. In order to pass the exam, test takers must earn a minimum of 220 points on each CTEL subtest.
Each of the two types of questions featured on the CTEL exam are scored through different methods. The two varieties of test questions will also count differently toward one's overall score. Constructed response questions count toward 30 percent of the subtest, while multiple choice questions count toward the remaining 70 percent.
In terms of the multiple choice portion of each subtest, test takers will only receive points for each right answer. Zero points are taken away (or awarded) for wrong answers. The multiple choice portion of each subtest is also scored electronically, via a computer programmed to recognize incorrect and correct answer choices.
A team of graders is responsible for scoring the constructed response sections of the CTEL, with help from a rubric designed for the exam. The constructed response graders award a score to each answer based on how thoroughly the test taker has explained their answer and displayed their comprehension of the subject, as well as how pertinent the answer is to the question being asked.
How Do You Sign Up for the CTEL Exam?
Test takers may register for the CTEL exam online, via the test's official website. As there is only a finite amount of seating available at each testing site, seats for each testing date are typically granted to the first people to sign up.
Test takers must give their SSN on the day they sign up, as well as be prepared to pay the testing fee via credit or debit card. Test takers will get two emails after successfully signing up: one containing further directions on how to verify the time and date the test taker will be taking the exam, and one confirming the registration.
How Much Does It Cost to Take the CTEL?
Test takers may choose to either take the subtests individually, or to take the entire test at once. The cost to take an individual subtest varies. The prices for each individual subtest are as follows:
Culture and Inclusion: $99.00
Assessment and Instruction: $147.00
Language and Language Development: $98.00
Taking the full exam will cost a total of $260.00.
What Materials Are Needed for the CTEL Exam?
The CTEL exam is administered entirely via computer. Test takers are barred from bringing calculators, phones, tablets, or any other similar tools with them on the day of the test. All test takers will need to bring is some form of photo identification, such as a state ID or driver's license. The identification must be up to date.
Check Out Mometrix's CTEL Study Guide
Get complex subjects broken down into easily understandable concepts
Get Your Flashcards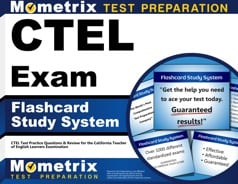 How Can You Prepare for the CTEL?
There are numerous study materials available for reference for those who wish to take the CTEL exam. Mometrix Test Preparation offers two individual study tools: a CTEL practice test and a CTEL study guide. The practice test can be used by those who wish to gauge their current level of ability with the test's content, while the study guide offers further direction and step-by-step examples for each type of question featured on the exam.
CTEL Study Guide
Mometrix Academy is a completely free resource provided by Mometrix Test Preparation. If you find benefit from our efforts here, check out our premium quality CTEL study guide to take your studying to the next level. Just click the CTEL study guide link below. Your purchase also helps us make even more great, free content for test-takers.
CTEL Study Guide
CTEL Flashcards