Virginia Communication and Literacy Assessment Exam
The Virginia Communication and Literacy Assessment (VCLA) is designed to measure the specific communication and literacy skills needed to effectively collaborate with parents, educators, and others in the education community. It is one of the examinations required for becoming certified to teach in the state of Virginia.
When Can I Take the VCLA?
You have quite a bit of flexibility with regard to taking the VCLA. It is available throughout the year at Pearson VUE testing centers across the United States. Moreover, you can choose between taking both tests together on the same appointment or scheduling separate appointments for each one. The price is a little higher if you schedule them separately but if you really feel you will perform better if you take them separately, it's worth paying a little more.
If you schedule both tests on the same day, you will pay a total of $130. This price includes $80 for the tests themselves and a $50 processing fee. If you schedule the tests separately, you will pay $90 per test (or $180 total for both tests). That includes $40 for the single subtest and the $50 processing fee.
Take advantage of this flexibility to make sure that you can give your best to the entire test by scheduling your appointment as far in advance as possible.
Check Out Mometrix's Virginia Communication and Literacy Assessment Study Guide
Get practice questions, video tutorials, and detailed study lessons
Get Your Study Guide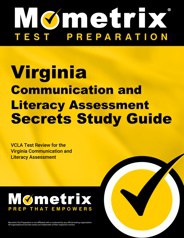 What Subjects and Skills Will I Be Tested On?
The VCLA is made up of two subtests. The first test measures your reading comprehension and analysis skills. The second test measures your writing knowledge and proficiency. Below is a brief outline of what you will be expected to know for each test:
Reading Comprehension and Analysis – 40 Multiple Choice Questions

The meaning of words and phrases
The main idea and supporting details in written material
The relationship among ideas in written material
Use critical reasoning skills to evaluate written material
Apply skills for summarizing, outlining, and visually representing written materials and for interpreting information presented in graphic form.
Writing Knowledge and Proficiency – 40 Multiple Choice Questions, 3 Short Answer Items, and 2 Writing Assignments

The influence of purpose and audience in written communication
Principles of unity, focus, organization, and development in writing
Principles of sentence and paragraph construction in writing
Apply correct usage in Standard English.
Apply knowledge of mechanical conventions in Standard English
Improve ineffective writing by analyzing and revising sentences containing problems related to grammar and usage, construction, and mechanics.
Produce a written summary of a given informational or persuasive passage.
Prepare a developed composition on a given topic using language consistent with given audience and purpose.
Your written responses will be judged according to the following criteria:
Clear and effective organization of ideas
Ideas and evidence are relevant to the topic
Use of effective supporting evidence, examples and logic
Effective paragraph and sentence structure
Strong command of mechanics, grammar, and usage based on the conventions of Standard English
Vocabulary use is consistent with the audience and purpose identified in the prompt.
What Is the Minimum Score Needed to Pass the VCLA?
Each subtest will be given a scaled score ranging from 100 to 300. In addition, you will be given a cumulative score which is the sum of your scores for each test. In order to pass the exam, you need to receive a cumulative score of 470 or better.
The passing standard for each subtest is 235. However, it is not necessary to receive a passing score for each subtest. As long as your cumulative score is 470 or higher, it doesn't matter if you scored below 235 on a specific subtest. You will receive your score report within about 10 days of completing the test.
How Should I Prepare for the Virginia Communication and Literacy Assessment?
Since the test is a measure of fundamental skills like reading and writing, you definitely need to spend time practicing and developing those skills. It's not so much about memorizing facts and information as honing your abilities and getting comfortable with the time constraints you'll be under on test day.
To help you with that, pick up the Mometrix Study Guide and Mometrix Flashcards. These are two of the best resources you can use to fine tune your test taking strategy. The guide will provide methods and strategies for improving your reading comprehension, vocabulary, and writing skills. It will also give you tips specific to the VCLA test to help you deal with tricky phrasing in questions and manage your time effectively.
The flashcards are a great way to review and reinforce your vocabulary skills. They will also provide some additional practice questions so that you can familiarize yourself with the kind of questions you'll see on the test.
Check Out Mometrix's Virginia Communication and Literacy Assessment Flashcards
Get complex subjects broken down into easily understandable concepts
Get Your Flashcards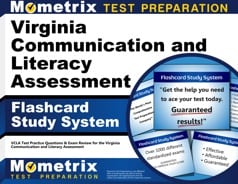 Online Reading for Virginia Educators ESE Prep Course
If you want to be fully prepared, Mometrix offers an online Reading for Virginia Educators ESE Prep Course. The course is designed to provide you with any and every resource you might want while studying. The Reading for Virginia Educators ESE Course includes:
Review Lessons Covering All the Topics
300+ Virginia Educators ESE Practice Questions
More than 250 Digital Flashcards
Over 30+ Instructional Videos
Money-back Guarantee
Free Mobile Access
and More!
The Virginia Educators ESE Prep Course is designed to help any learner get everything they need to prepare for their Virginia Educators ESE exam; click below to check it out.