OAE Foundations of Reading (090) Exam
The Ohio Assessment for Educators (OAE) Foundations of Reading Exam is required for all candidates seeking to become a licensed educator in the state of Ohio for grades between pre-K through 9th, including working as an intervention specialist.
When Is the OAE Foundations of Reading Exam Offered?
The test is offered continuously, Monday through Saturday by appointment at any Pearson VUE testing center. Appointments are given out on a first come, first serve basis, so you should schedule yours as soon as possible to make sure you get a date and time that works with your calendar and leaves you enough time to prepare for the test.
At the time of registration, you will need to pay an exam fee of $139. This covers the cost of the exam as well as the score report that is sent to the Ohio Department of Education.
What Should I Expect on the Day of the Exam?
You will have four hours in total to complete the four sections of the Foundations of Reading exam. The first three multiple choice sections will contain a total of 100 questions and the fourth, open response section will include two written assignments.
The test is computer administered, so you don't need to bring pencils or any other test-taking supplies with you. You also won't need a calculator. So, for your own convenience, don't bring any personal items into the testing center with you as you won't be allowed to bring them into the exam room anyway.
The only thing you might want to bring is a snack and a bottle of water. You won't be able to bring these into the exam room with you, but you can leave them in a storage locker provided at most testing locations.
Check Out Mometrix's OAE Foundations of Reading (090) Exam Study Guide
Get practice questions, video tutorials, and detailed study lessons
Get Your Study Guide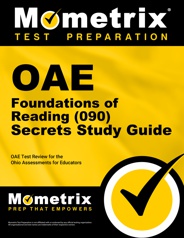 What Topics Will I See on the Test?
The test is made up of three multiple-choice sections and one open response section. The sections each focus on different elements of creating effective reading lessons and fostering various dimensions of reading comprehension skills in students:
Foundations of Reading Development (35%)

Phonological and phonemic awareness
Concepts of print and the alphabetic principle
The role of phonics in promoting reading development
Word analysis and skills strategies

Development of Reading Comprehension (27%)

Vocabulary development
How to apply reading comprehension skills and strategies to imaginative/literary texts
How to apply reading comprehension skills and strategies to informational/expository texts

Reading Assessment and Instruction (18%)

Formal and informal methods for assessing reading development
Multiple approaches to reading instruction

Integration of Knowledge and Understanding (20%)
The last section, integration of knowledge and understanding, is the open response section. In this section, you will be given two separate prompts to which you most provide one written response each. The prompt will relate to one or more of the elements tested in the three multiple choice sections, and you will need to prepare an organized and well-developed analysis of the topic specified.
When Will I Find Out if I Passed?
You will need a cumulative score of 220 in order to pass the Foundations of Reading exam. You will find out whether you passed the exam approximately two or three weeks after your appointment.
There are specific score report release dates based on the date of your appointment. During the registration process, you will be able to see the date on which your score report will be released.
Your scores will automatically be sent to the department of education in Ohio but if you need them to be sent anywhere else, such as your college or university, you will need to make a request at the time of registration.
How Should I Prepare for the OAE Foundations of Reading Exam?
Given the primary focus of this exam is on the methodologies and principles of fostering the fundamental reading skills all students need in order to succeed, the best way to study for this test is to review the curriculum and standards for reading instruction.
The Mometrix Study Guide will be your best friend during this process. It has already compiled all of these methods and principles in one place and, to make it even more helpful, provided clear, easy-to-follow explanations.
While you review the material in the guide, you should also spend some of your study time using Mometrix Flashcards. These flashcards will allow you to absorb the ideas and work with the information in a different way that helps stimulate memory and recall skills.
For further preparation, make sure you take advantage of the practice questions provided both with the study guide and the flashcards. These practice questions are specifically designed to mimic the questions you will see on the test.
Check Out Mometrix's OAE Foundations of Reading (090) Exam Flashcards
Get complex subjects broken down into easily understandable concepts
Get Your Flashcards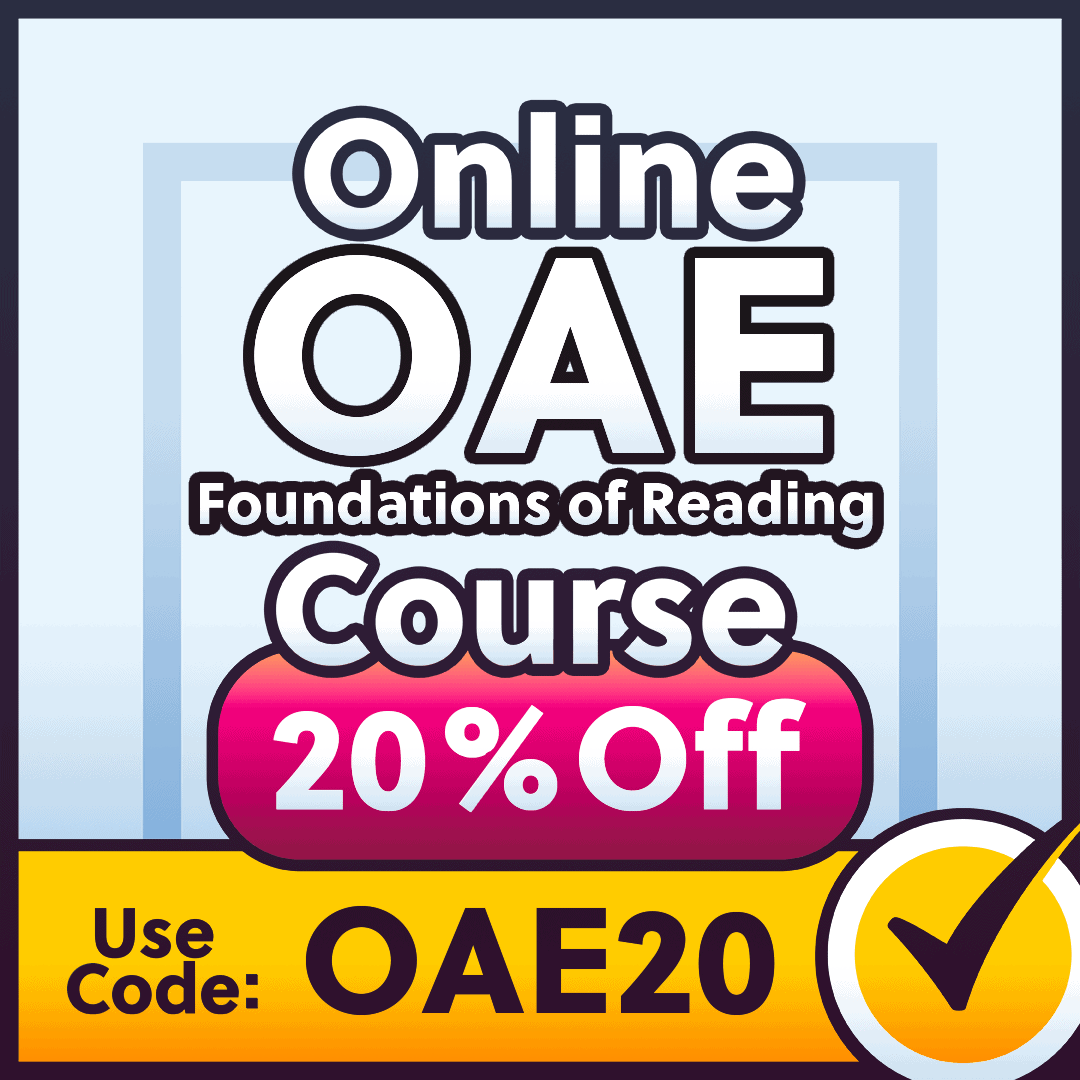 OAE Foundations of Reading Study Guide
Mometrix Academy is a completely free OAE Foundations of Reading review resource provided by Mometrix Test Preparation. If you find benefit from our efforts here, check out our premium quality OAE Foundations of Reading study guide to take your studying to the next level. Just click the OAE Foundations of Reading study guide link below. Your purchase also helps us make even more great, free content for test-takers.
OAE Foundations of Reading Study Guide
OAE Foundations of Reading Flashcards
OAE Foundations of Reading Online Course