North Carolina Foundations of Reading Test
Aligned with North Carolina's Common Core Standards, the Foundations of Reading test is a content-driven objective assessment of your knowledge of, and proficiency in, reading and writing development. The test is for teachers with 0 – 2 years' experience and is one of the required steps to obtain the Professional Educator's Initial License.
Test design
The Foundations of Reading is a computer-based test (CBT), which consists of 100 multiple choice questions and two open-response questions. You are given 15 minutes to review the CBT tutorial and four hours to complete the test. The multiple-choice questions come from the following subareas:
Foundations of Reading Development
Development of Reading Comprehension
Reading Assessment and Instruction
Integration of Knowledge and Understanding
The fourth subarea, Integration of Knowledge and Understanding, is where you will prepare written responses to questions addressing content from the preceding three subareas.
Check Out Mometrix's North Carolina Foundations of Reading Study Guide
Get practice questions, video tutorials, and detailed study lessons
Get Your Study Guide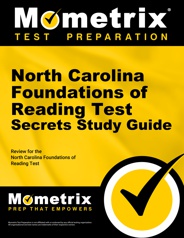 Scoring and results
Your results are based on the number of correct answers plus the score you received for the open-response questions. It is then converted to a scale that will range from 100 to 300. To pass, you must obtain a score of 249.
Once your test is scored, you will receive a report, and the state will receive one as well. Both versions provide your results and description of your performance. However, your report will show your total score while the state's version will only indicate whether you met the requirement.
Cost
The cost of the North Carolina Foundations of Reading test is $139.00. Payment is made via MasterCard or Visa, and your registration is good for one year. Should you not schedule and take the test within the year, your registration will expire, and you will not receive a refund.
Test delivery and dates
The test is delivered via a computer-based test (CBT) and appointments to take the exam can be scheduled Monday through Saturday, some holidays excluded. Options are available for military personnel to utilize military base test centers with proper identification and authorization.
Test Day
When you report to the testing center at your appointed time, your digital signature and a digital photograph will be taken. You may be asked to have a digital scan of your palm vein taken.
You will also have to present one form of government-issued identification, and it must show the name you used to register for the test. For this reason, it is essential that you register with your legal name, as shown on your identification.
After your identification has been verified, you'll be assigned to your station, and you'll be provided with a note board booklet, a wet-erase marker, and any other materials needed for your exam.
You are not allowed to bring in any item to the testing room, and it is strongly recommended that you leave all personal items at home or locked in your car. At the conclusion of the exam, you will return all materials provided back to the test administrator.
Once you enter the testing center and take your seat, you are not allowed to talk to any other test taker. Should you have a question or need additional supplies, you must raise your hand for assistance. Failure to follow the test center rules could result in the cancellation of your test and your registration fee forfeited.

Check Out Mometrix's North Carolina Foundations of Reading Flashcards
Get complex subjects broken down into easily understandable concepts
Get Your Flashcards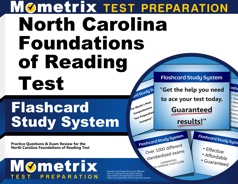 Preparing for North Carolina Foundations of Reading Test
The key to receiving a passing score on any test is preparation. You worked hard to obtain your education, and Mometrix Test Preparation stands ready to help you successfully pass your licensing examinations. With so much on the line, you want to have the most useful tools at your disposal to aid you in developing a logical, and practical, study plan.
With over 16 years of experience in guiding test-takers to successful outcomes, Mometrix Test Preparation is the only system you need. From study guides to flashcards, Mometrix is the study partner you need. Mometrix is so confident in their system; they have a money-back guarantee.
North Carolina Foundations of Reading Test Study Guide
Mometrix Academy is a completely free resource provided by Mometrix Test Preparation. If you find benefit from our efforts here, check out our premium quality North Carolina Foundations of Reading Test study guide to take your studying to the next level. Just click the North Carolina Foundations of Reading Test study guide link below. Your purchase also helps us make even more great, free content for test-takers.
North Carolina Foundations of Reading Test Study Guide
North Carolina Foundations of Reading Test Flashcards
North Carolina Foundations of Reading Online Course