PECT Special Education PreK-8 Exam
This computer-based test consists of two modules that must be successfully completed in order to be eligible for teacher certification in Pennsylvania. For both Modules 1 and 2, you will be allotted 60 minutes to complete 41 selected-response questions.

Written documentation is required for examinees requesting special testing accommodations.
What percentage of questions are there for each category?
Module 1
Foundations and Professional Practice – 33%*
Understanding Students with Disabilities – 33%*
Assessment and Program Planning and Implementation – 33%*
* = Approximate percentage
Objective 1 is understanding the history, philosophy, and legalities of special education, as well as the role of the special education teacher, with regard to ethics.
Objective 2 is knowing how to communicate and collaborate with students and their families.
Objective 3 is distinguishing between typical and atypical growth and development.
Objective 4 is grasping the factors of learning and development.
Objective 5 is comprehending the different types of assessments used.
Objective 6 is knowing how to create, implement, and assess individualized learning plans.
Module 2
Inclusive Learning Environments – 50%
Delivery of Specially Designed Instruction – 50%
Objective 1 is understanding how to make the learning environment conducive to students with disabilities.
Objective 2 is fostering proper communication and social skills in students with disabilities.
Objective 3 is promoting independent, functional living skills in students with disabilities.
Objective 4 is knowing reading instruction foundations for students with disabilities.
Objective 5 is understanding literacy instruction for students with disabilities.
Objective 6 is having in-depth knowledge of how to plan, implement, and assess specially designed instruction.
Check Out Mometrix's PECT Special Education PreK-8 Study Guide
Get practice questions, video tutorials, and detailed study lessons
Get Your Study Guide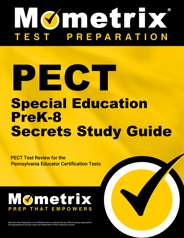 What is the most convenient way to register for the exam?
Use a credit card, or debit or check card with the VISA or MasterCard logo to register online. If you do not have the above, you may request instructions on how to pay using a check.
A fee waiver is available for examinees who are currently enrolled in an undergraduate or degree program and are receiving financial aid.
What is the cost of the exam?
The cost of PECT Special Education PreK-8 is $50 per module or $87 for both modules.
What are the testing dates and locations?
This exam is offered continuously, during the year. It is administered on a first-come, first-served basis, at various sites throughout the US, Puerto Rico, the US Virgin Islands, and Canada.
What should I do the day of the exam?
Report to the testing site 15 minutes before your exam is scheduled to take place.
Bring a current, valid photo ID. This form of identification must consist of your name, signature, and photo. Copies are not allowed. Examples of acceptable forms of ID include a driver's license, passport, state identification, national identification, and military identification.
Smoking on-site and bringing relatives to the site are prohibited.
Items such as food/drink, a handbag, books, study materials, or cell phone may be brought to the testing site, but must remain in a locker during testing.
What happens after I take the exam?
Once testing is complete, the computer screen will show your unofficial score report. You will have access to your official score report 10 days after your test date.
Additionally, your scores will be directly reported to the Pennsylvania Department of Education and provider where you completed or will complete the teacher education program. You are also allowed to designate up to other recipients that you would like to automatically receive your score report.
What is the passing score?
The scaled score range is 100-300. The minimum passing score is 220 per module.
What happens if I don't pass the exam?
If you do not pass a module or you are not satisfied with your score, you can retake it, but you must wait at least 30 days from the day you first took it.
Check Out Mometrix's PECT Special Education PreK-8 Flashcards
Get complex subjects broken down into easily understandable concepts
Get Your Flashcards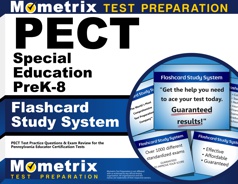 PECT Special Education Pre K-8 Study Guide
Mometrix Academy is a completely free PECT test resource provided by Mometrix Test Preparation. If you find benefit from our efforts here, check out our premium quality PECT Special Education Study Guide and PECT Special Education Flash Cards to take your studying to the next level. Just click the PECT study guide link below. Your purchase also helps us make even more great, free test content for test-takers.
PECT Special Education PreK-8 Study Guide
PECT Special Education PreK-8 Flashcards