OAE Assessment of Professional Knowledge: Early Childhood PK-3 Exam
The Assessment of Professional Knowledge: Early Childhood PK-3 is a required exam for all those who are seeking initial licensure in the state of Ohio to teach pre-kindergarten through third grade. This exam evaluates your knowledge, skills, and abilities that will be needed in this profession as you promote childhood learning.
Who is Eligible?
The OAE and its many subject exams are typically taken as part of an education preparatory program. These programs held by accredited institutions will require one or more of these exams on the subject that the candidate is seeking licensure to teach. As such, most education preparatory programs have certain requirements that must be met to gain licensure and take certain exams. Make sure to check with your program and/or institution to make sure you have met all requirements.
There is a $105 fee for this exam.
When and Where is it taken?
Appointments for this exam can be made year-round on a first come, first served basis. This exam is administered by computer through Pearson VUE. Testing sites are located throughout the state of Ohio and nationwide.
A complete list of available dates, times, and locations will be provided to you during registration. Make to register as soon as possible as space is limited.
What Should I Bring?
You will need to bring at least one current and valid form of personal identification. This must include your name that matches your registration information, your signature, and a recognizable photo. If your ID is questioned, you may be asked to provide another ID.
As this is a computer taken exam you will not need to bring any personal items with you, including pencils, scratch paper, calculators, or electronic devices. These items are strictly prohibited and will be kept in a designated locker until the completion of the exam.
It is important that you arrive on time for you scheduled exam. If you arrive late you will not be allowed to test and will forfeit any and all fees paid up to that point. You will need to register and pay again to take it.
Check Out Mometrix's OAE Assessment of Professional Knowledge: Early Childhood PK-3 Study Guide
Get practice questions, video tutorials, and detailed study lessons
Get Your Study Guide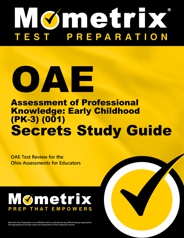 What is Covered?
The Assessment of Professional Knowledge: Early Childhood exam is made up of 100 multiple choice questions, one case study written assignment, and one work product written assignment. You are given three hours to complete it.
Below is a brief outline of the exam and content areas covered:
Domain I – Student Development and Learning (24%)

Processes of human and student development and how to apply knowledge to benefits students
Learning processes, factors that affect learning, and how to apply knowledge to benefit students
Student diversity and how to provide learning environments that benefit children and promote learning
Domain II – Assessment, Instruction, and the Learning Environment (40%) Case Study (10%)

Assessment instruments and practices and the relationship between instruction and assessment
Principles and procedures of curricular and instructional planning and how to use them effectively
Principles and practices of instructional approaches and how to use them to promote learning
Principles and practices of motivation and communication and how to use them to promote learning
Structuring and management of the classroom to promote learning and benefit students
Domain III – The Professional Environment (16%) Work Product (10%)

Establishing partnerships with families, co-workers, and the community to promote learning
Roles and expectations of professional educators, ethical guidelines, and strategies for continuous growth
How is it Scored?
Your score report will be made available to you online beginning at 10:00pm on your score reporting date. This date will be made known to you when you register. Typically, it about 7-14 days after your testing window has closed.
This score report will include your pass/fail status, total score and a breakdown of your performance in each section of the exam. You must receive a scaled score of at least 220 to be considered passing on this exam.
A copy of this report is sent directly to the Ohio Department of Education as well as your education preparation institution or program and up to three program providers of your choice.
Check Out Mometrix's OAE Assessment of Professional Knowledge: Early Childhood PK-3 Flashcards
Get complex subjects broken down into easily understandable concepts
Get Your Flashcards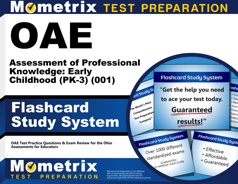 How to Prepare?
Here at Mometrix, we understand the importance of this exam for you. And we want to help you succeed and become a licensed teacher. That is why have designed a study guide, flashcards, and sample questions to assist you in your educational journey.
These tools will provide you with content information you will need as well as prepare you for the structure and style that the exam is written in. Take advantage of these unique study materials for a great testing experience.